Olympic Games—Sydney 2000
This was a well prepared team for Australia's home Olympic Games and achieved a high number of medals. It is rare to win as many as five medals at an Olympic Games.
Whilst the results were excellent, the absence of a gold medal tempered the enthusiasm for these otherwise superb results. As many commentators remarked at the time, they did not know how much a gold medal meant to a team and its supporters until this regatta. There were many highlights and the quality of competition and racing was of the highest order.
Particularly disappointing was the inability of Australia's 1999 World Champion Coxless Pair of James Tomkins and Drew Ginn to compete. After dominating their event in 1999, Tomkins and Ginn were favourite for more Olympic gold until Drew Ginn developed a serious back injury at the Lucerne Regatta and had to be replaced by Matthew Long. Despite the last minute change, the pair still finished a very close third.
From an Australian point of view the finals of the men's eight and the open and lightweight fours remain in one's memory. However from a world perspective the regatta was dominated by the unbelievable achievement of Steve Redgrave winning his gold medal at each of five Olympic Games: a feat that is unlikely ever to be matched.
Of the international coaches, Australian Martin Aitken was head coach of the Swiss team and personally coached the medal winning Swiss single sculler.
Selection
The AOC again determined to select any crew which qualified through the FISA system. Unfortunately, Australia was unable to gain qualification in the men's single and double scull events. The Rowing Australia selectors were Brian Richardson (NSW), Dr Graham Jones (NSW) and Dr David Yates (VIC).
Racing—Men
Men's Single Scull
E1: 1st CAN 7:02.24, 2nd GBR 7:07.76, 3rd BRA 7:09.08, 4th ITA 7:24.80, 5th MEX 7:29.64, 6th KAZ 7:34.66
E2: 1st NZL 6:54.20, 2nd BUL 7:03.34, 3rd LAT 7:06.28, 4th SVK 7:26.21, 5th PHI 7:29.86, 6th TUN 7:59.75
E3: 1st GER 6:58.31, 2nd CZE 7:04.00, 3rd EST 7: 06.58, 4th ARG 7:20.65, 5th ALG 7:44.48, 6th PAK 7:54.71
E4: 1st SUI 6:57.38, 2nd NED 7:05.48, 3rd USA 7:10.34, 4th EGY 7:21.32, 5th CHI 7:39.43, 6th KOR 7:53.84
R1: 1st LAT 7:06.40. 2nd GBR 7:08.19, 3rd ARG 7:13.68, 4th CHI 7:34.56, 5th KAZ 7:36.42
R2: 1st EST 7:05.16, 2nd BUL 7:09.22, 3rd EGY 7:13.10, 4th MEX 7:31.93. 5th TUN 7:53.95
R3: 1st USA 7:11.83, 2nd CZE 7:17.53, 3rd ITA 7:21.20, 4th PHI 7:29.03, 5th PAK 7:51.40
R4: 1st NED 7:04.25, 2nd SVK 7:14.31, 3rd BRA 7:22.13, 4th ALG 7:42.17, 5th KOR 7:45.76
SF1: 1st NZL 6:58.01, 2nd CAN 7:00.82, 3rd BUL 7:03.89, 4th NED 7:07.14, 5th GBR 7:09.68, 6th USA 7:10.69
SF2: 1st SUI 7:01.86, 2nd GER 7:03.47, 3rd EST 7:06.70, 4th LAT 7:15.04, 5th SVK 7:26.51, 6th CZE 7:30.28
Final D: 19th PHI 7:22.31, 20th MEX 7:29.68, 21st ALG 7:35.66, 22nd KOR 7:37.61, 23rd TUN 7:54.45, 24th PAK DNS
Final C: 13th EGY 7:01.44, 14th BRA 7:01.89, 15th ITA 7:08.16, 16th ARG 7:09.43, 17th KAZ 7:21.44, 18th CHI 7:44.48
Final B: 7th NED 6:55.29, 8th LAT 6:56.33, 9th USA 6:59.82, 10th GBR 7:00.22, 11th SVK 7:06.96, 12th CZE DNS
Final: 1st Rob Waddell (NZL) 6:48.90, 2nd Xeno Mueller (SUI) 6:50.55, 3rd Marcel Hacker (GER) 6:50.83, 4th CAN 6:51.10, 5th BUL 6:57.32, 6th EST 6:59.15 (24 scullers)
Men's Double Scull
E1: 1st HUN 6:28.33, 2nd POL 6:31.91, 3rd FRA 6:32.69, 4th CAN 6:35.41, 5th CRO 6:39.69, 6th ESP 6:42.69
E2: 1st SLO 6:24.92, 2nd ITA 6:33.11, 3rd USA 6:37.81, 4th EST 6:41.74, 5th DEN 6:58.88
E3: 1st NOR 6:25.63, 2nd GER 6:34.66, 3rd UKR 6:38.06, 4th CUB 6:40.27, 5th CHN 6:50.94
R1: 1st POL 6:32.30, 2nd USA 6:34.56, 3rd CUB 6:35.76, 4th CRO 6:43.60
R2: 1st ITA 6:25.98, 2nd DEN 6:30.87, 3rd UKR 6:33.23, 4th CAN 6:35.04
R3: 1st GER 6:27.58, 2nd FRA 6:31.28, 3rd EST 6:35.09, 4th CHN 6:43.64, 5th ESP 6:46.50
SFA/B1: 1st SLO 6:16.41, 2nd GER 6:20.40, 3rd HUN 6:23.81, 4th USA 6:28.49, 5th 6:38.75, 6th DEN 6:40.11
SFA/B2: 1st NOR 6:23.50, 2nd ITA 6:24.99, 3rd 6:31.26, 4th FRA 6:32.09, 5th UKR 6:36.92, 6th CUB 6:40,71
Final C: 13th CAN 6:28.61, 14th CRO 6:31.78, 15th CHN 6:36.97, 16th ESP 6:40.17
Final B: 7th FRA 6:20.72, 8th NOR 6:17.98, 9th EST 6:22.78, 10th DEN 6:23.20, 11th UKR 6:27.24, 12th CUB 7:28.23
Final: 1st SLO 6:16.63 (Luka Spik, Iztok Cop), 2nd 6:17.98 NOR (Olaf Tufte, Fredrik Raaen Bekken), 3rd ITA 6:20.49, (Giovanni Calabrese, Nicola Sartori), 4th GER 6:23.58, 5th HUN 6:27.04, 6th POL 6:32.11 (16 crews).
Men's Quad Scull
E1: 1st GER 5:51.60, 2nd NED 5:54.57, 3rd POL 5:58.09, 4th CUB 6:00.67, 5th CHN 6:16.48
E2: 1st AUS 5:52.09, 2nd UKR 5:53.03, 3rd FRA 5:54.85, 4th AUT 5:59.41
E3: 1st ITA 5:45.67, 2nd SUI 5:49.11, 3rd USA 5:50.29, 4th BEL 5:56.79
R: 1st CUB 6:04.45, 2nd AUT 6:05.65, 3rd BEL, 6:10.11, 4th CHN 6:16.80
SF1: 1st GER 5:48.92, 2nd AUS 5:50.26, 3rd SUI 5:53.07, 4th FRA 5:54.68, 5th BEL 5:56.36, 6th POL 6:02.11
SF2: 1st ITA 5:44.08, 2nd NED 5:47.80, 3rd UKR 5:48.15, 4th USA 5:49.89, 5th AUT 6:00.29, 6th CUB 6:01.39
Final B: 7th USA 5:49.76, 8th POL 5:51.70, 9th BEL 5:54.17, 10th FRA 5:55.41, 11th AUT 5:57.58, 12th CUB 6:00.63
Final: 1st ITA 5:45.56 (Agostino Abbagnale, Alessio Satori, Rossano Galtarossa, Simone Raineri), 2nd NED 5:47.91 (Jockem Verberne, Dirk Lippits, Diederik Simon, Michiel Bartman), 3rd GER 5:48.64 (Marco Geisler, Andreas Hajek, Stephen Volkert, Andre Willms), 4th AUS 5:50.32, 5th SUI 5:54.88, 6th UKR 5:55.12 (13 crews)
Men's Lightweight Double Scull
E1: 1st POL 6:34.28, 2nd SUI 6:37.88, 3rd ARG 6:40.16, 4th USA 6:42.08, 5th SWE 6:42.67
E2: 1st AUS 6:33.48, 2nd GER 6:40.53, 3rd CUB 6:42.24, 4th RUS 6:46.34, 5th PAK 7:13.62
E3: 1st FRA 6:32.73, 2nd ESP 6:34.89, 3rd NED 6:38.62, 4th GBR 6:41.74, 5th HKG 7:00.75
E4: 1st ITA 6:24.73, 2nd JPN 6:27.00, 3rd GRE 6:29.68, 4th MEX 6:31.24
R1: 1st JPN 6:33.81, 2nd NED 6:36.99, 3rd SWE 6:38.77, 4th RUS 6:44.53
R2: 1st ESP 6:39.20, 2nd USA 6:39.72, 3rd CUB 6:44.03
R3: 1st GER 6:36.26, 2nd MEX 6:38.07, 3rd ARG 6:41.10, 4th HKG 7:05.05
R4: 1st SUI 6:35.39, 2nd GRE 6:38.78, 3rd GBR 6:43.25, 4th PAK 7:13.98
SF1: 1st POL 6:20.60, 2nd SUI 6:23.08, 3rd GER 6:24.55, 4th AUS 6:25.20, 5th USA 6:32.86, 6th NED 6:43.80
SF2: 1st FRA 6:21.32, 2nd ITA 6:21.59, 3rd JPN 6:23.37, 4th GRE 6:25.38, 5th MEX 6:33,62, 6th ESP 6:39.49
Final C: 13th ARG 6:29.19, 14th GBR 6:32.67, 15th SWE 6:34.11, 16th HKG 6:49.19, 17th PAK 6:52.12
Final B: 7th AUS 6:26.12, 8th GRE 6:27.79, 9th ESP 6:31.49, 10th MEX 6:31.70, 11th USA 6:32.41, 12th NED 6:40.18
Final: 1st POL 6:21.75 (Tomasz Kucharski, Robert Sycz), 2nd ITA 6:23.47 (Elia Luini, Leonardo Pettinari), 3rd FRA 6:24.85 (Pascal Touron, Thibaud Chapelle), 4th GER 6:26.54, 5th SUI 6:28.52, 6th JPN 6:29.74
The Australian crew won its heat and went straight through the semi final. The semi final race was going well until the last 500 metres with the crew sitting in second place at the end of the third 500 metres. Unfortunately they were unable to match the final sprint in this very tight race coming in fourth with the fourth fastest time for the last part of the race. They easily won the B final.
Men's Lightweight Four
E1: 1st FRA 6:09.32, 2nd CAN 6:10.37, 3rd GER 6:16.37, 4th CHI 6:21.10, 5th JPN 6:22.31
E2: 1st AUS 6:11.42, 2nd NED 6:14.37, 3rd AUT 6:16.94, 4th RUS 6:17.01, 5th IRL 6:18.94
E3: 1st ITA 6:14.89, 2nd USA 6:16.36, 3rd RSA 6:17.88, 4th DEN 6:21.30
R: 1st DEN 6:08.63, 2nd RUS 6:10.35, 3rd IRL 6:13.00, 4th CHI 6:15.49, 5th JPN 6:18.56
SF1: 1st AUS 6:00.82, 2nd FRA 6:00.85, 3rd USA 6:05.13, 4th AUT 6:10.11, 5th IRL 6:10.30, 6th GER 6:15.75
SF2: 1st ITA 6:00.82, 2nd DEN 6:01.67, 3rd RSA 6:02.09, 4thCAN 6:02.49, 5th NED 6:03.25, 6th RUS 6:07.99
Final B: 7th CAN 6:04.31, 8th NED 6:05.96, 9th AUT 6:07.84, 10th RUS 6:09.12, 11th IRL 6:07.67, 12th GER 6:15.31
Final: 1st FRA 6:01.68 (Laurent Porchier, Jean-Christophe Bette, Yves Hocde, Xavier Dorfman), 2nd AUS 6:02.09 (as above), 3rd DEN 6:07.84 (Soren Madsen, Thomas Ebert, Eskild Ebbesen, Victor Feddersen), 4th ITA 6:03.77, 5th RSA 6:07.67, 6th USA 6:10.09
The semi final for the Australians was an outstanding race against the French crew. It was only bettered by the same two crews in the final where the French tried once to break through the Australians and failed, then twice and failed and finally with a matter of metres to go broke through to win. Both races were superb and a highlight of the regatta.
Men's Coxless Pair
E1: 1st FRA 6:44.80, 2nd ITA 6:48.26, 3rd CRO 6:52.57, 4th ARG 6:55.74, 5th IND 7:09.94
E2: 1st YUG 6:42.62, 2nd RSA 6:43.23, 3rd USA 6:44.86, 4th GER 7:10.62, 5th EGY 7:15.63
E3: 1st GBR 6:42.45, 2nd AUS 6:46.99, 3rd CAN 6:48.42, 4th SLO 6:55.82, 5th POL 6:58.47
R: 1st GER 6:53.73, 2nd POL 6:48.74, 3rd SLO 6:50.49, 4th ARG 6:52.38, 5th EGY 7:07.35, 6th IND 7:16.10
SFA/B1:1st FRA 6:30.96, 2nd GBR 6:31.08, 3rd RSA 6:33.15, 4th CAN 6:33.22, 5th POL 6:43.38, 6th CRO 6:46.00
SFA/B2: 1st AUS 6:34.42, 2nd YUG 6:34.93, 3rd USA 6:35.42, 4th GER 6:38.41, 5th SLO 6:49.79, 6th ITA 6:53.57
Final B: 7th CAN 6:33.60, 8th CRO 6:35.10, 9th GER 6:37.94, 10th POL 6:39.44, 11th SLO 6:40.23, 12th ITA 6:43.10
Final: 1st FRA (Michel Andrieux, Jean-Christopher Rolland) 6:32.97, 2nd USA (Ted Murphy, Sebastian Bea) 6:33.80, 3rd AUS (Matthew Long, James Tomkins) 6:34.26, 4th GBR 6:34.38, 5th YUG 6:38.70, 6th RSA 6:43.10. (15 crews)
The Australians had a tough final where the lead changed often, The British crew went out hard maintaining first place throughout the first 1000 metres, second at the 1500 metres but finished fourth. The winning French crew was 5th at the 500 metres, fourth at the 1000 metre point and used the third 500 metres to get a lead. The Australians started off in third position, dropping to fifth at the 1000 and 1500 metre marks but came home strongly. Only 0.42 seconds separated second and third and 0.12 seconds separated third and fourth positions. It was a great race.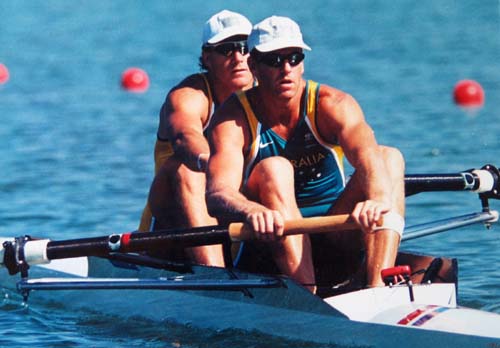 bow Matthew Long and str James Tomkins
Men's Coxless Four
E1: 1st GBR 6:01.58, 2nd AUS 6:05.03, 3rd SLO 6:07.90, 4th ROM 6:14.00, 5th YUG 6:16.46
E2: 1st ITA 6:04.59, 2nd USA 6:07.36, 3rd NOR 6:13.14, 4th POL 6:22.00
E3: 1st FRA 6:08.57, 2nd NZL 6:13.60, 3rd GER 6:13.62, 4th EGY 6:21.10
R: 1st YUG 6:09.69, 2nd ROM 6:11.24, 3rd EGY 6:13.73, 4th POL 6:15.75
SF1: 1st GBR 6:02.28, 2nd SLO 6:04.07, 3rd USA 6:05.80, 4th FRA 6:07.77, 5th GER 6:15.12, 6th ROM 6:15.14
SF2: 1st AUS 6:02.03, 2nd ITA 6:02.31, 3rd NZL 6:05.33, 4th NOR 6:08.55, 5th YUG 6:08.82, 6th EGY 6:21.22
Final B: 7th FRA 6:01.29, 8th YUG 6:01.54, 9th NOR 6:04.28, 10th ROM 6:06.73, 11th GER 6:08.11, 12th EGY 6:08.37
Final: 1st GBR 5:56.24, 2nd ITA 5:56.62 (Valter Molea, Riccardo dei Rossi, Lorenzo Carboncini, Carlo Mornati), 3rd AUS 5:57.61 (as above), 4th SLO 5:58.34, 5th USA 6:02.34, 6th NZL 6:09.13
This was a classic final with two seconds separating the first four crews and a very fast time for the conditions. The British crew contained the great Steven Redgrave who was after his fifth gold medal from five Olympic Games. The British nation, the IOC represented by its President Juan Antonio Samaranch and many of the crowd were behind him achieving this feat. The British went out the fastest in the first 500 metres and maintained the lead thereafter. The Italians fought back hard in the second 500 metres to get second place which they held for the rest of the race. The Australians let the other crews get too much lead in the second 500 metres and could never recover to better than third place. The fourth placed Slovenians were far too slow in the first 1000 metres and whilst having the fastest 3rd and 4th 500 metres, they had to be content with fourth placing. The President of the IOC presented the medals for this most important event.
str Bo Hansen, 3 Geoff Stewart, 2 Ben Dodwell, bow James Stewart
Men's Eight
E1: 1st CRO 5:33.33, 2nd USA 5:35.70, 3rd NED 5:36.42, 4th ROM 5:36.93, 5th ITA 5;39.69
E2: 1st AUS 5:32.85, 2nd GBR 5:34.47, 3rd CAN 5:38.48, 4th RUS 5:40.55
R1: 1st USA 5:43.22, 2nd ROM 5:43.24, 3rd CAN 5:45.18
R2: 1st GBR 5:38.59, 2nd ITA 5:41.23, 3rd RUS 5:43.88, 4th NED 5:44,91
Final: 1st GBR 5:33.08 (Andrew Lindsay, Ben Hunt-Davis, Simon Dennis, Louis Attrill, Kieren West, Fred Scarlett, Steve Trapmore, Rowley Douglas), 2nd AUS 5:33.88 (as above), 3rd CRO 5:34.85 (Igor Francetic, Tihomir Frankovic, Tomislav Smoljanovic, Niksa Skelin, Sinisa Skelin, Kresimir Culjak, Igor Boraska, Branimir Vujevic, Silvijo Petrisko), 4th ITA 5:35.37, 5th USA 5:39.15, 6th ROM 5:43.89 (9 crews)
Final B: 7th CAN 5:36.50, 8th NED 5:36.63, 9th RUS 5:42.72
The Australians led their heat the whole way with an evenly paced but blisteringly fast race beating the eventual gold medallists. As with all eights races on the programme, the final race was also a sprint and the Australians started slowly requiring an almighty sprint home and they nearly made it.
Australian Team
Women's Single Scull - Fifth
Georgina Douglas (VIC)
Coach: Noel Donaldson (VIC)
Women's Double Scull - Sixth
Bow: Marina Hatzakis (NSW)
Str: Bronwyn Roye (NSW)
Coach: Ellen Randell (NSW)
Women's Quad Scull – Seventh
Bow: Kerry Knowler (NSW)
2: Monique Heinke (NSW)
3: Julia Wilson (NSW)
Stroke: Sally Robbins (WA)
Coach: Uwe Bender (WA)
Women's Lightweight Double Scull – Fourth
Bow: Sally Newmarch (SA)
Stroke: Virginia Lee (NSW)
Coach: Harald Jahrling (NSW)
Women's Pair – Silver
Bow: Rachael Taylor (VIC)
Str: Kate Slatter (SA)
Coach: Paul Thompson (ACT)
Women's Eight – Fifth
Bow: Victoria Roberts (NSW)
2: Alison Davies (SA)
3: Jodi Winter (NSW)
4: Bronwyn Thompson (VIC)
5: Rachael Kininmonth (VIC)
6: Kristina Larsen (NSW)
7: Emily Martin (VIC)
Str: Jane Robinson (VIC)
Cox: Katie Foulkes (VIC)
Coach: Lyall McCarthy (VIC)
Men's Quad Scull – Fourth
Bow: Peter Hardcastle (NSW)
2: Jason Day (VIC)
3: Stuart Reside (WA)
Str: Duncan Free (QLD)
Coach: Nick Garrett (WA)
Men's Lightweight Double Scull – Seventh
Bow: Haimish Karrasch (QLD)
Str: Bruce Hick (ACT)
Coach: Bob Bleakley (QLD)
Men's Lightweight Four – Silver
Bow: Simon Burgess (TAS)
2: Anthony Edwards (VIC)
3: Darren Balmforth (TAS)
Str: Robert Richards (VIC)
Coach: Sam Le Compt (TAS)
Men's Pair – Bronze
Bow: Matthew Long (VIC)
Str: James Tomkins (VIC)
Coach: Noel Donaldson (VIC)
Men's Four – Bronze
Bow: James Stewart (NSW)
2: Ben Dodwell (VIC)
3: Geoff Stewart (NSW)
Str: Bo Hansen (QLD)
Coach: Tim McLaren (NSW)
Men's Eight – Silver
Bow: Christian Ryan (VIC)
2: Alastair Gordon (NSW)
3: Nick Porzig (WA)
4:Robert Jahrling (NSW)
5: Michael McKay (VIC)
6: Stuart Welch (NSW)
7: Daniel Burke (NSW)
Str: Jaime Fernandez (SA)
Cox: Brett Hayman (VIC)
Coach: Brian Richardson (VIC)
Reserves: Carmen Klomp (SA), Courtney Johnstone (NSW), Catriona Roach (NSW), James Burton (QLD), Peter Antonie (VIC), Glen Loftus (WA)
Manager: Michael Eastaughffe (SA)
Assistant Manager & High Performance Manager: Paul Sloan (ACT)
Head Coach: Reinhold Batschi (AIS)
Team Doctor: Dr Bill Webb (NSW)
Physiotherapist: Allan Bourke (NSW), Fiona Gutschlag (ACT)
Psychologist: Jeffrey Bond (ACT)
Masseur: Luke Attwell (VIC)
Boatman: Urs Graf (SUI)
Selectors: David Yates (VIC) & Graeme Jones (NSW)
Jury Members: Bob Pennington (SA), Steve Hinchy (QLD), Andrew Guerin (VIC), John Murdoch (WA), Joy Wooldridge (NSW)
Racing—Women
Women's Single Scull
E1: 1st NZL 7:40.18, 2nd AUS 7:43.48, 3rd CUB 7:48.28, 4th CHI 8:03.52, 5th HKG 8:19.88
E2: 1st BUL 7:36.10, 2nd POL 7:43.99, 3rd GBR 7:46.73, 4th ARG 8:06.65, 5th ALG 8:28.65
E3: 1st BLR 7:47.73, 2nd USA 7:52.05, 3rd SWE 7:53.46, 4th CAN 8:07.76
E4: 1st GER 7:32.80, 2nd RUS 7:36.80, 3rd FRA 7:45.12, 4th THA 8:22.54, 5th TUN 8:32.05
R1: 1st RUS7:47.04, 2nd SWE 7:55.47, 3rd ARG 8:03.83, 4th HKG 8:16.62
R2: 1st GBR 7:51.33, 2nd USA 7:54.40, 3rd CHI 8:02.17, 4th TUN 8:28.43
R3: 1st CUB 7:46.25, 2nd POL 7:47.37, 3rd THA 8:27.25
R4: 1st AUS 7:42.67, 2nd FRA 7:51.87, 3rd CAN 8:05.18, 4th ALG 8:21.67
SF A/B: 1st BUL 7:28.34, 2nd AUS 7:32.34, 3rd NZL 7:35.24, 4th CUB 7:38.97, 5th SWE 7:49.09, 6th USA 7:52.92
SF A/B: 1st GER 7:37.77, 2nd BLR 7:40.36, 3rd RUS 7:42.23, 4th POL 7:45.64, 5th FRA 7:47.16, 6th GBR 7:52.28
SF C/D: 1st CAN 8:09.28, 2nd ARG8:13.05, 3rd TUN 8:29.60
SF C/D: 1st CHI 8:01.30, 2nd ALG 8:18.16, 3rd HKG 8:21.40, 4th THA 8:29.60
Final C: 13th CHI, 14th CAN, 14th ARG, 15th HKG, 16th ALG
Final B: 7th CUB 7:32.99, 8th POL 7:33.20, 9th FRA 7:34.23, 10th GBR 7:35.26, 11th SWE 7:39.44, 12th USA 7:48.95
Final: 1st BLR 7:28.14 (Ekaterina Karsten), 2nd BUL 7:28.15 (Rumyana Neykova), 3rd GER 7:28.99 (Katrin Rutschow-Stomporowski), 4th RUS 7:36.57, 5th AUS 7:37.88. 6th NZL 7:43.71 (19 scullers)
The A final placings were extremely close. The gold medal was won by 0.01 second with 0.84 seconds between second and third.
Women's Double Scull
E1: 1st GER 7:04.74, 2nd NED 7:10.55, 3rd USA 7:15.48, 4th AUS 7:18.40, 5th GBR 7:24.07
E2: 1st ROM 7:08.70, 2nd LTU 7:13.04, 3rd FRA 7:15.39, 4th SUI 7:16.94, 5th CHN 7:33.17
R1: 1st NED 7:08.98, 2nd AUS 7:10.09, 3rd FRA 7:10.98, 4th CHN 7:32.36
R2: 1st LTU 7:08.18, 2nd USA 7:08.99, 3rd GBR 7:14.03, 4th SUI 7:15.09
Final B: 7th SUI 7:02.82, 8th FRA 7:04.73, 9th GBR 7:07.62, 10th CHN 7:23.74
Final: 1st GER 6:55.44 (Jana Thieme, Kathrin Boron), 2nd NED 7:00.36 Pieta Van Dishoeck, Eeke Van Nes), 3rd LTU 7:01.71 (Birute Sakickiene, Kristina Poplavskaja), 4th USA 7:02.61, 5th ROM 7:05.05, 6th AUS 7:05.35
Women's Quad Scull
E1: 1st RUS 6:31.77, 2nd GBR 6:35.09, 3rd USA 6:42.12, 4th CHN 6:49.84, 5th ROM 6:52.01
E2: 1st GER 6:25.98, 2nd UKR 6:28.17, 3rd DEN 6:35.39, 4th AUS 6:47.01
R1: 1st GBR 6:30.96, 2nd DEN 6:35.76, 3rd CHN 6:52.47
R2: 1st UKR 6:29.41, 2nd USA 6:34.63, 3rd AUS 6:42.22, 4th ROM 6:50.34
Final B: 7th AUS 6:37.22, 8th CHN 6:29.51, 9th ROM 6:46.78
Final: 1st GER 6:19.58 (Manja Kowalski, Meike Evers, Manuela Lutze, Kerstin Kowalski), 2nd GBR 6:21.64 (Guin Batten, Gillian Lindsay, Katherine Grainger, Miriam Batten), 3rd RUS 6:21.65 (Oxana Dorodnova, Irina Fedotova, Ioulia Levina, Larisa Merk), 4th UKR 6:25.71, 5th USA 6:30.26, 6th DEN 6:31.30
Women's Lightweight Double Scull
E1: 1st GER 7:11.27, 2nd FRA 7:16.53, 3rd CHN 7:21.56, 4th JPN 7:27.12, 5th MEX 7:36.51, 6th KOR 8:00.45
E2: 1st USA 7:09.99, 2nd AUS 7:11.11, 3rd NED 7:18.04, 4th CAN 7:20.60, 5th BUL 7:22.51, 6th CUB 7:38.26
E3: 1st ROM 7:16.65, 2nd SUI 7:21.43, 3rd GRE 7:23.89, 4th POL 7:28.99, 5th ARG 7:31.74, 6th HUN 7:31.05
R1: 1st NED 7:10.46, 2nd FRA 7:11.46, 3rd POL 7:20.87, 4th CUB 7:29.10, 5th MEX 7:33.58
R2: 1st AUS 7:14.08, 2nd GRE 7:17.38, 3rd BUL 7:18.90, 4th HUN 7:20.21, 5th JPN 7:23.36
R3: 1st SUI 7:12.99, 2nd CAN 7:18.83, 3rd CHN 7:21.00, 4th ARG 7:28.19, 5th KOR 7:55.74
SFA/B1:1st ROM 6:59.85, 2nd GER 7:02.46, 3rd AUS 7:06.58, 4th FRA 7:09.32, 5th CAN 7:14.58, 6th BUL 7:22.47
SFA/B2: 1st USA 7:04.86, 2nd NED 7:07.16, 3rd SUI 7:07.22, 4th POL 7:08.73, 5th CHN 7:18.60, 6th GRE 7:21.88
Final C: 13th HUN 7:13.22, 14th JPN 7:15.01, 15th CUB 7:19.63, 16th MEX 7:25.00, 17th KOR 7:42.07
Final B: 7th FRA 7:10.70, 8th POL 7:12.76, 9th CAN 7:13.76, 10th CHN 7:15.31, 11th GRE 7:17.11, 12th BUL 7:17.64
Final: 1st ROM 7:02.64 (Constanta Burcica, Angela Alupei), 2nd GER 7:02.95 (Valerie Viehoff, Claudia Blasberg), 3rd USA 7:06.37 (Christine Collins, Sarah Garner), 4th AUS 7:12.04, 5th SUI 7:15.57, 6th NED 7:17.89
Women's Pair
E1: 1st ROM 7:16.22, 2nd USA 7:18.74, 3rd GER 7:20.23, 4th UKR 7:30.82, 5th NED 7:47.99
E2: 1st RSA 7:17.83 2nd AUS 7:20.69, 3rd CAN 7:20.84, 4th RUS 7:22.69, 5th GBR 7:40.73
R1: 1st USA 7:21.00, 2nd CAN 7:24.69, 3rd UKR 7:31.11, 4th GBR 7:36.53
R2: 1st AUS 7:19.79, 2nd GER 7:20.12, 3rd RUS 7:20.51, 4th NED 7:40.00
Final B: 7th RUS 7:17.87, 8th UKR 7:20.82, 9th GBR 7:26.95, 10th NED 7:27.22
Final: 1st ROM 7:11.00 (Georgeta Damian, Donina Ignat), 2nd AUS 7:12.56 (Rachael Taylor, Kate Slatter), 3rd USA 7:13.00 (Melissa Ryan, Karen Kraft), 4th CAN 7:15.48, 5th RSA 7:16.84, 6th GER 7:20.08 (10 crews)
Women's Eight
E1: 1st ROM 6:06.66, 2nd AUS 6:17.44, 3rd BLR 6:19.02, 4th GBR 6:19.49
E2: 1st NED 6:11.29, 2nd CAN 6:13.60, 3rd USA 6:17.37
R: 1st USA 6:17.36, 2nd CAN 6:17.62, 3rd AUS 6:17.72, 4th BLR 6:19.42, 5th GBR 6:23.46
Final: 1st ROM 6:06.44 (Georgeta Damien, Viorica Susanu, Ioana Olteanu, Veronica Cochela, Maria Magdalena Dumitrache, Elisabeta Lipa, Liliana Gafencu, Donina Ignat, Elane Georgescu), 2nd NED 6:09.39 (Anneka Venema, Carin Beek Ter, Nelleke Penninx, Pieta Van Dishoeck, Eeke Van Nes, Tessa Appledoorn, Marieke Westerhof, Elien Meijer, Martjntje Quik), 3rd CAN 6:11.58 (Heather MvDermid, Heather Davis, Dorota Urbaniak, Theresa Luke, Emma Robinson, Alison Korn, Laryssa Biesenthal, Buffy Alexander, Lesley Thompson), 4th BLR 6:13.57, 5th AUS 6:15.16, 6th USA 6:16.87.
An outstanding repechage in this event set up a great final.
---
Georgina Douglas