Frederick S Kelly
1902 -Henley Royal Regatta Diamond Scull - First
1903 - Henley Royal Regatta Diamond Scull - First
1905 - Henley Royal Regatta Diamond Scull - First
1908 - Olympic Games Men's Eight - Gold (racing for England)
Frederick Septimus Kelly was an extraordinary man, both brilliant and brave. He hailed from Sydney and was educated in England. He was an Olympic rower, composer, intellectual, pianist and a leader of men, but sadly killed in action in WWI. Even in the depths of war he managed to compose music and despite his artistic temperament, he proved himself on the brutal battlefields of both Gallipoli and France.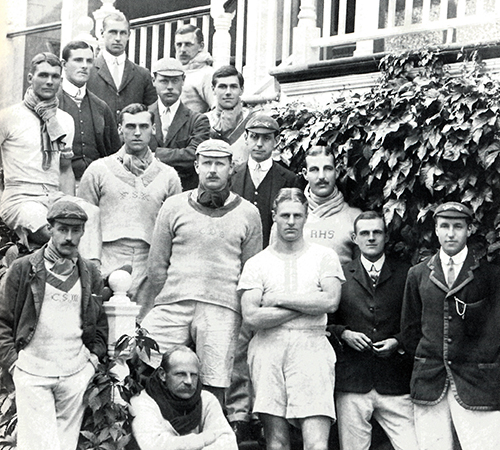 The following summary of his life was written by John Carmody in the Australian Dictionary of Biography:
Frederick Septimus Kelly (1881-1916), oarsman, musician and soldier, was born on 29 May 1881 in Sydney, fourth son of Irish-born Thomas Hussey Kelly, and his native-born wife Mary Anne, nГ©e Dick. He was educated at Sydney Grammar School and, like his brothers Thomas Herbert and William Henry, in England at Eton (1893-99). He went up to Balliol College, Oxford (B.A., 1903; M.A., 1912), as a Lewis Nettleship musical scholar and graduated with fourth-class honours in history.
Possessing a rare combination of outstanding sporting and musical ability, Kelly had rowed in the Eton eight in 1897 and stroked that crew to victory in the Ladies' Plate at Royal Henley Regatta in 1899. He began to scull at Oxford and won the Diamond Sculls at Henley in 1902, 1903 and in 1905 — in the last setting a record that stood until 1938. In 1903 he also rowed in the Oxford eight and won the Wingfield Sculls. From 1903 he rowed for the Leander Club: in the eight which won the Grand Challenge Cup at Henley in 1903-05; in the coxless four that took the Stewards' Cup in 1906; and in 1908 in the veteran eight that won the gold medal at the Olympic Games. Contemporary reports of his oarsmanship were glowing: 'his natural sense of poise and rhythm made his boat a live thing under him'.
His musical abilities were apparent as a child: long before his hands could span an octave, Kelly played Mozart and Beethoven piano sonatas. At Eton he was taught by Dr Charles Harford Lloyd and at Oxford studied under (Sir) Donald Tovey. He often performed at the Oxford Musical Club (of which he was president) and in the Balliol Sunday evening concerts. In 1903-08 he studied piano under Ernst Engesser and composition and counterpoint with Ivan Knorr at the Dr Hoch Konservatorium, Frankfurt am Main, Germany. He dedicated himself to fulfilling his dual ambition to become 'a great player and a great composer'.
On his return to England in 1908 Kelly played at numerous private and semi-public concerts. From 1909 he advised Sir Edgar Speyer on programmes of the Classical Concert Society, London, and in 1912 succeeded him as its chairman. In 1911 he visited Sydney and between June and August, to the delight of the Sydney critics, gave three solo recitals (with programmes ranging from Bach, Mozart, Beethoven, Liszt, Schumann and Brahms, to recent works of Scriabin and Debussy and his own Cycle of Lyrics). He also gave two chamber music concerts, performed the Beethoven G major concerto with the Sydney Symphony Orchestra, and conducted a chamber orchestra concert when Melba's flautist John Lemmone played Kelly's Serenade for flute and small orchestra.
Back in London, Kelly gave three recitals in February and March 1912. The critics referred to his 'crisp, clear enunciation', his 'equable and melodious touch' and to his 'intellectual grasp of the music': that they objected to his giving the audience 'credit for nerves as strong as his own' in loud passages, suggests that his interpretation was in advance of its time. Later that year he played concertos by Beethoven, Schumann, Mozart and Brahms with the London Symphony Orchestra under (Sir) George Henschel. He also played chamber music and duo-sonatas with such notable instrumentalists as the violinist Jelly d'Aranyi (who was long deeply in love with him) and the cellist Pablo Casals.
His comparatively few compositions include some effectively written and charming piano pieces and later, more substantial works such as Theme, Variations and Fugue for two pianos and a Violin Sonata, written for Jelly d'Aranyi and first performed by her and Kelly's close friend, the pianist Leonard Borwick, at the memorial concert at the Wigmore Hall, London, on 2 May 1919.
In September 1914 Kelly joined the Royal Naval Division and was soon involved in the unsuccessful defence of Antwerp, Belgium. Early next year he sailed for the Dardanelles with the Hood Battalion with such scholar-soldiers as Rupert Brooke, Arthur Asquith and Patrick Shaw-Stewart; they were known on the ship as the 'Latin Club'. He landed on Gallipoli in April. While recovering from wounds he wrote the poignant Elegy for string orchestra, in memory of Brooke whose burial on Skyros he had attended. Promoted lieutenant in June, Kelly returned to Gallipoli in July and was among the last to leave. He was awarded the Distinguished Service Cross for 'conspicuous gallantry' there. In May 1916 he went with the Hood Battalion to France, in command of 'B' Company. His strict standards of discipline 'were not generally palatable', but his 'unfailing fearlessness and scrupulous justice', and activities as director of the regimental band, won him enormous respect. He was killed on 13 November 1916 while leading an attack on a machine-gun emplacement at Beaucourt-sur-Ancre.
Kelly was a man of extraordinary vitality and physique. Speyer wrote that while one might on first acquaintance 'be struck by an apparent bluntness of manner and a disregard for some of the conventions of polite society', one soon realized this resulted from his 'transparent honesty … and contempt for anything like pretentiousness or insincerity'. His estate was valued for probate at nearly ВЈ20,000. Unmarried, he had lived at his home Bisham Grange, near Marlow, Buckinghamshire, with his sister Mary (Maisie). In 1915 at Malta she married Captain (Admiral Sir John) Kelly, after whom the famous destroyer, commanded by Mountbatten, was named.
Kelly also authored a chapter on Sculling in The Complete Oarsman by R C Lehmann, published by Methuen & Co, London 1908.
Kelly's eight diaries, covering the period 1907 to 19915 were acquired by the National Library of Australia in 1979, complementing Kelly's music manuscripts acquired in 1972. The diaries became the focus of Therese Radic's major study Race Against Time, published by the National Library of Australia in 2004. In 2015, Jon Cooksey and Graham McKechnie published Kelly's War, The Great War Diary of Frederick Kelly 1914-1916, subtitled Olympic Rower, Composer. Leader of Men. It is only in these relatively recent times that Kelly's fame became widely known.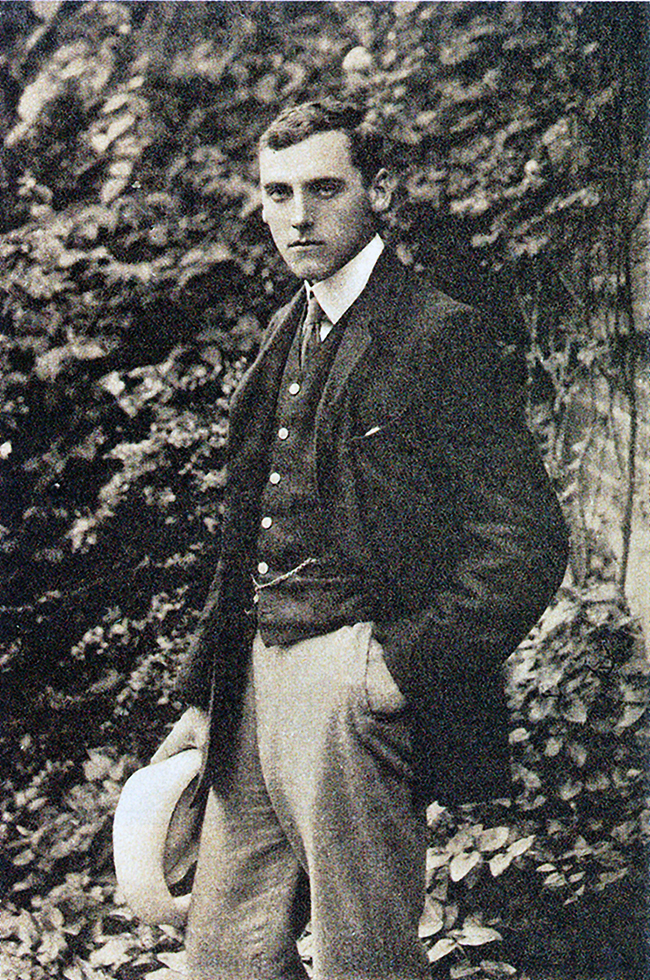 Kelly's portrait in British Sports and Sportsmen: Yachting and Rowing, compiled and edited by the 'Sportsman' London 1916.
Compiled by Andrew Guerin, March 2018