2010 World Junior Championships– Racice, Czech Republic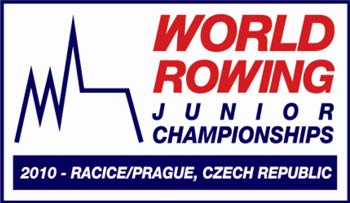 This regatta was a successful regatta with pleasing results. In a press release following the regatta, National High Performance Director Andrew Matheson said a lot of positives could be taken from the regatta.
"Winning two bronze medals at international level is always a good achievement," Matheson said. "We have a good group of juniors who will continue to improve under the right guidance and we can expect some more from them in the years to come.
"With this group we have identified them as potential candidates for the 2016 Olympic Games, so it will be good to see how they develop over time."
Despite the great result, the lack of gold medals put the Australians well down the medal standing.
Bow: Hannah Vermeersch, 2: Emma Basher, 3: Olympia Aldersey, Str: Natasha Gay
Daily Results Summaries
Day 1 - 5th August 2010
Day 2 - 6th August 2010
Day 3 - 7th August 2010
Day 4 - 8th August 2010
Men's Results
Men's Scull
Men's Double Scull
Men's Quad Scull
Men's Pair
Men's Four
Men's Coxed Four
Men's Eight
Photo Gallery
Australian team
Men's Quad Scull - 8th
Bow: Cameron Smith (QLD)
2: Nicholas Wheatley (NSW)
3: Andrew Curnow (VIC)
Str: Thomas Sacre (NSW)
Cch: Kenith Davey (TAS)
Men's Pair - Bronze
Bow: David Watts (WA)
Str: Matthew Cochran (WA)
Cch: Thomas Morris (WA)
Men's Coxless Four - 6th
Bow: Louis Snelson (NSW)
2: Michael Bernerius (NSW)
3: Asron Wright (NSW)
Str: Thomas Gunton (NSW)
Cch: Thomas Laurich (NSW)
Men's Coxed Four - Bronze
Bow: Tom Amies (QLD)
2: David Watts (WA)
3: Matthew Cochran (WA)
Str: Angus Moore (ACT)
Cox: Jack Alpe (NSW)
Cch: David Milne (WA)
Women's Double Scull - 4th
Bow: Jessica Hall (QLD)
Str: Madeline Edmunds (QLD)
Cch: Thomas Morris (WA)
Women's Quad Scull - 8th
Bow: Chloe Hill (QLD)
2: Katrina Bateman (VIC)
3: Regan Spark (QLD)
Str: Elanore Wilson (QLD)
Cch: Cameron Kennedy (QLD)
Women's Pair - Silver
Bow: Emma Basher (SA)
Str: Olympia Aldersey (SA)
Cch: Thomas Morris (WA)
Women's Four - Bronze
Bow: Hannah Vermeersch (WA)
2: Emma Basher (SA)
3: Olympia Aldersey (SA)
Str: Natasha Gay (WA)
Cch: Victoria Spencer (SA)
Team manager: Andrew Service
Team Doctor: Jeff Conn
Head Coaches: Peter Shakespeare and Wayne Diplock
Boatman: Urs Graf (SUI)
Women's Results
Women's Scull
Women's Double Scull
Women's Quad Scull
Women's Pair
Women's Four
Women's Eight