2015 World Championships- Aiguebelette, France
Photo Gallery
These Championships comprise the major qualification regatta for the Olympic Games. Rowing Australia also announced that it did not plan to try and qualify crews in 2016 so the importance of the regatta is heightened.
Rowing Australia did not select boats in all categories with no men's single scull or mens lightweight double scull. Two underpinning boats were however selected, both men's and women's lightweight quad sculls.
With so many Australian rowers on rowing scholarships in the USA, the final Australian team selections for the men's and women's eights were delayed to accomodate these athletes.
Unfortunately for Cameron Crosbie in the LTA4+, his confirmation of classification did not eventuate so he was replaced by Alistair Chong.
Further unfortunately for Renee Chatterton (SA), she suffered an injury which forced her removal from the team. She was replaced by one of the reserves.
Further, Alexander Lloyd (NSW) suffered injuries from a bicycle accident which precluded his racing in the four. His place was filled by Josh Dunkley-Smith (VIC). Josh's seat in the eight was filled by one of the reserves.
Finally, Perry Ward in the men's lightweight four had to withdraw very late in the preparations due to injury. The selectors took the view that the best solution would be for Tim McDonnell to race in the lightweight single and Darryn Purcell and Nicholas Silcox to race in the lightweight pair.
Racing
| | Country | Gold | Silver | Bronze | Total |
| --- | --- | --- | --- | --- | --- |
| 1st | Great Britain | 5 | 9 | 1 | 15 |
| 2nd | New Zealand | 5 | 3 | 1 | 9 |
| 3rd | Germany | 3 | 4 | 2 | 9 |
| 4th | Australia | 3 | 2 | 0 | 5 |
| 5th | USA | 3 | 1 | 3 | 7 |
Daily Results
Results—Men
Men's Single Scull
Men's Double Scull
The RA website reportedthat on the final day...it was the Men's Double Scull of Alexander Belonogoff and James McRae in action. The crew coached by Rhett Ayliffe were drawn in a tough A-Final up against reigning World Champions the Sinkovic brothers as well as Lithuania, Germany, New Zealand and France.
Predictably the Sinkovic brothers went out hard and led the race from start to finish and the battle ensued for the remaining podium places. The Australians were out of luck today though with Lithuania and New Zealand take silver and bronze while the Australians finished in fifth.
Men's Quad Scull
From the RA website
All the crews sped out of the start, with the favourites, Germany, taking the lead, with the Swiss and Estonians on their tail along with Australia. As the race progressed and the crews got into the full swing of things, the Germans went from a stroke rate of 38 to 41, with Australia chasing them down as Watts upped Australia's rate as high as 43 and Estonia hot on the Aussies' heels.
As the crews reached the final 200 metres it was Germany's to win, with Australia snapping up second and Estonia in third.
"Conditions are the start were quite different to how they were at the finish, there was a genuine cross head which meant that no crews could get out really fast.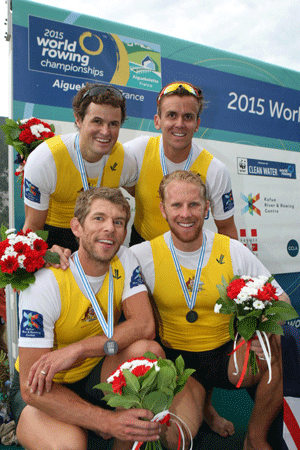 Back: Karsten Forsterling and David Watts
Front: David Crawshay and Cam Girdlestone
"As it got through the race we started off a little bit behind but we knew that and then we set about using our rhythm through the middle which we know is good and then really tacked together for a good finish which we probably haven't done since Varese and the first World Cup we competed in this season," said David Crawshay of the Men's Quad.
"We put ourselves in a good position, but Germany showed their class but we hung on for that second position, and it definitely gives us something to work on should we boat again together next season which I really hope it does happen.
"The younger two members of our crew in Cam (Girdlestone) and David (Watts) have really taken this whole experience in their stride and not been overawed by it all. It's a real measure of the two of them that they're able to do that, Cam has gone from a boat that was in the C-Final last year to one that has won a medal this year and that's a phenomenal thing for anyone.
"He's a class act and a great athlete and he deserves and to come from where he was, taking it in his stride and I believe our boat has really benefited from having both the older experience of myself and Karsten as well as the youth and exuberance of Cam and David."
Men's Pair
The first A-Final of the day for Australia was the Men's Pair of Nick Wheatley and Jack Hargreaves. The crew, who won silver medals in the same event at U23 level both this year and last year were up against the reigning World and Olympic champions New Zealand as well as Italy, Serbia, Great Britain and the Netherlands.
All the crews came out firing, with Hamish Bond and Eric Murray in their sights but it was the New Zealanders who led the race from start to finish, leaving the remaining crews to battle it out for the remaining positions. The young Australians were fourth at the 500 metre mark but slipped back to sixth and remained there for the race, finishing in a time of 6.35. 97, with Murray and Bond retaining their title for another year, followed by Great Britain and Serbia.
Hargreaves and Wheatley conclude their World Rowing Championships ranked sixth in the world and having qualified their boat class for the 2016 Rio Olympic Games.
Men's Coxed Pair
Men's Four
The RA website reported:
The Men's Four of Alex Hill, Spencer Turrin, Josh Dunkley-Smith and Will Lockwood were up against crews from Germany, Great Britain, Italy, Netherlands and Canada. The Italians took a small lead at the start but at the 500 metre mark Australia pushed ahead and held the lead in the middle of the race before Italy upped its stroke rate to surge ahead as they approached the 1500 metre buoys.

With the crowd going wild the Italians edged the Australians out to take the gold with Simon Cox's crew taking silver and Great Britain bronze.

Speaking post-race, bowman Will Lockwood said: "Our start was the best we've had all regatta and we put our all out there. We had a great middle kilometer but we just didn't have the juice when it come to the final 500 metres to overtake the Italians.

"We've been rowing together for four weeks which is no time at all, the Italians have been together for three years and it showed in the cleanliness of their row. Credit to them, it was an awesome race and we raced well and I'm incredibly proud of the boys for what they did today."
Men's Eight
Men's Lightweight Scull
Men's Lightweight Double Scull
Men's Lightweight Quad Scull
Men's Lightweight Pair
Men's Lightweight Four
Men's Lightweight Eight
Men's Arms Shoulder Scull
Australia had a great start to these championships with two gold medals. Erik Horrie took gold in the para men's single sculls (ASM1x) to become a three-time World Champion. Horrie stayed ahead of 2008 Paralympic Champion, Tom Aggar of Great Britain with Igor Bondar of Ukraine in third.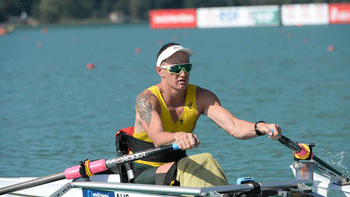 Mixed Legs Trunks Arms Four
Australian Team
Men's Double Scull - Fifth
Bow: James McRae (SA)
Str: Alexander Belonogoff (NSW)
Cch: Rhett Ayliffe (WA)
Men's Quadruple Scull - Silver
Bow: David Crawshay (VIC)
2: Karsten Fosterling (VIC)
3: Cameron Girdlestone (NSW)
Str: David Watts (WA)
Cch: John Driessen (TAS)
Men's Coxless Pair - Sixth
Bow: Jack Hargreaves (NSW)
Str: Nicholas Wheatley (NSW)
Cch: Mark Prater (NSW)
Men's Coxless Four - Silver
Bow: William Lockwood (VIC)
2: Joshua Dunkley-Smith (VIC)
3: Spencer Turrin (NSW)
Str: Alexander Hill (SA)
Cch: Simon Cox (NTC-Canberra)
Men's Coxed Eight - Ninth
Bow: Christopher Cunningham-Reid (NSW)
2: James Chapman (NSW)
3: Scott Laidler (QLD)
4: Fergus Pragnell (NSW)
5: Samuel Hookway (VIC)
6: Nicholas Purnell (NSW)
7: Matthew Ryan (NSW)
Str: Joshua Booth (VIC)
Cox: David Webster (VIC)
Cch:Timothy McLaren (NSW)
Men's Lightweight Scull - Twenty third
Timothy McDonnell (QLD)
Cch: Brett Crow (TAS)
Lightweight Men's Quadruple Scull - Seventh
Bow: James Wilson (VIC)
2: Edward de Carvalho (NSW)
3: Tom Perry (ACT)
Str: Jonothon Hookway (VIC)
Cch: David England (VIC)
Men's Lightweight Pair - Sixth
Bow: Nicholas Silcox (QLD)
Str: Darryn Purcell (QLD)
Cch: Brett Crow (TAS)
Women's Single Scull - Gold
Kim Crow (VIC)
Cch: Lyall McCarthy (NTC-Canberra)
Women's Double Scull - Tenth
Bow: Olympia Aldersey (SA)
Str: Sally Kehoe (NSW)
Cch: Jason Lane (SA)
Women's Quadruple Scull - Fifth
Bow: Jessica Hall (QLD)
2: Jennifer Cleary (VIC)
3: Kerry Hore (TAS)
Str: Madeleine Edmunds (QLD)
Reserve: Fiona Albert (VIC)
Cch: Thomas Westgarth (QLD)
Women's Coxless Pair - Thirteenth
Bow: Molly Goodman (SA)
Str: Genevieve Horton (NSW)
Cch: Bill Tait (VIC)
Women's Coxed Eight - Eighth
Bow: Lucy Stephan (VIC)
2: Hannah Vermeersch (WA)
3: Georgina Howe (VIC)
4: Rosemary Popa (VIC)
5: Meaghan Volker (TAS)
6: Katrina Bateman (VIC)
7: Alexandra Hagan (WA)
Str: Charlotte Sutherland (VIC)
Cox: Sarah Banting (VIC)
Cch: Andrew Randell (ACT)
Women's Lightweight Scull - Eighth
Georgia Nesbitt (NSW)
Cch: Ellen Randell (NSW)
Women's Lightweight Double Scull -Twentieth
Bow: Alice McNamara (VIC)
Str: Ella Flecker (TAS)
Cch: Mark Fangen-Hall (NTC-Canberra)
Women's Lightweight Quadruple Scull - Fourth
Bow: Laura Dunn (NSW)
2: Georgia Miansarow (NSW)
3: Sarah Pound (NSW)
Str: Maia Simmonds (WA)
Cch: Ellen Randell (NSW)
Arms and Shoulders Men's Single Scull (ASM1x) - Gold
Erik Horrie (NSW)
Cch: Jason Baker (NSW)
Trunk and Arms Mixed Double Scull (TAMix2x) - Gold
Bow: Gavin Bellis (VIC)
Str: Kathryn Ross (VIC)
Cch: Gordon Marcks (NTC Canberra)
Legs, Trunk and Arms Mixed Coxed Four (LTAMix4+) - Ninth
Bow: Sara Waitzer (TAS)
2: Alastair Chong (NSW)
3: Jeremy McGrath (NSW)
Str: Kathleen Murdoch (NSW)
Cox: Josephine Burnand (NSW)
Cch: Gordon Marcks (NTC-Canberra)
Reserves
Sophie Sutherland (VIC) - women's sweep
Josh Hicks (NSW) - men's sweep
Manager: Ray Ebert (QLD)
Para Manager: Dean Oakman (ACT)
High Performance Director: Chris O'Brien
Deputy High Performance Director: Jaime Fernandez
Performance Support Manager: Wayne Diplock
Media & Communications: Lucy Benjamin
Boatman: Urs Graf
Doctors: Larissa Trease, Jeff Conn, Steve Reid, Anik Shawdon
Physiotherapists: Kellie Wilkie, Kingsley Gibson, Judi Sternfeldt, Andrew Fooks, Andrew Darcey, Miranda Wallis, Leon Vogels
Massage therapists: Georgie Stephens, Scott Smith, Lauren van Leent, Antony Choice, Stuart Roeszler
Sports Science: Tony Rice, Rod Siegel, Lachlan Johnston
Strength & Conditioning: Harry Brennan
Nutrition: Bronwen Lundy
Performance Learning: Jeff Simons
Performance Advisor: Drew Ginn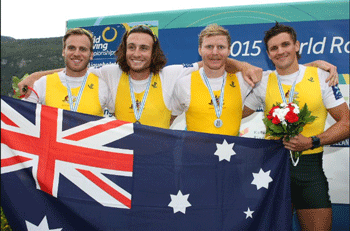 Left to right: William Lockwood, Joshua Dunkley-Smith, Spencer Turrin and Alexander Hill
Results—Women
Women's Single Scull
The RA website reported: Crow faced off to a strong field featuring China, Canada, Switzerland, USA and 2012 Olympic Champion, Mirka Knapkova of the Czech Republic. However, the sculler who is coached by Lyall McCarthy at the National Training Centre in Canberra dominated her race to lead from start to finish in blustery conditions. Crossing the line in 7 minutes 38 seconds, Crow was followed by Knapkova and Jingli Duan of China.
"This feels really special. It's been a really fun year, I've got a great training group around me in Canberra, I've just got engaged, I'm getting married later in the year [to Olympic gold medalist Scott Brennan] and to round it off with a World Championship title is just fantastic.
"I think I've been around long enough to know that in the pre-Olympic year, and in the Olympic year, a lot of people really step up and it's always a mistake to use past form to suggest as to how a result is going to pan out so for me today was about staying calm and executing my race and I think it paid off."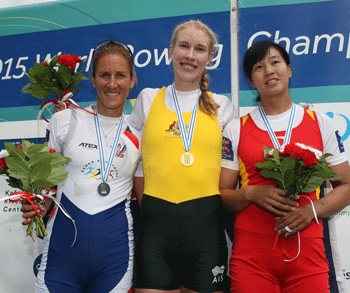 L-R: Mirka Knapkova, Kim Crow, Jingli Duan
Women's Double Scull
Women's Quad Scull
In the third A-Final of the day for Australia it was the Women's Quadruple Scull of Madeleine Edmunds, Kerry Hore, Jennifer Cleary and Jessica Hall who took on the Olympic and 2014 World Champions Germany. Joining the two favourite crews were USA, Netherlands, Poland and New Zealand.

Germany took the lead early on with the Australians forced to make-up for a disappointing start which saw the other crews in the final take advantage of, as the Australians sat in sixth at the 500 metre mark.

Clawing their way back the crew dug deep in a bid to chase down the pack and showed their true grit to push themselves into fourth before Poland took a surge ahead of them in the final 500 metres to assume fourth. With USA sewing up gold, Germany silver and Netherlands bronze, it was fourth for Poland and fifth place for the Australians, who in turn secured a berth for the Women's Quadruple Scull at next year's Rio Olympic Games.
Women's Pair
Genevieve Horton and Molly Goodman competed in the C-Final of the Women's Pair first thing this morning in Aiguebelette. The crew, coached by Bill Tait, led the race from start to finish to ensure they finished in a time of 7:15:84 and sees them now ranked 13th in the world.
Women's Four
Women's Eight
Women's Lightweight Scull
Women's Lightweight Double Scull
Women's Lightweight Quad Scull
Women's Arms and Shoulder Scull
Trunk Arms Shoulders Mixed Double Scull
Australia's second gold came in the para mixed double sculls (TAMix2x). Gavin Bellis and Kathryn Ross successfully defended their World Championship title in the double holding off Great Britain and France. Bellis commented on the tight finish, "It's amazing to have such a close race, it is great for the sport."