1984 FISA Lightweight World Championships- Montreal Canada
Photo Gallery
The women's lightweight events were included as demonstration events to enable FISA delgates to vote as to whether they should be included as Championships. The Authors have regarded them as World Championships for this publication.
These brothers rowed against one another in the Men's Lightweight Coxless Four—Ian for Great Britain and Stuart for Australia.
The men's lightweight four performed well but after the first five hundred metres of the final found themselves in fifth place and chasing the field. This was unusual for them and they failed to get on top of the strong tail breeze conditions during the race. Positions scarcely changed for the rest of the event with Spain winning narrowly from West Germany and Australia in last place.
The men's lightweight eight suffered considerable illness on tour with, at one stage, most of the crew bedridden with a virus and unable to train. One attempt was made for a light paddle in the cool conditions of the evening for the lightweight eight in the week leading up to the Championships but this left several of the crew absolutely flat and the coach had to call for yet another day's rest.
Australia finished third in the heat, third in the repechage and therefore relegated to the petite final. With the virus still showing its effects, Australia finished fourth in the petite final and was most frustrated after justifiable high hopes for success after many months of good training beforehand.
Although not a FISA Championship, Australia sent a women's lightweight eight to this regatta in anticipation of such events being included in the FISA programme for 1985. The crew performed well taking the silver medal.
Results—Women's
Women's Lightweight Single Sculls
Final: 1st West Germany 8.22.85, 2nd USA.
Women's Lightweight Double Sculls
Final: 1st Denmark 7.38.16, 2nd USA, 3rd Canada.
Women's Lightweight Coxed Four
Final: 1st West Germany 7.23.89, 2nd USA.
Women's Lightweight Eight
Final: 1st USA 6.30.40, 2nd Australia, 3rd Canada.
Australian Team
Men's Lightweight Eight—Tenth
Bow: Phil Gardiner (VIC)
2: Merrick Howes (NSW)
3: Russell Hookway (TAS)
4: Charles Bartlett (VIC)
5: Ian Jordan (TAS)
6: Bruce House (TAS)
7: Peter Antonie (VIC)
Str: Steven Spurling (VIC)
Cox: Dale Caterson (NSW)
Cch: David Palfreyman (VIC)
Res: Nick Hunter (NSW)
Men's Lightweight Four—Sixth
Bow: William Digby (VIC)
2: Rob Gardner (VIC)
3: Stuart Wilson (VIC)
Str: Brian Digby (VIC)
Cch: Geoff Hunter (VIC)
Res: Nick Hunter (NSW)
Women's Lightweight Eight—Silver
(Non Championship Event)
Bow: Karin Riedel (SA)
2: Amanda Cross (SA)
3: J Sheehan (WA)
4: Angela Maidment (WA)
5: Brigid Cassells (NSW)
6: Debbie Cooper (NSW)
7: Gayle Toogood (VIC)
Str: J Hall (NSW)
Cox: M Robertson
Cch: Brian Dalton (VIC)
Res: Angela Turrell (VIC)
Manager: Barbara Gillett (VIC)
Doctor: Stephen Jelbart (VIC)
Selectors: William Hay (SA), Don Croot (NSW), Simon Gillett (VIC), Reinhold Batschi (ACT)
Results—Men's
Men's Single Sculls
Final B: 7th AUT, 8th ITA, 9th IRL, 10th CHN, 11th NED
Final: 1st DEN 7.04.20, 2nd USA, 3rd ESP, 4th GBR, 5th CAN, 6th BEL
Men's Double Sculls
Final B: 7th FRA, 8th NOR, 9th AUT, 10th SWE, 11th GBR
Final: 1st ITA 6.25.14, 2nd FRG, 3rd DEN, 4th USA, 5th SUI, 6th CAN
Men's Lightweight Four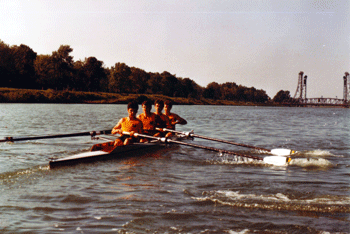 Final B: 7th CAN, 8th SWE, 9th NOR, 10th NED, 11th USA, 12th CHN
Final: 1st ESP 6.09.39, 2nd FRG, 3rd GBR, 4th DEN, 5th ITA, 6th AUS
The result was disappointing after a good win in the heat and an easy row in the semi-final. Whilst the Spanish crew was probably always going to win whatever the conditions, it is clear that the unfair conditions in the final impacted the results and the placing of the Australians.
Men's Lightweight Eight
Final B: 7th FRG, 8th CAN, 9th NED 10th AUS, 11th JPN
Final: 1st DEN, 2nd ITA, 3rd ESP, 4th IRL, 5th USA, 6th GBR