2019 World Under 23 Championships– Sarasota-Bradenton, USA
In an event dominated by the Italians, the Australians did quite well taking home four medals, including two gold.
There was a shadow over the Australian team with the death of Nick Garrett, one of the team coaches during the preparation. Nick was in Penrith with the U23 Australian Rowing Team, as part of his role coaching the U23 Australian Lightweight Women's Pair and U23 Lightweight Men's Double Scull, when he passed away suddenly on Monday 8 July. It was a shock to the sport as well given he was much loved and respected. Nick Mitchell took on more of the coaching responsibilities after Nick's death.
Daily results
Men's Results
RA reported:
In calm conditions, the U23 Men's Coxed Four of Ben Canham, Angus Dawson, Mitchell Hooper, Adam Bakker and Caitlin Hockings were crowned World Champions after leading their final from start to finish. The crew, coached by Nick Mitchell, won their heat earlier in the week and Hockings led her crew out firing in the final today in Florida.
The crew clocked a time of 6 minutes 10 seconds to claim victory, having to hold off a last minute sprint to the line from Great Britain, who took silver, and Italy who took bronze. There was only 0.09 of a second between the Australians and the British as the boats crossed the line, while the Italians were just 0.63 of a second behind the Australians.
All but one of the crew were on debut for Australia, with Adam Bakker the only member of the crew to have represented Australia on a world stage, at both Juniors and Under 23s.
Post-race, Queensland-born Bakker, who is an U23 World Champion in the Men's Four from 2017, said, "We went in feeling confident after our performance in the heats. We executed our race plan well and held off the other crews.
"I thought that the British had gotten us in the end, but no, we'd take the gold which is awesome. Some of us will be ageing out of U23s next year, so we'll be aiming for selection into the senior team."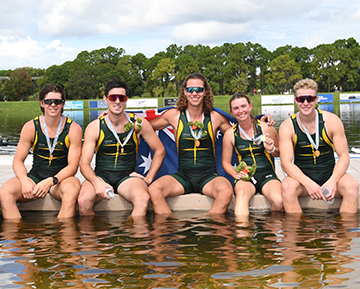 RA reported:
The U23 Men's Eight were drawn in Lane 1 in their A-Final, racing against Netherlands, USA, Great Britain, Romania and Germany. The crew of Elliot Apel, Mitchell Hooper, Alexander Wolf, Harry Crouch, Jack Robertson, George Finlayson, Jackson Kench, Angus Morrison and coxswain Alannah Gilsmore would no doubt have been buoyed overnight by Hooper's victory in the U23 Men's Coxed Four final.
The Australians came out of the start rating 47, and the crew coached by John Bowes, were in fifth, while Great Britain took the early lead. As the race progressed, the Australians couldn't manage to catch race leaders, and eventual winners, Great Britain, with the Australians crossing the line in sixth place.
Men's Lightweight Double Scull
Australian Team
Men's Single Scull - Seventh
Cormac Kennedy-Leverett (QLD)
Cch: Marcus Free (QLD)
Men's Four - Ninth
Bow: Marcus Britt (NSW)
2: Will O'Shannessy (NSW)
3: Nick Lavery (VIC)
Str: Rohan Lavery (VIC)
Cch: Matt Ryan (VIC)
Men's Coxed Four - Gold
Bow: Mitchell Hooper (VIC)
2: Angus Dawson (SA)
3: Ben Canham (VIC)
Str: Adam Bakker (QLD)
Cox: Caitlin Hockings (QLD)
Cch: Nick Mitchell (VIC)
U23 Men's Eight - Sixth
Bow: Elliott Apel (QLD)
2: Mitchell Hooper (VIC)
3: Alexander Wolf (VIC)
4: Harry Crouch (NSW)
5: Jack Robertson (Uni California, Berkeley/VIC)
6: George Finlayson (Uni California, Berkeley/NSW)
7: Jackson Kench (NSW)
Str: Angus Morrison (Yale Uni/QLD)
Cox: Alannah Gilsmore (SA)
Cch: John Bowes (QLD)
Lightweight Men's Pair - Fourth
Patrick Boere (WA)
Rohan James (WA)
Cch: Mark Beer (ACT)
Lightweight Men's Double Scull - Seventh
Mitchell Reinhard (SA)
Nathan Kennedy (ACT)
Cch: Nick Mitchell (VIC)
Women's Single Scull - Gold
Ria Thompson (VIC)
Cch: Ben Southwell (QLD)
Women's Double Scull - Silver
Bow: Giorgia Patten (WA)
Str: Harriet Hudson (NSW)
Cch: Rhett Ayliffe (WA)
Women's Coxless Pair - Tenth
Bow: Tara Rigney (NSW)
Str: Dyone Bettega (NSW)
Cch: Alfie Young (NSW)
Women's Coxless Four - Ninth
Bow: Nicela Martincic (NSW)
2: Grace Reid (NSW)
3: Lily Alton-Triggs (QLD)
Str: Olivia Jones (WA)
Cch: Joe Tamigi (WA)
Women's Coxed Four - Bronze
Bow: Imogen Purcell (Uni California, Los Angeles/VIC)
2: Sarah Tisdall (Harvard Uni/QLD)
3: Jane Perrignon (Uni California, Berkeley/QLD)
Str: Alexandra Nothdurft (Ohio State/QLD)
Cox: Phoebe Georgakas (VIC)
Coach: Annabelle Eaton (VIC)
Lightweight Women's Single Scull - Ninth
Georgina Masters (NSW)
Cch: Alex Field (NSW)
Lightweight Women's Pair - Fourth
Bow: Lucy Theodore (QLD)
Str: Jilly Roberts (ACT)
Cch: Ben Southwell (QLD)
Women's Results
RA reported:
Thompson was the final Australian to race at the 2019 World Rowing U23 Championships and she did so in style with the Australian putting in an incredible race to be crowned the 2019 World Rowing U23 Champion. The Victorian, who is currently based in Queensland, took on scullers from Canada, Italy, USA, France and Bulgaria in the finals of the U23 Women's Single Scull.
Victory for Ria Thompson (Copyright Rowing Australia)
Thompson, who is coached by Ben Southwell, was sat back in fourth for the first 1250 metres of the race with Kallfelz taking an early lead, with the scullers from Bulgaria and France ahead of the Australian. However, Thompson worked her way through the pack and overtook the Bulgarian and French scullers, to then be within half a boat length of the American.
With 40 metres to go, the Australian U23 National Champion, began to sprint and pushed past the American to take the victory.
"That was the most surreal race ever! Emily was so far ahead and I didn't know where she was, but I have to say congratulations to her on a great race. I just went for it on every single stroke and when it came down to it, it paid off," admitted Thompson who currently rows out of University of Queensland Boat Club.
RA reported:
The U23 Women's Double Scull of Giorgia Patten and Harriet Hudson, who have been training in Western Australia under the guidance of Rhett Ayliffe, were drawn in Lane Two of their A-Final. Taking on China, Hungary, Germany, Greece and Austria, the Australians paced themselves well at the start, with Greece coming out fastest in Lane Five.
At the halfway mark, the Australian combination had muscled their way into second place and were within touching distance of the Greeks who had led from the start. As the crews hit the final 500 metres, Hudson upped the Australians rating and the crew edged in front of the Greeks. However, Anneta Kyridou of Greece answered the Australians push by upping the stroke rate to sprint to the line and take home the gold, three seconds ahead of the Australians who took silver, while Hungary took bronze.
Hudson said post-race, "It's been a long campaign and we're delighted to come away with a silver medal. Giorgia and I were selected after the Australian Nationals in March this year and it's great to win here in Florida. It's been awesome to race here, the conditions have been great and it's been a fantastic experience."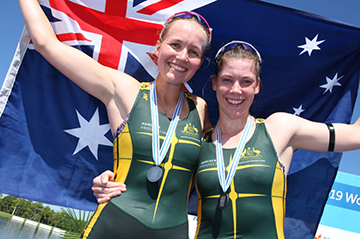 RA reported:
The U23 Women's Coxed Four of Alexandra Nothdurft, Jane Perrignon, Sarah Tisdall, Imogen Purcell and Pheobe Georgakas were drawn in Lane Four, taking on Canada, France, Italy and the USA. The crew, coached by Annabelle Eaton, took advantage of the calm conditions to deliver a measured race that saw them sat in third despite a push from Canada in the final 750 metres.
In a sprint to the line, Georgakas called on her crew to up the rating and as they surged ahead of Canada, the crew looked set to take down the French who had begun to slow. As they crossed the line it was Italy who took the win, with France in second and Australia crossing the line to take bronze, just 0.28 of a second behind the French.
Post-race, Nothdurft said the conditions had been great for their final, "The water was good today and we all stayed calm out there and aimed to stay strong. It's been really exciting racing here in Florida as it was our first time racing internationally, but Annabelle prepared use really well for the event."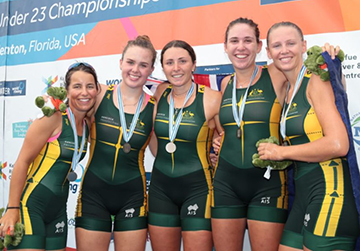 Women's Lightweight Double Scull
Women's Lightweight Quad Scull