2015 World Under 23 Championships– Plovdiv Bulgaria
Plovdiv in Bulgaria is a regular hosting venue of international events including the senior World Championships in 2012. Plovdiv is the second biggest
Bulgarian city, situated in the most prosperous region of the country, not only in terms of natural resources and
economic output, but also in terms of cultural and historical heritage. The rowing venue is part of the huge sport complex that is situated around it and that consists
also of the Plovdiv stadium with 70,000 seats.
The Australian selectors were pleased with their selections for this event with quality crews being selected. These included the Australian senior pair which doubled up at these Championships.
As with past years, Australian rowers studying abroad were added to this team, but unfortunately not in great numbers. The women's four contained Davis and Engel studying at Ohio State, Howe at Princeton and Edmunds at University of California Berkeley. The men's coxed four contained Croxford and Hardy studying at Harvard, Snelson and Cleary from University of California Berkeley and Copolov from Northeastern. Jack Kelly from Harvard also raced in the lightweight single. They trained togrther in a camp at Dartmouth College.
There were a number of athletes returning to the U23 side this year including Hamish Parry and Jack Armitage (BLM2-), Katrina Werry and Addy Dunkley-Smith, who last year competed in the U23 Women's Eight, combined to race the U23 Women's Pair. Luke Letcher also returned, but this time to race in the U23 Men's Double Scull with Tom Schramko who recently made the step up from the Junior Australian Rowing Team.
Unfortunately Cara Grzeskowiak was injured during preparations and was replaced by Leah Saunders in the women's quad scull.
Results by day
Day 1 - 22nd July 2015
Day 2 - 23rd July 2015
Day 3 - 24th July 2015
Day 4 - 25th July 2015
Day 5 - 26th July 2015
Results - Men
Men's Scull
Men's Double Scull
Men's Quad Scull
The RA website reported that Australia took Lane 5 and were up against an inform Canada, who led the A-Final from the get-go. The Canadians rated hight to hold off the Australian charge from Robert Black, Alexander Purnell, William Mure and Christopher Hayes who were in second at the halfway mark. Meanwhile, Poland and New Zealand crossed the half-way mark nearly level in third and fourth, the two were going to chase each other down to the line, fighting for a spot on the podium. In the final 500m, Canada increased their margin over Australia and charged for the line and unluckily for Australia they caught a crab in the final strokes and was unable to withstand a powering New Zealand who finished ahead in silver. Post-race Purnell said: "Overall we're very happy with the race and to walk away with a medal is just great. We really felt we found a good rhythm this week and kept it to the line in the Final today."
Men's Pair
Whilst the Australian pair were hoping for gold and entered the race favourites, Nicholas Wheatley said "It's probably our best race of the regatta. We gave everything we had. We are a little disappointed not to get gold, but the Romanians were really strong. We'll go back to training for Aiguebelette."
Men's Four
Men's Coxed Four
In the U23 Coxed Four the Australian crew had a tough race and straight out the blocks it was Italy, in second, who began putting on the pressure on the other competitors after passing the half-way mark, gradually overlapping and then steadily taking over the New Zealanders. In third it was Australia, with Turkey, in fourth, not giving the Australians any peace of mind. With 500m left to go, the Turkish crew pushed past the Australians, while Italy continued storming ahead, with New Zealand chasing hard. In the final strokes, Germany came out of nowhere, moving up from sixth at the half-way mark to surprise Turkey and finish five tenths of a second ahead, with Australia finishing in fifth place.
Men's Eight
Men's Lightweight Scull
Men's Lightweight Double Scull
Men's Lightweight Quad Scull
Men's Lightweight Pair
Men's Lightweight Four
Australian Team
Men's Double Scull - Tenth
Bow: Luke Letcher (ACT)
Str: Thomas Schramko (NSW)
Cch: Nick Garratt (NSW)
Men's Quad Scull - Bronze
Bow: Alexander Purnell (NSW)
2: William Mure (TAS)
3: Christopher Hayes (WA)
Str: Robert Black (NSW)
Cch: Antonio Maurogiovanni (WA)
Men's Coxless Pair - Silver
Bow: Jack Hargreaves (NSW)
Str: Nicholas Wheatley (NSW)
Cch: Mark Prater (NSW)
Men's Coxed Four - Fifth
Bow: Jack Cleary (WA)
2: Sam Hardy (NSW)
3: James Croxford (VIC)
Str: Louis Snelson (NSW)
Cox: Louis Copolov (VIC)
Cch: Tom Laurich (VIC)
Men's Lightweight Scull - Ninth
Jack Kelly (SA)
Cch: Thomas Laurich (VIC)
Men's Lightweight Coxless Pair - Seventh
Bow: John Armitage (QLD)
Str: Hamish Parry (QLD)
Cch: Ben Southwell (QLD)
Women's Quad Scull - Silver
Bow: Leah Saunders (NSW)
2: Rowena Meredith (NSW)
3: Tessa Carty (QLD)
Str: Georgina Gotch (NSW)
Cch: Judith Ungemach (NSW)
Women's Pair - Bronze
Bow: Addy Dunkley-Smith (VIC)
Str: Katrina Werry (VIC)
Coach: Simon Gadsden (VIC)
Women's Four - Fourth
Bow: Rachel Engel (VIC)
2: Georgina Howe (VIC)
3: Jacinta Edmunds (QLD)
Str: Sarah Davis (ACT)
Cch: Vicky Spencer (ACT)
Women's Lightweight Double Scull - Seventh
Bow: Amy James (QLD)
Str: Holly Lawrence (NSW)
Coach: Alex Field (QLD)

Manager: Andrew Service (RA)
Head Coach: Barnaby Eaton (RA)
Doctor: James Lawrence
Physiotherapist: Andrew McCann
Results - Women
Women's Scull
Women's Double Scull
Women's Quad Scull
The RA website reported that in the U23 Women's Quadruple Scull the crew of Georgie Gotch, Tessa Carty, Rowena Meredith and Leah Saunders kept a steady pace throughout their whole final, holding off challenges from Germany and France to take silver in their Final. The Polish Women's Quad, the ultimate victors, went out hard in the final and led the race from start to finish, however Australia challenged the Europeans as they battled off threats from the other crews. However the crew, coached by Judith Ungemach, remained focus on the task at hand and claimed a silver in the Plovdiv sunshine. Gotch said post-race: "It is my fifth World Championships and my first medal. It is an amazing feeling, better than I could have imagined. It is the best crew I could imagine to do it with."
Women's Pair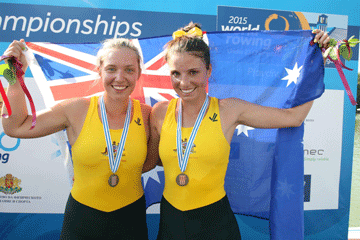 The RA website reported as follows: Addy Dunkley-Smith and Katrina Werry snapped up a bronze medal in the A-Final of the U23 Women's Pair. The pair, coached by Simon Gadsden, were up against the USA in Lane 4 who as expected started fast to take an early lead and were closely followed by Great Britain in second with France pushing for third. The Australian crew was in fifth by the halfway mark and needed to dig deep to make the podium, and that they did. The Victorian rowers pushed hard in the final 500 metres challenging both France and Great Britain for the silver and bronze medal positions, and as the French lost speed the Australians took their chance and surged through to take the bronze as Great Britain held onto silver and the USA took home the gold.
Post-race, Dunkley said: "It's such an honor to be on the podium and to represent our country. Thanks to our support crew here and at home in Australia."
Women's Four
In the final of the U23 Women's Four, Australia had been drawn in Lane 3 having had the fastest qualifying time. However, the USA had a point to prove in the race having qualified through the repechage. The Americans led the race while the battle for second and third ensued between Australia, Canada and Great Britain. Ultimately the Canadians and British won out, taking silver and bronze with Australia coming in fourth.
Women's Eight
Women's Lightweight Scull
Women's Lightweight Double Scull
Women's Lightweight Quad Scull