2008 World Rowing Under 23 Championships— Brandenburg, Germany
Photo Gallery
These Championships were conducted from 17-20th July 2008 and a substantial team was sent by Australia. Australian was very successful in the women's events but were disappointing in the men's events.
The following report appeared on the Rowing Australia website regarding the final day:
Tasmanian Carly Cottam won gold for Australia on the final day of the Under 23 World Rowing Championships in Brandenburg, Germany.
The diminutive sculler had shown impressive form all week in the Women's Lightweight Single Scull and won the final in a time of 8:03.12. The win will be a massive confidence boost for Cottam who can now concentrate on senior team selection in 2009.
Emily Rose and Libby Alderman won the silver medal in the final of the Women's Pair after a strong showing against pre–race favourites, Romania. Alderman and Rose led through the 1500 metre mark of the race but could not hold off the Romanian charge on the line to finish just over two seconds behind in a time of 7:21.66.
Australia's Women's Quad Scull won the third medal of the day after finishing in third place. Lisa Szatsznajder, Emma McCarthy, Laura Osti and Kim Brown led through the halfway point in the race but were overtaken by Romania and Germany over the last 750 metres and completed the race in a time of 6:54.47.
The Men's Four of Bryn Coudraye, Rhys Grant, Cameron Brewer and Ned Kinnear finished in fourth place in the final after being edged out of a medal position by Croatia by four tenths of a second, while both the Women's Four and Men's Quad Scull crews finished fifth in their respective finals.
The Men's Eight made up for missing the A Final by winning the B Final in fine fashion in a time of 5.59.59, while the Women's Lightweight Double Scull of Maja Fiddler and Jacky Peile claimed second place in their B Final. James Gatti and Kieren Kobelke were unable to put together their best race and finished sixth in the B Final of the Men's Double Scull.
Germany was the standout performer at the regatta and walked away with five gold medals.
Men's Results
Men's Scull
E1: 1st BLR, 2nd LAT, 3rd MON, 4th EST, 5th FRA
E2: 1st LTU, 2nd GER, 3rd CHI, 4th BRA, 5th UKR
E3: 1st NED, 2nd RSA, 3rd BEL, 4th ITA, 5th TUR
E4: 1st CRO, 2nd RUS, 3rd NOR, 4th FIN, NGR DNS
E5: 1st NZL, 2nd JPN, 3rd GRE, 4th SVK, 5th SLO
E6: 1st SRB, 2nd ARG, 3rd USA, 4th GEO
Q1: 1st LTU, 2nd RUS, 3rd MON, 4th JPN, 5th FRA, 6th BEL
Q2: 1st CHI, 2nd LAT, 3rd NED, 4th SVK, 5th NOR, 6th ARG
Q3: 1st BLR, 2nd SRB, 3rd GRE, 4th UKR, 5th BRA, 6th RSA
Q4: 1st NZL, 2nd CRO, 3rd GER, 4th USA, 5th EST, 6th ITA
SF C/D: 1st EST, 2nd JPN, 3rd UKR, 4th NOR, 5th BEL, 6th ITA
SF C/D: 1st USA, 2nd BRA, 3rd FRA, 4th RSA, 5th ARG, 6th SVK
SF A/B: 1st LTU, 2nd GER, 3rd BLR, 4th CRO, 5th LAT, 6th MON
SF A/B: 1st NZL, 2nd RUS, 3rd CHI, 4th NED, 5th GRE, 6th SRB
FE: 1st SLO, 2nd TUR, 3rd FIN, 4th GEO
FD: 1st RSA, 2nd ARG, 3rd NOR, 4th BEL, 5th SVK, 6th ITA
FC: 1st JPN, 2nd EST, 3rd BRA, 4th USA, 5th FRA, 6th UKR
FB: 1st CRO, 2nd MON, 3rd GRE, 4th LAT, 5th NED, 6th SRB
Final:
1st NZL Joseph Sullivan 6:52.18,
2nd LTU Mindaugas Griskonis 6:55.24,
3rd GER Tim Bartels 7:00.35,
4th RUS Maxim Zhemaldinov 7:05.52,
5th CHI Oscar Vasquez Ochoa 7:07.48,
6th BLR Dzianis Suravets 7:09.51
Men's Double Scull
E1: 1st GER, 2nd SLO, 3rd BEL, 4th BEL, 5th ROU
E2: 1st GBR, 2nd ITA, 3rd AUS, 4th ARG, 5th PAR
E3: 1st GRE, 2nd UKR, 3rd LTU, 4th SUI, 5th GEO
E4: 1st CRO, 2nd EST, 3rd LAT, 4th CZE
R1: 1st LTU, 2nd BLR, 3rd ARG, 4th ROU, 5th CZE
R2: 1st AUS, 2nd LAT, 3rd BEL, 4th SUI, 5th GEO, 6th PAR
SF C/D: 1st ARG, 2nd CZE, 3rd SUI, 4th PAR
SF C/D: 1st BEL, 2nd ROU, 3rd GEO
SF A/B: 1st GBR, 2nd GER, 3rd LTU, 4th UKR, 5th LAT, 6th EST
SF A/B: 1st CRO, 2nd GRE, 3rd ITA, 4th SLO, 5th BLR, 6th AUS
FD: 1st PAR, 2nd GEO
FC: 1st ROU, 2nd BEL, 3rd SUI, 4th CZE, 5th ARG
FB: 1st SLO, 2nd BLR, 3rd LAT, 4th UKR, 5th EST, 6th AUS
Final:
1st GBR (Bow: Charles Cousins, Str: William Lucas) 6:33.11,
2nd CRO (Bow: Martin Sinkovic, Str: Valent Sinkovic) 6:33.95,
3rd GER (Bow: Karl Schulze, Str: Tim Grohmann) 6:34.54,
4th GRE (Bow: Stergios Papachristos, Str: Andreas Tilelis) 6:41.04,
5th ITA (Bow: Domenico Montrone, Str: Andrea Tranquilli) 6:46.82,
6th LTU (Bow: Gytis Ruzgys, Str: Mykolas Masilionis) 6:52.17
Men's Quad Scull
E1: 1st UKR, 2nd RUS, 3rd AUS, 4th AUT, 5th POR
E2: 1st POL, 2nd CRO, 3rd ROU, 4th LTU, 5th HUN
E3: 1st GER, 2nd FRA, 3rd ITA, 4th SLO, 5th LAT
R: 1st AUT, 2nd HUN, 3rd SLO, 4th LAT, 5th LTU, 6th POR
SF1: 1st GER, 2nd UKR, 3rd AUS, 4th CRO, 5th ITA, 6th HUN
SF2: 1st RUS, 2nd POL, 3rd FRA, 4th SLO, 5th AUT, 6th ROU
FC: 1st LAT, 2nd LTU, 3rd POR
FB: 1st HUN, 2nd CRO, 3rd ITA, 4th SLO, 5th AUT, 6th ROU
Final:
1st GER (Bow: Mathias Rocher, 2: Martin Gulyas, 3: Eric Johannesen, Str: Sebastian Peter) 6:03.22,
2nd UKR (Bow: Viktor Grebennykov, 2: Kyrylo Tarakanov, 3: Oleksandr Pakhomov, Str: Ivan Futryk) 6:05.71,
3rd POL (Bow: Piotr Licznerski, 2: Artur Sledzik, 3: Dawid Kubiak, Str: Karol Niziolek) 6:07.76,
4th RUS (Bow: Denis Pavlov, 2: Artem Kosov, 3: Vladislav Ryabcev, Str: Sergey Stogov) 6:08.83,
5th AUS (as above) 6:10.58,
6th FRA (Bow: Matthieu Millot, 2: Sigmund Verstraete, 3: Michael Molina, Str: Gaetan Delhon) 6:16.34
Men's Pair
E1: 1st GBR, 2nd SLO, 3rd ITA, 4th RUS, 5th GEO, 6th GER
E2: 1st ARG, 2nd GRE, 3rd CRO, 4th FRA, 5th USA
E3: 1st HUN, 2nd CAN, 3rd TUR, 4th MDA, 5th SRB
E4: 1st BLR, 2nd SWE, 3rd NED, 4th ROU, 5th BRA
R1: 1st SWE, 2nd TUR, 3rd FRA, 4th GEO
R2: 1st CRO, 2nd CAN, 3rd BRA, 4th RUS
R3: 1st GRE, 2nd SRB, 3rd ITA, 4th ROU
R4: 1st GER, 2nd NED, 3rd SLO, 4th MDA, 5th USA
SF C/D: 1st MDA, 2nd ITA, 3rd FRA, 4th RUS
SF C/D: 1st SLO, 2nd BRA, 3rd ROU, 4th USA, 5th GEO
SF A/B: 1st GBR, 2nd GER, 3rd SRB, 4th HUN, 5th CRO, 6th TUR
SF A/B: 1st GRE, 2nd ARG, 3rd CAN, 4th SWE, 5th NED, 6th BLR
FD: 1st RUS, 2nd USA, 3rd GEO
FC: 1st ROU, 2nd ITA, 3rd SLO, 4th BRA, 5th FRA, MDA DNS
FB: 1st BLR, 2nd NED, 3rd HUN, 4th CRO, 5th SWE, 6th TUR
Final:
1st GRE (Bow: Ioannis Tsilis, Str: Georgios Tziallas) 6:39.47,
2nd ARG (Bow: Joaquin Iwan, Str: Diego Lopez) 6:43.32,
3rd GBR (Bow: Ben Smith, Str: Charles Burkitt) 6:45.47,
4th GER (Bow: Maximilian Munski, Str: Ruben Anemueller) 6:48.29,
5th SRB (Bow: Ivan Ostojic, Str: Aleksandar Radovic) 6:55.43,
6th CAN (Bow: Josh Morris, Str: Gordon Clark) 6:58.91
Men's Four
E1: 1st ROU, 2nd NZL, 3rd CRO, 4th RUS, 5th BLR, 6th SLO
E2: 1st GER, 2nd GBR, 3rd DEN, 4th FRA, 5th LTU
E3: 1st ITA, 2nd AUS, 3rd USA, 4th BUL, 5th POL
R1: 1st CRO, 2nd DEN, 3rd BUL, 4th SLO, 5th LTU
R2: 1st POL, 2nd FRA, 3rd USA, 4th RUS, 5th BLR
SF1: 1st ITA, 2nd CRO, 3rd GBR, 4th ROU, 5th BUL, 6th FRA
SF2: 1st GER, 2nd AUS, 3rd NZL, 4th USA, 5th DEN, 6th POL
FC: 1st BLR, 2nd RUS, 3rd SLO, 4th LTU
FB: 1st ROU, 2nd DEN, 3rd USA, 4th FRA, 5th POL, 6th BUL
Final:
1st GER (Bow: Martin Rueckbrodt, 2: Hendrik Bohnekamp, 3: Nils Menke, Str: Mathis Jessen) 6:13.79,
2nd ITA (Bow: Federico Migliaccio, 2: Rosario Agrillo, 3: Simone Ponti, Str: Matteo Motta) 6:15.82,
3rd CRO (Bow: Ante Janjic, 2: Alen Banovac, 3: Josip Stojcevic, Str: Marin Bogdan) 6:17.38,
4th AUS (as above) 06:17.78,
5th NZL (Bow: Jade Uru, 2: Tyson Williams, 3: Hamish Burson, Str: David Eade) 6:19.52,
6th GBR (Bow: Daniel Ritchie, 2: Mohamed Sbihi, 3: Carl Delaney, Str: William Laughton) 6:26.28
Men's Coxed Four
Race for lanes: 1st ITA, 2nd UKR, 3rd GER, 4th CRO, 5th SRB, 6th USA
Final:
1st ITA (Bow: Leopoldo Sansone, 2: Francesco Fossi, 3: Romano Battisti, Str: Andrea Palmisano, Cox: Leonardo Bellucci) 6:29.04 ,
2nd UKR (Bow: Ivan Balandin, 2: Mykola Balandin, 3: Andriy Shpak, Str: Ruslan Piialkin, Cox: Vladyslav Nikulin) 6:34.43 ,
3rd GER (Bow: Hannes Heppner, 2: Maximilian Hinkel, 3: Ivan Saric, Str: Christoph Zimmermann, Cox: Dev WijekoonIJEKOON (c) 6:36.09,
4th CRO (Bow: Darko Malibasic, 2: Josip Maretic, 3: Mate Mogus, Str: Stjepan Piric, Cox: Josip Giljanovic) 6:38.41,
5th USA (Bow: David Weir, 2: Gregory Yurkow, 3: Matthew Wheeler, Str: Joseph Mc Mullin, Cox: Kereeti Pisapati) 6:43.22,
6th SRB (Bow: Nenad Bulicic, 2: Nenad Ninkovic, 3: Jovan Popovic, Str: Goran Todorovic, Cox: Andreija Sljukic) 6:48.91
Men's Eight
E1: 1st USA, 2nd CAN, 3rd EST, 4th NZL, 5th ITA
E2: 1st POL, 2nd GER, 3rd AUS, 4th CZE
E3: 1st GBR, 2nd ESP, 3rd NED, 4th RUS
R: 1st NZL, 2nd RUS, 3rd ITA, 4th CZE
SF1: 1st USA, 2nd POL, 3rd EST, 4th AUS, 5th ESP, 6th ITA
SF2: 1st CAN, 2nd GBR, 3rd GER, 4th NED, 5th RUS, 6th NZL
FC: 1st CZE
FB: 1st AUS, 2nd RUS, 3rd NED, 4th ESP, 5th ITA, NZL DNS
Final:
1st USA (Bow: Alexander Osborne, 2: Charles Charlie Cole, 3: Blaise Didier, 4: Henrik Rummel, 5: Silas Stafford, 6: Derek Rasmussen, 7: Ross James, Str: Grant James, Cox: Daniel Connolly) 5:49.42,
2nd CAN (Bow: Stephen Connolly, 2: Blake Pucsek, 3: Will Dean, 4: Chris Aylard, 5: Robert Gibson, 6: Conlin McCabe, 7: Anthony Jacob, Str: Will Crothers, Cox: Ronan Sabo-Walsh) 5:53.30 ,
3rd POL (Bow: Maciej Mattik, 2: Dariusz Radosz, 3: Tomasz Cichocki, 4: Zbigniew Schodowski, 5: Michal Szpakowski, 6: Krystian Aranowski, 7: Piotr Juszczak, Str: Dominik Kubiak, Cox: Pawel Lipowski) 5:54.57,
4th GER (Bow: Sebastian Kasielke, 2: Fokke Beckmann, 3: Maximilian Reinelt, 4: Lukas Mueller, 5: Richard Schmidt, 6: Max Bandel, 7: Thomas Protze, Str: Marco Neumann, Cox: Albert Kowert) 5:56.64,
5th GBR (Bow: Josh Davidson, 2: Chris Abraham, 3: Mason Durant, 4: Fred Gill, 5: Karl Hudspith, 6: Matthew Rossiter, 7: Nathaniel Reilly-O'Donnell, Str: Scott Durant, Cox: Henry Fieldman) 5:57.11,
6th EST (Bow: Rauno Talisoo, 2: Alo Kuslap, 3: Sten Villmann, 4: Martin Absalon, 5: Artur Maier, 6: Alvar Raeaegel, 7: Elar Jaakson, Str: Andrus Sabiin, Cox: Indrek Jaervoja) 6:00.18
Men's Lightweight Scull
E1: 1st GER, 2nd CRO, 3rd TUR, 4th SWE, 5th LTU, 6th ALB
E2: 1st NZL, 2nd AUT, 3rd SLO, 4th MEX, 5th USA
E3: 1st VEN, 2nd FRA, 3rd IRL, 4th ITA, 5th AZE
E4: 1st IRI, 2nd NED, 3rd HKG, 4th ARG, 5th ARM
R1: 1st NED, 2nd MEX, 3rd IRL, 4th LTU
R2: 1st SLO, 2nd FRA, 3rd SWE, 4th ARM
R3: 1st AUT, 2nd TUR, 3rd ARG, 4th AZE
R4: 1st CRO, 2nd HKG, 3rd ITA, 4th USA, 5th ALB
SF C/D: 1st IRL, 2nd ITA, 3rd ALB, 4th ARM, AZA EXC
SF C/D: 1st ARG, 2nd LTU, 3rd SWE, 4th USA
SF A/B: 1st NZL, 2nd GER, 3rd AUT, 4th FRA, 5th MEX, 6th CRO
SF A/B: 1st IRI, 2nd NED, 3rd SLO, 4th VEN, 5th TUR, 6th HKG
FD: 1st USA, 2nd ARM
FC: 1st SWE, 2nd IRL, 3rd ARG, 4th ALB, 5th ITA, LTU DNS
FB: 1st VEN, 2nd MEX, 3rd CRO, 4th FRA, 5th TUR, 6th HKG
Final:
1st NZL (Graham Oberlin-Brown) 7:22.30,
2nd IRI (Mohsen Shadi Naghadeh) 7:30.33,
3rd NED (Joris Pijs) 7:31.72,
4th GER (Marco Weber) 7:34.73 ,
5th AUT (Florian Berg) 7:47.36 ,
6th SLO (Rajko Hrvat) 7:51.13
Men's Lightweight Double Scull
E1: 1st HUN, 2nd SLO, 3rd SUI, 4th USA, 5th AUT, 6th BLR
E2: 1st BUL, 2nd GER, 3rd JPN, 4th CZE, 5th LTU, 6th RSA
E3: 1st ITA, 2nd GRE, 3rd DEN, 4th TUR, 5th FIN
E4: 1st NOR, 2nd HKG, 3rd RUS, 4th POR, 5th SWE
R1: 1st SLO, 2nd BLR, 3rd TUR, 4th JPN, 5th SWE
R2: 1st GER, 2nd DEN, 3rd AUT, 4th POR, 5th RSA
R3: 1st GRE, 2nd RUS, 3rd USA, 4th LTU
R4: 1st SUI, 2nd HKG, 3rd CZE, 4th FIN
SF C/D: 1st TUR, 2nd CZE, 3rd POR, 4th SWE, LTU DNS
SF C/D: 1st USA, 2nd AUT, 3rd JPN, 4th FIN, 5th RSA
SF A/B: 1st HUN, 2nd BUL, 3rd GRE, 4th SUI, 5th DEN, 6th BLR
SF A/B: 1st ITA, 2nd SLO, 3rd GER, 4th NOR, 5th HKG, 6th RUS
FD: 1st SWE, 2nd FIN, 3rd RSA
FC: 1st JPN, 2nd USA, 3rd TUR, 4th CZE, 5th AUT, 6th POR
FB: 1st NOR, 2nd DEN, 3rd HKG, 4th RUS, 5th SUI, 6th BLR
Final:
1st ITA (Bow: Davide Riccardi, Str: Francesco Rigon) 6:47.14,
2nd HUN (Bow: Tamas C. Varga, Str: Peter Galambos) 6:48.34,
3rd BUL (Bow: Zlatko Karaivanov, Str: Vassil Vitanov) 6:51.45 ,
4th GER (Bow: Linus Lichtschlag, Str: Lars Wichert) 6:53.70,
5th GRE (Bow: Theodosios Travlos, Str: Eleftherios Konsolas) 6:56.83,
6th SLO (Bow: Matevz Malesic, Str: Dejan Sandic) 7:00.35
Men's Lightweight Quad Scull
E1: 1st ITA, 2nd DEN, 3rd GBR, 4th FRA, 5th HUN, 6th AUT
E2: 1st GER, 2nd SUI, 3rd MEX, 4th AUS, 5th AZE
R1: 1st DEN, 2nd HUN, 3rd MEX, 4th AUS, 5th AUT
R2: 1st GBR, 2nd SUI, 3rd FRA, 4th AZE
FB: 1st FRA, 2nd AUS, 3rd MEX, 4th AUT, 5th AZE
Final:
1st DEN (Bow: Hans Christian Soerensen, 2: Henrik Stephansen, 3: Steffen Jensen, Str: Andreas Ramboel) 6:19.71 ,
2nd ITA (Bow: Matteo Amigoni, 2: Federico Ustolin, 3: Pietro Ruta, Str: Jose Casiraghi) 6:21.12,
3rd GER (Bow: Clemens Huebler, 2: Christian Hochbruck, 3: Michael Keschka, Str: Arne Falkenhorst) 6:21.77,
4th GBR (Bow: Henry Chin, 2: Nicholas Fearnhead, 3: Bob Hewitt, Str: Christopher Boddy) 6:27.10,
5th SUI (Bow: Patrick Joye, 2: Silvan Zehnder, 3: Lucas Tramer, Str: Patrick Zeller) 6:35.88,
6th HUN (Bow: Janos Cselinacz, 2: Balazs Markgruber, 3: Gabor Csepregi, Str: Robert Racs) 6:41.56
Men's Lightweight Pair
E1: 1st RSA, 2nd NED, 3rd GBR, 4th HUN, 5th TUR, 6th USA
E2: 1st ITA, 2nd FRA, 3rd DEN, 4th GER, 5th SRB
R1: 1st NED, 2nd DEN, 3rd HUN, 4th USA, 5th SRB
FB: 1st GBR, 2nd TUR, 3rd HUN, 4th USA, 5th SRB
Final:
1st ITA (Bow: Andrea Caianiello, Str: Armando Dell'Aquila) 6:58.57,
2nd RSA (Bow: James Thompson, Str: Matthew Brittain) 7:04.78,
3rd NED (Bow: Vincent Muda, Str: Tycho Muda) 7:06.93,
4th FRA (Bow: Antoine Lantaz, Str: Clement Roulet-Dubonnet) 7:14.39,
5th DEN (Bow: Anders Bau, Str: Jacob Larsen) 7:15.85,
6th GER (Bow: Marc Benger, Str: Stefan Wallat) 7:21.66
Men's Lightweight Four
E1: 1st GER, 2nd FRA, 3rd RUS, 4th AUT, 5th POR, 6th JPN
E2: 1st ESP, 2nd ITA, 3rd ARG, 4th USA, 5th NED, 6th BEL
R1: 1st FRA, 2nd ARG, 3rd USA, 4th JPN, 5th POR
R2: 1st ITA, 2nd BEL, 3rd RUS, 4th NED, 5th AUT
FB: 1st NED, 2nd RUS, 3rd USA, 4th AUT, 5th JPN, 6th POR
Final:
1st ESP (Bow: Andreu Castella Gasparin, 2: Juan Luis Fernandez Tomas, 3: Ramon Llosa, Str: Ruben Alvarez Pedrosa) 6:23.99,
2nd GER (Bow: Axel Kort, 2: Samuel Garten, 3: Robby Gerhardt, Str: Max Roeger) 6:26.32,
3rd FRA (Bow: Charles Breschet, 2: Nicolas Moutton, 3: Vincent Cavard, Str: Barthelemy Agostini) 6:28.16,
4th ITA (Bow: Iacopo Zocchi, 2: Tommaso Sacchini, 3: Luca Motta, Str: Corrado Regalbuto) 6:31.19,
5th ARG (Bow: Nicolas Carrieri, 2: Kevin Atem, 3: Pablo Davis Mahnic, Str: Carlo Lauro) 6:32.19,
6th BEL (Bow: Thijs Obreno, 2: Arne Dubois, 3: Ruben De Gendt, Str: Karel D'Hont) 6:41.30
Australian Team
Men's Double Scull - Twelfth
Bow: James Gatti (WA)
Str: Kieren Kobelke (NSW)
Cch: Jason Lane (WA)
Men's Quad Scull - Fifth
Bow: Matt Bolt (SA)
2: Blair Brown (QLD)
3: Tom Swann (VIC)
Str: Jarred Bidwell (QLD)
Cch: Lincoln Handley (QLD)
Men's Coxless Four - Fourth
Bow: Cameron Brewer (WA)
2: Bryn Coudraye (SA)
3: Ned Kinnear (SA)
Str: Rhys Grant (WA)
Cch: Jason Lane (WA)
Men's Eight - Seventh
Bow: Justin Quigley (NSW)
2: Richard Allsop (NSW)
3: Chris Riddell (VIC)
4: James Goswell (NSW)
5: Alex Scharp (VIC)
6: John Linke (VIC)
7: Tom Larkins (VIC)
Str: Kurt Spencer (NSW)
Cox: Toby Lister (NSW)
Cch: Bill Tait (VIC)
Men's Lightweight Quad - Eighth
Bow: Alister Foot (TAS)
2: Thomas Bertrand (VIC)
3: Will Breier (TAS)
Str: Angus Tyers (VIC)
Cch: Ian Wright (VIC)
Women's Double Scull - Thirteenth
Bow: Renee Kirby (NSW)
Str: Charlotte Walters (NSW)
Cch: Phil Bourguignon (NSW)
Women's Quad Scull - Bronze
Bow: Kim Brown (QLD)
2: Laura Osti (SA)
3: Emma McCarthy (QLD)
Str: Lisa Szatsznajder (VIC)
Cch: Brenton Terrell (VIC)
Women's Coxless Pair - Silver
Bow: Libby Alderman (WA)
Str: Emily Rose (WA)
Cch: Jason Lane (WA)
Women's Coxless Four - Fifth
Bow: Sophia Robson (VIC)
2: Alison Crowe (VIC)
3: Sarah Eke (QLD)
Str: Sascha Lahey (QLD)
Cch: Peter Howard (QLD)
Women's Lightweight Single Scull - Gold
Carly Cottam (TAS)
Cch: Ken Grant (TAS)
Women's Lightweight Double Scull - Eighth
Bow: Maja Fiddler (SA)
Str: Jacky Peile (NSW)
Cch: Zoltan Shepherd (SA)
Team Staff
Team manager: Vicki Spencer (NSW)
Doctor: Tony Delaney (NSW)
Boatman: Urs Graf (SUI)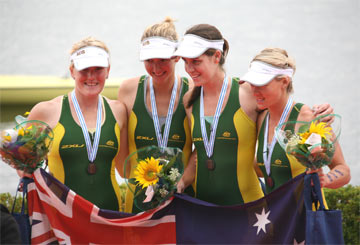 Women's Results
Women's Scull
E1: 1st GER, 2nd HUN, 3rd EST, 4th USA, 5th SRB
E2: 1st GBR, 2nd BUL, 3rd LAT, 4th ESA, 5th SWE
E3: 1st NED, 2nd FIN, 3rd BEL, 4th IRI
R: 1st USA, 2nd SRB, 3rd ESA, 4th SWE, 5th IRI
SF1: 1st GER, 2nd BUL, 3rd EST, 4th NED, 4th BEL, 6th SRB
SF: 1st GBR, 2nd HUN, 3rd USA, 4th FIN, 5th LAT, 6th ESA
FC: 1st SWE, 2nd IRI
FB: 1st FIN, 2nd NED, 3rd SRB, 4th LAT, 5th ESA, 6th BEL
Final:
1st GER (Julia Richter) 7:43.90,
2nd GBR (Kristina Stiller) 7:48.20,
3rd HUN (Katalin Szabo) 7:52.28,
4th BUL (Iskra Angelova) 7:53.09,
5th EST (Kaisa Pajusalu) 8:03.57,
6th USA (Helen Tompkins) 8:11.02
Women's Double Scull
E1: 1st GER, 2nd ROU, 3rd RUS, 4th FRA, 5th SWE
E2: 1st CZE, 2nd UKR, 3rd AUT, 4th EST, 5th HUN
E3: 1st GNR, 2nd POL, 3rd LTU, 4th NED, 5th AUS
R: 1st NED, 2nd FRA, 3rd EST, 4th AUS, 5th SWE, 6th HUN
SF1: 1st GER, 2nd CZE, 3rd POL, 4th RUS, 5th AUT, 6th EST
SF2: 1st GBR, 2nd UKR, 3rd NED, 4th LTU, 5th ROU, 6th FRA
FC: 1st AUS, 2nd HUN, 3rd SWE
FB: 1st RUS, 2nd ROU, 3rd LTU, 4th EST, 5th FRA, 6th AUT
Final:
1st GER (Bow: Sophie Dunsing, Str: Tina Manker) 7:08.70,
2nd CZE (Bow: Gabriela Varekova, Str: Jitka Antosova) 7:10.34 ,
3rd POL (Bow: Magdalena Fularczyk, Str: Natalia Madaj) 7:12.40 ,
4th GBR (Bow: Ruth Walczak, Str: Rosamund Bradbury) 7:14.87,
5th UKR (Bow: Anna Kravchenko, Str: Anastasiia Kozhenkova) 7:17.88,
6th NED (Bow: Kirsten Wielaard, Str: Katie Steenman) 7:28.28
Women's Quad Scull
E1: 1st ROU, 2nd AUS, 3rd UKR, 4th BLR
E2: 1st GER, 2nd NZL, 3rd ITA, 4th RUS
R: 1st AUS, 2nd UKR, 3rd NZL, 4th RUS, 5th ITA, 6th BLR
FB: 1st BLR, 2nd ITA
Final:
1st ROU (Bow: Maria Diana Bursuc, 2: Cristina Ilie, 3: Camelia Lupascu, Str: Roxana Cogianu) 6:50.75,
2nd GER (Bow: Rebekka Klemp, 2: Kathleen Kirchhoff, 3: Julia Lepke, Str: Lena Moebus) 6:52.37,
3rd AUS (as above) 6:54.47,
4th UKR (Bow: Viktoriya Koltunova, 2: Anna Prytula, 3: Ganna Kutsenko, Str: Olena Iakovenko) 6:59.81,
5th NZL (Bow: Odette Sceats, 2: Anna Stantiall, 3: Rosslyn Knox, Str: Tamsin Gilbert) 7:04.16,
6th RUS (Bow: Yulia Chagina, 2: Oxana Demchenkova, 3: Evgeniya Golubeva, Str: Maria Lebedeva) 7:07.64
Women's Pair
E1: 1st AUS, 2nd GER, 3rd CAN, 4th UKR
E2: 1st ROU, 2nd GER, 3rd BLR, 4th RUS
R: 1st GBR, 2nd BLR, 3rd GER, 4th RUS, 5th UKR, 6th CAN
FB: 1st UKR, 2nd CAN
Final:
1st ROU (Bow: Adelina Cojocariu, Str: Nicoleta Albu) 7:19.24,
2nd AUS (as above) 7:21.66,
3rd GBR (Bow: Emily Taylor, Str: Hannah Elsy) 7:24.93,
4th GER (Bow: Nadja Drygalla, Str: Ulrike Sennewald) 7:28.09,
5th BLR (Bow: Nina Bondarava, Str: Natallia Koshal) 7:30.59,
6th RUS (Bow: Mayya Zhuchkova, Str: Oxana Strelkova) 7:36.22
Women's Four
E1: 1st ITA, 2nd AUS, 3rd BLR, 4th NZL, 5th FRA
E2: 1st NED, 2nd GBR, 3rd USA, 4th UKR, 5th GER
R1: 1st USA, 2nd AUS, 3rd UKR, 4th FRA
R2: 1st GBR, 2nd BLR, 3rd GER, 4th NZL
FB: 1st NZL, 2nd UKR, 3rd GER, 4th FRA
Final:
1st ITA (Bow: Claudia Wurzel, 2: Cristina Romiti, 3: Gioia Sacco, Str: Camilla Espana) 7:03.88,
2nd NED (Bow: Swana Van Schaardenburg, 2: Myrthe Van Dijk, 3: Olivia van Rooijen, Str: Wianca Van Dorp) 7:05.72,
3rd GBR (Bow: Victoria Bryant, 2: Jacqueline Round, 3: Kirsty Myles, Str: Rachael Jefferies) 7:07.01,
4th USA (Bow: Hilary Cumbest, 2: Elizabeth Robb, 3: Michelle Nance, Str: Jessica Leidecker) 7:08.71,
5th AUS (as above) 7:11.54 ,
6th BLR (Bow: Anastasiya Fadzeyenka, 2: Hanna Kazlova, 3: Aliona Bakunovich, Str: Vera Svislionak) 7:14.56
Women's Eight
Race for lanes: 1st USA, 2nd POL, 3rd GER, 4th BLR, 5th CAN, 6th RUS
Final:
1st USA (Bow: Suzanne Van Fleet, 2: Jessica Reel, 3: Kelsie Chaudoin, 4: Amanda Polk, 5: Laura Larsen-Strecker, 6: Katherine Glessner, 7: Jamie Redman, Str: Theresa Shields, Cox: Katlin Snyder) 6:36.01,
2nd POL (Bow: Kamila Socko, 2: Marlena Ertman, 3: Magda Korczak, 4: Zuzanna Trzcinska, 5: Kornelia Nitzler, 6: Joanna Leszczynska, 7: Kinga Kantorska, Str: Monika Zdrojewska, Cox: Paulina Gorska) 6:39.72,
3rd BLR (Bow: Natallia Pryvalava, 2: Anastasiya Fadzeyenka, 3: Hanna Kazlova, 4: Natallia Koshal, 5: Nina Bondarava, 6: Alena Zakharava, 7: Natallia Haurylenka, Str: Volha Plashkova, Cox: Anastasiya Katsiashova) 6:43.35,
4th CAN (Bow: Ashton Brown, 2: Jennifer Tuters, 3: Jody Schuurman, 4: Allison Doodeman, 5: Natalie Mastracci, 6: Ame Hicks, 7: EriKa Shaw, Str: Stephanie Morrison, Cox: Ainsley Braun) 6:46.22,
5th GER (Bow: Claudia Ruehr, 2: Silke Mueller, 3: Hannah Feldhaus, 4: Franziska Kegebein, 5: Sandra Dalloff, 6: Anika Kniest, 7: Kathrin Thiem, Str: Anna-Carina Korge, Cox: Kristin Heume) 6:46.46 ,
6th RUS (Bow: Elena Mironyuk, 2: Ksenia Sayfutdinova, 3: Alexandra Chernova, 4: Yana Barinova, 5: Aleksandra Fedorova, 6: Elena Alekseeva, 7: Anna Maltseva, Str: Julia Popova, Cox: Yulia Ponomareva) 6:52.26
Women's Lightweight Scull
E1: 1st GER, 2nd BLR, 3rd GRE, 4th HKG, 5th AUT, 6th USA
E2: 1st FRA, 2nd IRL, 3rd VEN, 4th GBR, 5th MEX
E3: 1st ITA, 2nd NOR, 3rd RSA, 4th SUI, 5th ARG
E4: 1st AUS, 2nd SLO, 3rd DEN, 4th SWE, 5th SVK
R1: 1st BLR, 2nd VEN, 3rd SUI, 4th USA, 5th SVK
R2: 1st IRL, 2nd RSA, 3rd SWE, 4th AUT
R3: 1st DEN, 2nd MEX, 3rd NOR, 4th HKG
R4: 1st GRE, 2nd SLO, 3rd GBR, 4th ARG
SF C/D: 1st NOR, 2nd SUI, 3rd SVK, 4th ARG, AUT DNS
SF C/D: 1st HKG, 2nd SWE, 3rd GBR, 4th USA
SF A/B: 1st GER, 2nd IRL, 3rd GRE, 4th VEN, 5th ITA, 6th MEX
SF A/B: 1st AUS, 2nd BLR, 3rd FRA, 4th RSA, 5th SLO, 6th DEN
FD: 1st USA, 2nd ARG
FC: 1st SWE, 2nd HKG, 3rd SUI, 4th GBR, 5th NOR, 6th SVK
FB: 1st SLO, 2nd ITA, 3rd DEN, 4th RSA, 5th MEX, 6th VEN
Final:
1st AUS (Carly Cottam) 8:03.12,
2nd GER (Helke Nieschlag) 8:06.04,
3rd BLR (Hanna Bandarevich) 8:09.78,
4th FRA (Elise Maurin) 8:12.80,
5th IRL (Orla Hayes) 8:14.45,
6th GRE (Paschalina Karamytiliou) 8:23.70
Women's Lightweight Double Scull
E1: 1st GER, 2nd SUI, 3rd HUN, 4th POL, 5th USA
E2: 1st FRA, 2nd RUS, 3rd GBR, 4th HKG, 5th CZE
E3: 1st GRE, 2nd AUS, 3rd NED, 4th ITA, 5th JPN
R: 1st USA, 2nd ITA, 3rd POL, 4th CZE, 5th JPN, 6th HKG
SF1: 1st GER, 2nd GRE, 3rd RUS, 4th HUN, 5th NED, 6th ITA
SF2: 1st SUI, 2nd FRA, 3rd GBR, 4th AUS, 5th POL, 6th USA
FC: 1st CZE, 2nd JPN, 3rd HKG
FB: 1st HUN, 2nd AUS, 3rd POL, 4th ITA, 5th NED, 6th USA
Final:
1st GER (Bow: Anja Noske, Str: Julia Kroeger) 7:26.42,
2nd GRE (Bow: Triantafyllia Kalampoka, Str: Christina Giazitzidou) 7:31.66,
3rd SUI (Bow: Eliane Waser, Str: Olivia Wyss) 7:36.12,
4th FRA (Bow: Eugenie Vince, Str: Coralie Simon) 7:42.42,
5th RUS (Bow: Anna Yazykova, Str: Maria Loginova) 7:43.97,
6th GBR (Bow: Emma Steel, Str: Frances Fletcher) 7:44.18