1958 British Empire and Commonwealth Games— Cardiff Wales
Selection
It was decided by the AARC to nominate crews for all events and a committee of Messrs Wood, Aitken and Berkery would grade them. The AARC would not fund any crew and therefore the states and the British Empire Games Association had to determine funding.
Test races for all events except the single scull were conducted at Ballarat and Penrith in January 1958. NSW crews won every event at these trials. Stuart Mckenzie qualified upon his excellent sculling record and was not required to return to Australia for trialing.
The NSW eight won by half a length from Victoria, Wood & Riley defeated a Haberfield combination and the NSW eight broke into a coxed and coxless four to win these events. Webb and Chapman won the pair from Raper & Grace.
The order of selection of crews by the grading committee was first single scull, second coxed four, third double scull, fourth eight, fifth coxless pair and sixth coxless four. There were two late changes, Bruce Evans replaced Gray in the eight and Roll replaced Chapman in the pair. There was a last minute change made at the regatta when Murray Riley fell ill and was replaced by Stuart Mackenzie in the double scull.
The rowing was conducted on Lake Padarn in Wales in July 1958. The finals racing were conducted in rough conditions with a strong following breeze. It is interesting to note that Australians were coaching other nations, namely Dr R Tinning coached all the Scottish team except the eight and W J Rogers was the sole coach of the South African team.
The Commonwealth Games Federation web site reports:
"The VI Games marked the largest sporting event ever held in Wales and it was the smallest Country ever to host a British Empire and Commonwealth Games. Cardiff had to wait 12 years longer than originally scheduled to become host of the Games, as the 1946 event was cancelled because of World War II.
"The triumph of Wales and Cardiff in staging the Sixth British Empire and Commonwealth Games is now history - and history that will ring down the years to come.
"England's famed middle distance runners, Roger Bannister and Chris Chattaway, were handed the honour of taking the Queen's Baton from Buckingham Palace on the first stage of its journey to Wales.
"The Cardiff Games were to be South Africa's last until their post-apartheid return to the Games in 1994. A number of objections against South Africa took place in Cardiff because their team had been selected on the basis of race and colour rather than ability. South Africa subsequently withdrew from the Commonwealth in 1961 for 30 years."
Participation
"Thirty-five nations sent a total of 1,130 athletes and 228 officials to the Cardiff Games and 23 countries and dependencies won medals, including, for the first time, Singapore, Ghana, Kenya and the Isle of Man."
Sports
"Nine sports were featured in the Cardiff Games: athletics, boxing, cycling, fencing, lawn bowls, rowing, swimming and diving, weightlifting and wrestling."
---
The Road to Cardiff - A personal account by Steve Roll
Following the King's Cup in Brisbane in May 1957 I came back to Sydney and started preparing for the next season, this mainly consisted of teaching beginners how to row in a tub pair. Barry Moynahan was one of these. I hadn't given any thought to the fact that there would be Games selection races and that I might be a possibility for any of the crews.
At the Leichhardt Annual Meeting I was elected club captain and I informed the meeting that, as far as I was concerned, the goal for the next season would be the winning of the Premiership and that I would do whatever it took to achieve that end, at the same meeting Eric Longley, coach of our crew in Brisbane, was elected senior coach. If I had made any personal plans for the 1957/58 season they would probably have revolved around the fact that Stuart Mackenzie would win all the senior singles events and both the 2000m and Three Mile N.S.W. Singles Championships and that he and I would defend the N.S.W. Doubles title we had won in March 1957.
I would probably find a seat in the club eight for the N.S.W. Champion eight and might make the King's Cup crew again. As it was I didn't make any plans other than to steer the club in the general direction of a Premiership flag.
It came as quite a shock to me when Stuart announced that he was not coming back after he had won the Diamond Sculls at Henley. We now had no single sculler at all, Peter Evatt was a good sculler but he was in the eight, I could scull but I was only an average junior sculler and I didn't have my own boat. I approached one of the members, Maurie Earls, who had a boat hanging in our shed, and not being used, and asked him if I could borrow it. I received a blunt "No." But then he continued, " but you can have it, I know what you are going to try to do, I wouldn't be able to but you might. Take it and use it as your own, just look after it and give it back to me when you are finished, this is my contribution to the premiership."
I started trying to reduce the lead that Haberfield would be getting in the singles events. Eric Longley asked me to row in the club eight for the State Commonwealth Games Test Race and I told him that I was willing but that I would have to be able to compete in the singles as well. He informed me that the eight would have only one priority so I refused to row in it. I proceeded to row in the singles and was able to finish second to Tom Treseder of Haberfield in most of the events, I also rowed in anything else that came up pairs, doubles and fours.
Our Senior eight was winning and our Junior Four was winning so we were doing reasonably well in the premiership race. The eight won their test race on 19/10/1957 and I was in the winning crew having taken the place of Neville Clinton who was ill on the day. Eric became the N.S.W. selector for that boat and he offered me a seat, again I refused since he had announced that they would be training at Middle Harbour and I couldn't run the club from over there.
He selected four of my best rowers (naturally enough), Ralfe Currall, Vic Schweikert, Neville Clinton and Peter Evatt, and four from Mosman, Bruce Evans, Kevin Evans (no relation), Ken Railton, and Mick Allen with Lionel Robberds as cox. Peter Waddington retired and the other three of our eight, John Gray, John Harrison and Ted Curtain, asked me to row with them in a Senior four for the State Championship on 14th. December. I pointed out that I was concentrating on the singles and that the Championship Single was on only an hour before the four. They told me that they thought that I would still be a better choice than any other who was available so I agreed.
On 2nd November I surprised everybody, including myself, by beating Tom in the Senior single at Liverpool regatta. The only down side to this was that I could no longer compete in Junior singles and I thought that the win in the Senior race had been a fluke. Too late now!! I managed to consolidate my position and beat Tom in every singles race, except one, after that. I won the 2000m State Championship Single and we won the 2000m State Championship Four.
Our Lightweight eight and Junior four had both been winning and also won their respective State Championships on that day, we were just in front in the premiership race. We decided to combine the Junior four with our Senior four for the three mile Champion eight in February. Peter Waddington came back and I withdrew from the eight to concentrate on the three mile singles. Peter Evatt then had to withdraw from the N.S.W. eight with strained back muscles and John Gray went into the N.S.W eight. That left us with only seven men for the eight. I was a very reluctant replacement as I wasn't too keen on doing two three mile races on the same afternoon but we had nobody else.
On 25th.January Tom and I rowed in the Games Test Race for coxless pairs and finished third to Kevyn Webb and Jim Chapman. On 8th.February I won the three mile State Singles Championship and we won the Three Mile State Eights Championship! I went out in the single as hard as I could and then Tom would not allow me to take it easy but kept pushing me all the way. We went up for the eight, with me at six, and Lionel gave me these instructions - "Take it easy for the first two miles and then I'll call you on.
The gun went and we were off; about half a mile from the start Lionel called out, "Mosman are four lengths in front." I thought that I had gone off too easy so I started working as hard as I could.
A mile from home and Lionel pointed his megaphone in the direction of the Mosman crew and bellowed out as hard as he could, "Mosman are a length in front, right Steve, NOW!!!" The only problem was that I was now a grease spot in the bottom of the boat, I had nothing left, I would be lucky to make the finish line.
Two different things happened right there and then, (1) our crew felt that I was coming on and lifted, (2) Mosman felt that I was coming on and dropped their bundle. All I could do was just put my blade in and take it out. We won by two lengths.
Because of my win in the Singles I was now the N.S.W. sculler to contest the President's Cup. The next night at dinner my dad asked if I would go any faster in my own boat and I told him that I would be about five or six lengths faster. He then asked why I didn't get one and I told him that it would cost about ten weeks wages and that I couldn't afford it. That was the end of the discussion.
Later in the week I was sculling past Green's boatshed at Abbotsford when the manager Merv, I forget his last name, called me over and asked if I could do him a favour. Certainly. He then told me that he had an order for a boat from a bloke in Brisbane who was about my size and he wanted to measure me up to make sure that this bloke got something near his requirements. I obliged. He told me that the bloke was not a very good sculler but that he was quite strong "not unlike yourself in fact, what sort of mould do you think he would need?"
I had to admit that I would need a boat that would sit itself up so it would have to be a fairly flat bottom for me so Merv settled on a flattish mould and started pulling bits out so I left.
Unfortunately, John Gray got appendicitis after the N.S.W. crew had won the Games Test Race at Ballarat in January and his place in the crew was taken by Peter Waddington. Peter Evatt got over his back injury and asked me to row with him in the N.S.W. Doubles Championship which we won on 22nd. March, then I had a clear run to the President's Cup.
Over the next few weeks Merv would call me in to have a look at the progress of the new boat and, I have to admit, I was getting quite envious of the Queenslander. Finally it was finished and he asked me to take it for a spin when I called in on a Sunday morning. I baulked at that, "I might hit something."
"I'll take the responsibility, I want to see how it looks on the water." Out I went and it was a wonderful experience. I came back, washed and put the boat away, then climbed into my borrowed boat and had one of the worst rows I have ever had.
That night dad asked me if I could get the next day off as he wanted some help. I rang my foreman, who was a very punctilious man, and he agreed without any questions. I should have smelt a rat right then but I wasn't thinking that my dad might be a devious man.
Next morning we climbed into the car, unbeknown to me dad had put my togs into the boot, and off we went. Across Parramatta Road, up Great North Road towards Sydney Rowing Club, we were talking so I assumed that we were going up to Nestles to get some stock for the shop — past Nestles — I wondered why we were going to Sydney Rowing Club until dad turned right into Teviot Street. Suddenly the penny dropped — It was MY BOAT.
I knew that dad didn't have the money so I asked what was going on. "Harry Walsh (his best mate,) and I sat down and wrote to every one of my wholesalers and told them about the five Championships that you have won this season and asked them for a donation for the boat. We got ten quid here, twenty quid there, five quid somewhere else, enough to buy you a boat and new sculling blades."
When I arrived at Penrith from the King's Cup Village at Wallacia Peter Evatt, my coach, was adamant that I don't have anyone distract me from my purpose so he took me down to the weir where we went over the race plan which was to row my own race. He told me that Gerry Hubbard would go out fast and that I was not to make any attempt to go with him. Ken Goswell would drop off early and then Don Dudgeon, Graham Squires would be close but I would be able to watch him just in case he did anything unusual.
It all happened as Peter said until shortly after half way where I had passed Gerry and he started disappearing into the sun that was shining brightly and reflecting off the water about halfway between my stern and my right hand rigger. All I could see was his dark shadow.
Then he started moving up fairly steadily and I started to get worried, as this was not in the race plan; I tried to concentrate on what I was doing but this shadow kept coming, then I looked out over my stern and Gerry was back there. I had a good hard look into the sun and it was Graham Squires doing exactly what he should have been doing, they had passed each other in the sun and I hadn't noticed so I stopped worrying and got on with it.
Peter's last instructions were: "After the race put your boat away and pick up the Cup".
When I came ashore I had many people who wanted to help me to carry my boat up the hill but I felt that this was part of winning and I wanted to do it myself.
When I came out of the boatshed there was my whole family, Mum, Dad, my oldest brother Frank and his wife Dawn, my older brother Norm and his fiancée Thelma, my young sister Betty and her fiancée Don, my fiancée Hazel and a whole tribe of family friends. I had a brief thought, "Who's looking after the shop?" But then they all descended on me, the celebrations started and I thought no more about it.
Next morning I got up to go to mass and as I walked past the front of the shop I found out who had been looking after the shop - NOBODY!!. The entire glass window shop front had been painted out and professionally sign written - "This shop will be closed on Saturday 3rd.May. We're all going to Penrith to watch Steve WIN the Australian Sculling Championship".
My dad was a lot more confident about the result than I was.
The photo of me taken just after I got on the water on my way up to the start shows, at least, apprehension.
I still get goosebumps when I think about it. After that the result of the President's Cup was a foregone conclusion. I HAD TO DO IT FOR DAD. After the race I don't think I had ever seen him so happy. That is, I had never seen him so happy until the following Monday night: As usual dad was in the shop weighing-up, my oldest brother, Frank, had dropped in between shifts from Burwood bus depot, and we were both helping dad. The phone rang dad answered it and told me it was for me. I took the call and Harry Alderson told me that Jim Chapman would be unable to go to Cardiff and that Kevyn Webb wanted me to row with him in the pair. "ARE YOU AVAILABLE?"
"I don't know, Harry."
"I'm at a meeting and I have to know tonight."
"Give me a number and I'll call you back within thirty minutes." I put the phone down and floated across to the steps leading from the shop into the house and called out to Mum, Hazel (my fiancée) and Betty (my sister) and asked them to come into the shop. Then I told them, "That was Harry Alderson he wants me to ring him back within thirty minutes with an answer. Can we afford the money to send me to the Games?" Pandemonium !!! Frank roared out, "Tell him yes, I'll raise the money to get you away." And he raised most of it. The shop seemed to fill in no time as the word got around the customers and, by the time we managed to get them all out again, Frank already had almost two hundred pounds in the kitty.
So that was it, the race was disappointing but any other result might have been miraculous given the fact that I had only ten weeks to learn to row bowside — and the worst of all boats in which to learn to row bowside is a racing pair. Conditions on the day were atrocious with a very strong gale blowing up the course from start to finish. Had the regatta been held in Australia it would, at least, have been postponed for some hours, as it was the course was dead flat two hours after the racing finished. But, had all the crews been able to row at their best, we may have been further back.
Australian Team
Men's Single Scull - Gold
Stuart Mackenzie (NSW)

Men's Double Scull — Silver
Bow: Stuart Mackenzie (NSW)
Str: Mervyn T Wood (NSW)

Men's Coxless Pair — Bronze
Bow: Steve Roll (NSW)
Str: Kevyn P Webb (NSW)
Cch: Christopher G V Davidge

Men's Coxless Four — Fourth
Bow: Bruce Evans (NSW)
2: Neville J Clinton (NSW)
3: Kenneth P Railton (NSW)
Str: Victor A Schweikert (NSW)

Men's Coxed Four — Bronze
Bow: Ralfe R Currall (NSW)
2: Peter R Waddington (NSW)
3: Graeme K Allan (NSW)
Str: Kevin J Evans (NSW)
Cox: Lionel P Robberds (NSW)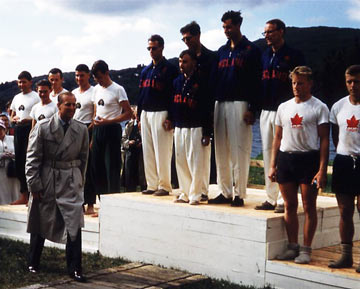 Men's Eight — Silver
Bow: Bruce Evans (NSW)
2: Neville J Clinton (NSW)
3: Ralfe R Currall (NSW)
4: Victor A Schweikert (NSW)
5: Kenneth P Railton (NSW)
6: Peter R Waddington (NSW)
7: Graeme K Allan (NSW)
Str: Kevin J Evans (NSW)
Cox: Lionel P Robberds (NSW)
Cch: Dr Eric O Longley (NSW)

Manager: Eric C S Holford (NSW)
Grading Committee: Mervyn T Wood (NSW), Robert Aitken (VIC), Jack Berkery (TAS).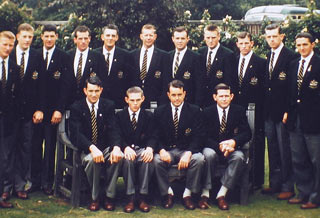 Results
Men's Single Scull
1st Stuart Mackenzie (Australia) 7:20.1, 2nd New Zealand 7:23 (James Hill), 3rd England, 4th South Africa.

Stuart won the Diamond Sculls at Henley on the way to the Games and angered officials by easing up and lifting his cap to the crowd and after the win rowing back up the course to undertake a victory lap. At the Games he sculled well and won a good race over Hill of New Zealand who steered erratically

Men's Double Scull
1st England (M A Spracklen & G W Baker) 6:56.4, 2nd Australia 7:01.4, 3rd New Zealand (Bow: Norman Suckling, Str: James Hill), 4th Canada.

Murray Riley withdrew at the last moment from the Australian boat due to illness and was replaced by Stuart Mackenzie. The Australians started as favourites but were defeated by the very fast and light combination from England. Michael Spracklen went on to be a famous coach.

Men's Coxless Pair
1st New Zealand (Robert H Parker & Reginald A Douglas) 7:11, 2nd England, 3rd Australia, 4th Wales

Men's Coxless Four
1st England 6:34.3, 2nd Canada 6:38.9, 3rd Wales, 4th Australia

The manager of the rowing team, Eric Holford, said that they "were not at all comfortable in the coxless four oared rowing."

Men's Coxed Four
1st England 6:46.5, 2nd Canada 6:53.2, 3rd Australia, 4th New Zealand

Men's Eight
1st Canada 5:55.1, 2nd Australia 5:56.1, 3rd England, 4th Scotland

The race was described as thrilling with a margin only being made in the final stages of the race.
---
The Road Home from Cardiff - Another personal account by Steve Roll
It is one of those interesting stories that crop up in rowing. After the Games Kevyn Webb and I came back through New York, Kevyn had made arrangements with Jack Kelly for us to row in the President's Cup Regatta in Washington and the Middle States Regatta in Philadelphia. We were to be met at Idlewild (now Kennedy) airport and escorted to Washington. We waited and waited but nobody arrived so Kevyn decided to go home and I hopped on to a Greyhound bus and set off to see my dad's relatives in Cincinnati.
I had been at aunt Margaret's place for more than a week when she told me that I had a phone call. I queried that as nobody knew that I was there but she insisted that it was for me. The conversation went like this :- American accent "Steve Roll?" Yes. "Name's Ernie Bayer, I'm the president of the National Association for Amateur Oarsmen, you were supposed to be in Washington last week for the President's Cup Regatta, where were you?" This approach didn't go over too well with me but I managed to explain, politely, that we had waited to be met at Idlewild and nobody had turned up. He immediately went defensive and asked if I could come back to Philadelphia for the Middle States Regatta. I told him that I was on my way home after being away for ten weeks, that I was strapped for cash (which I was) and was not very interested in coming back. He then offered to fly me back and quote "look after you." I thought about for a few seconds and realised that I would love to take back an American trophy for dad so I agreed. Ernie met me at Philadelphia and offered me a choice of the Holiday Inn or being a house guest at his place. I accepted the latter so was driven to his home where, on opening the door, he announced, "Ernie I'm home", whereupon two female voices called out, "Hi Dad". I was then introduced to his wife, Ernestine, and his daughter, Ernestine. Three Ernies in one household!

The next morning Ernie told me that he had to go to work and he would drop me off at Vesper boathouse. When we arrived we walked through an enormous boat shed onto the walkway in front and to a smaller adit on the side where he unlocked a roller shutter and threw it up to reveal a sculling shed with five boats on one side, four on the other and an array of sculling blades racked on the back wall. "There you are, take your pick." "What about the blokes that own them?" "They all belong to Jack and he said you are to use whichever one you want and rig it to suit yourself, he's in the Vesper eight that is racing in the European Championships at Poznan."
He then told me that he would pick me up after work, pulled out his wallet and said, "Now you'll need some money for lunch." And proceeded to fill my hands with notes, then departed. I got myself set up with a Green's boat and a set of Ayling blades and had a nice row up the river. I then walked into town for lunch and found a place which looked like McDonalds but wasn't (I can't remember the name) and the tucker was good and reasonably priced. I came back to the shed and met some of the crews then beheld a wondrous sight – four blokes in a sculling boat. "What's that?" "What's what?" I pointed and was told, "Oh that, it's only a quad." "I've never seen one before, we don't have them in Australia." So the crew was called in and given this information, I was introduced to them and told that they were the National Champions. I was then invited to hop in and despite my great desire to do so I demurred because I didn't want to make a fool of myself. I was told that they were a very forgiving boat so I climbed into the bow seat -----HEAVEN. I determined that I would do all in my power to get quads into Australia as soon as possible. It took until 1975 but I finally managed it.
The next morning the same procedure with Ernie again filling my hands with notes despite my protests that I still had plenty of money left from yesterday and so on through the week. When I left on the Sunday evening I had over a thousand American dollars in my pocket and Ernie wouldn't take it back. I was a true blue amateur and I was shaking in my boots wondering what would happen if anybody got to hear about it..
So to the regatta day on Sunday 31st.August. Ernie had entered me in the quarter mile dash and the distance race, "Hope you don't mind." The quarter was on first so it gave me a chance to find out what the competition was like. I'm not a quarter miler but I came off the mark fairly well, took a very bad crab about two hundred metres from the finish and still managed to get third. I felt very happy about the Championship event after that result. I went up for the 2000 metre race and had a blinder of a start, three lengths in front after 700 metres and going away easily. Then I had the thought that I had to win since that's what the Yanks expected but I couldn't make the opposition look second rate so I took the weight off, put the rate up and managed to look like I was flat out when I was really having a really pleasurable row.
I won by three lengths (I didn't want to give them too much encouragement) and went in to the pontoon where I was presented with a small cardboard box about half the size of a glasses case which I put in the bottom of the boat and sculled off around the corner where I stopped and had a look at what I had won (I didn't want to look too crass by opening it in front of the crowd). It was a beaut medal and I was happy as Larry because I had an American trophy to take home to dad. Back to Vesper where I washed and put the boat away, showered and waited for Ernie.
When he arrived he told me that I had to go around to Fairmont boathouse to pick up my trophy. "I've already got it." And flashed my medal. "No, you've got to pick up your cup." So I went to Fairmont where I was presented with a cup that must have been every bit of eighteen inches tall. I told the bloke that I would leave it here as I wouldn't be back to defend it next year and I didn't want to have to send it back. "Send it back? No buddy this is for you to keeeep!!"
Problem. When I had left Cincinnati I had forwarded all my gear, except a set of rowing togs and change of undies, on to Sydney, all I had was a Qantas team bag which wasn't big enough to hold the cup even if I had nothing else in it. So the cup went under the arm and I went off to the airport with Ernie.
No big deal flying across the States with an American airline but I had to join a Qantas flight at San Francisco and made my way across the tarmac and up the steps to be greeted with, "G'day mate, welcome on board." What a lovely Australian accent. I made my way to my economy class seat, put my gear and cup in the overhead and settled down. After we got off the hostie came along, "Mr. Roll, the captain would like to see you on the flight deck." My first thought was DAD. He hadn't been well when I left and I feared the worst. I started along the aisle and she said, "Would you take your gear also please." So I picked up my bag and the cup and off I went. "G'day Mate, I hear you got a bronze, can we have a look at it?" I spent about half an hour in the right hand seat telling the crew and the passengers about the trip as the engineer had given me a mike and headset. Then the captain told me that he had to get back to work, "Mary will look after you." I started back to my seat but Mary said, "No, here." "This is first class, I've got an economy ticket." " Nobody else is sitting here and if an Australian Commonwealth Games bronze medal winner isn't first class who is?" So I got first class all the way from San Francisco to Sydney. Very comfortable.
I suppose there are very many such stories of things that happen and of people we meet. Rowing has always been good to me and I have met some wonderful people because of it.