1954 British Empire and Commonwealth Games— Vancouver Canada
Selection
The eight was to be selected in the usual manner, namely the winning King's Cup crew. The winning Victorian crew declined the offer to compete citing questions of the standard of racing and funding. The selection of the balance of the team was by test racing with the winners being selected.
Following selection, a postal vote agreed to the tour of Anderson, Williamson, Evatt and Wood to compete in the coxed four provided that the coxed four took place following the racing of the double scull, one of our best medal chances. In the end, Wood had only 3/4 hour between the final of the double and the coxed four final. He was 37 years old at the time and the oldest gold medal winner of the Games in any sport.
The venue was the Vedder Canal, a placid four mile straight course about 50 miles out of Vancouver. The water levels were lower than expected leaving some of the facilities high and dry. It appears not to have had any impact on the racing.
The Commonwealth Games Federation web site reports:
"The awarding of the Games to Vancouver was the culmination of two years of very hard work by an enterprising group of Civic leaders spearheaded by then Mayor, Charles E. Thompson.
"Vancouver then proceeded to set new standards in organisation and presentation of not only Commonwealth Games but all multi-sport Games of the times.
"The athletes' oath was taken by the captain of the Canadian team, Mr Bill Parnell, which, for the first time, would reflect the involvement of Commonwealth nations outside of the British Empire.
"The Fifth (V) Games placed Vancouver on a world stage and featured memorable sporting moments as well as outstanding entertainment, technical innovation and cultural events. The 'Miracle Mile', as it became dubbed, saw both the gold medallist, Roger Bannister of England, and silver medallist, John Landy of Australia, run sub-four minute races in an event that was televised live across the globe for the first time."
Participation
"Some 24 nations sent a total of 662 athletes and 127 officials to the Vancouver Games. This was a 'quantum leap' in size for the Commonwealth Games and represented the most significant increase in (100%) for any Commonwealth Games.
"Nations winning medals at the Games included England, Australia, South Africa, Canada, New Zealand, Scotland, Trinidad, Northern Ireland, North and South Rhodesia (Zimbabwe), Nigeria, Pakistan, Wales, Jamaica, Hong Kong, Uganda, Barbados and British Guinea."
Gold Medallists: Mervyn Wood, Peter Evatt, Geoff Williamson, David Anderson, cox Lionel Robberds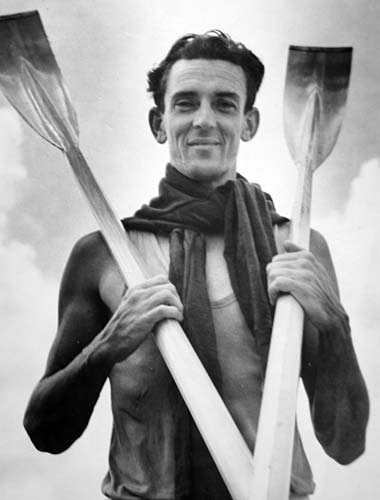 L-R: Geoff Williamson, Mervyn Wood, Lionel Robberds, David Anderson, Peter Evatt
Australian Team
Men's Single Scull — Eliminated in repechage
Peter M Evatt (NSW)

Men's Double Scull — Gold
Bow: Murray S Riley (NSW)
Str: Mervyn T Wood (NSW)

Men's Coxless Pair — Bronze
Bow: Geoff Williamson (NSW)
Str: David R Anderson (NSW)

Men's Coxed Four — Gold
Bow: Mervyn T Wood (NSW)
2: Peter M Evatt (NSW)
3: Geoff Williamson (NSW)
Str: David R Anderson (NSW)
Cox: Lionel P Robberds (NSW)

Reserve: L Kenny (VIC)
Manager: Roy W Thursfield (VIC)
Assistant Manager: Edward Kenny (VIC)
Umpires: L Kenney (VIC) and Roy Thursfield (VIC)
Results
Men's Single Scull
1st Don Rowlands (New Zealand) 8:28.2, 2nd Sid P Rand (England) 8:43.4, 3rd H Williams (Canada).

Men's Double Scull
1st Australia 7:54.5, 2nd New Zealand 8:05.2 (Bow: Robert H Parker, Str: Reginald A Douglas), 3rd Canada 8:28.2.

Men's Coxless Pair
1st New Zealand (Robert H Parker & Reginald A Douglas) 8:23.9, 2nd England 8:24.1, 3rd Australia 8:29.7

Men's Coxed Four
1st Australia 7:58.3. 2nd New Zealand 8:04.4 (Bow: Bill Tinnock, 2: Murray Ashby, 3: Kerry Ashby, Str: Bruce Culpan, Cox: Stanley Gallagher, Cch: Wi Winthall, Mgr: Jerry St Clair), 3rd England 8:04.5

Men's Eight
1st Canada 6:59.9, 2nd England 7:10.5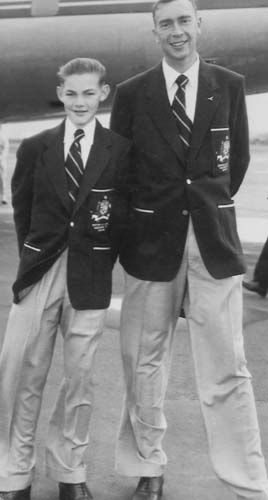 At airport leaving Australia