City of Warrnambool Rowing Club – 140 years on the Hopkins River
By Susan Finnigan
Table of Contents
Chapters
Appendices
Chapter Two: 1890-World War One.
The Club was poised to thrive, with a new shed, good boats, numerous members and rowing clubs forming throughout the colonies. As important as the number of clubs participating was the calibre of the oarsmen competing. The rowers were the next generation of Victorian oarsmen who would dominate Intercolonial Championships in the 1890s. In 1890 the Warrnambool Breakwater was completed and the railways came, making transport of boats to regattas more convenient.
The Club's regatta was held in February and December 1890. Mr B. Laing won the premier event, the Maiden Scull against three challengers. Other clubs attending these early regattas included Albert Park, Wendouree, Yarra Yarra, Ballarat, Civil Service, Corio Bay, Melbourne City, Ballarat City, Electric Telegraph, Barwon, Banks Mercantile and Footscray. The Challenge Trophy for the Senior Eight was presented by Mr James S. Rowley. The Challenge Trophy for the Senior Four was presented by Mr G. S. Burden and at the next regatta Mr T. R. Bloomfield gave the trophy. 68 The December regatta conditions were described as 'most favourable' with smooth water and a slight head wind. There was a great deal of betting on the Senior Eight with favourites being Wendouree and Yarra Yarra. 69
In 1891 Warrnambool won both the Maiden Four and the Maiden Eight. The Maiden Four comprised A. Lumsden, B. Laing, D. Rowan, J. Rowan and cox A. Geilhofer. The Maiden Eight comprised J. Granter, A. Brown, F. T. Redford, C Ross, T. Rowan, G. Proudfoot, P. Ryan, and D. O'Driscoll with cox D. Cleary. The trophy won by Mr B. Laing remains in the Club's trophy cabinet.
The 1893 Regatta was very successful for the Club with three major wins. They won the Senior Four with A. Lumsden, Patrick Ryan, D. Rowan, J. Rowan and cox D. Cleary. The Maiden Four with F. Gaspar, R. Proudfoot, J. Coate, A. Brown with cox D. Cleary and C. O'Donnell won the Maiden Scull. 70 The Senior Four rower was the formidable Patrick Ryan who was destined to be involved in rowing for many years. Also in 1893 Warrnambool's Eight finished second in the Victorian Rowing Championship Eight against Yarra Yarra. While the margin was large, this was a significant achievement. Whilst the make-up of this crew is unknown, it was probably the same crew that won the Junior Eights at the Barwon Regatta in 1893, namely E. H. Price, G. Proudfoot, T. Rowan, D. O'Driscoll, D. Rowan, Patrick Ryan, C. O'Donnell, J. Rowan and cox D. Cleary.
Prominent in the above races was Mr Patrick "Paddy" Ryan. He became a member of the Fremantle Rowing Club in Western Australia and an Intercolonial representative for Western Australia. He travelled to the west with James Donald, Jack Porteous and Jack Horsborough. They won many races in the west and successfully represented Fremantle in Senior Championship Fours. In 1897, Paddy Ryan was seven in the Western Australia Eight which narrowly lost to Victoria on the Lower Yarra. Whilst Donald and Porteous returned to Melbourne, Ryan stayed. Paddy Ryan went on to be a prominent rowing umpire, coach and Western Australian selector. In 1932 he was appointed a selector of the 1932 Olympic Rowing team.
From left: D Goodyear (coach), Patrick Ryan (3), Jas H Rogers (Sec), J Horsborough (bow), Jas Donald (Stroke) Front: J Porteous (2)
Australia was growing in confidence. In 1895 A. B. ('Banjo') Paterson's ballad 'The Man from Snowy River' was published and the Australian bush was celebrated. 71 The Club's rowers continued to compete at regattas. R. Proudfoot won the Maiden Scull at the Ballarat Regatta in 1896 in what appears to be a row-over. Mr James Rowley was the Club's President from around 1889 to 1894. He owned a cordial factory in Warrnambool. His products were reputed to have special qualities, including improving women's fecundity. He had been a town Councillor, was unmarried and great supporter of aquatics. He had financial troubles in later life and died as a result of drowning in his well, in an apparent suicide, at 60 years.
In 1889 there was a presentation to Mr E. H. Price, secretary of the Rowing Club, and a member since 1886.
A picture of a Warrnambool Rowing Club Four was included in a souvenir poster in the Weekly Times newspaper for the 1896 Industrial Exhibition, Melbourne. The accompanying article includes a recount of the 1893 Yarra River Regatta. Only two crews entered and Warrnambool came a close second rowing 3.5 miles (5.6 km) in 15 minutes 44 seconds. 72
Australia became a nation in 1901 with the first federal election on March 29. By the 20th century Warrnambool was a major market town. There was the Nestles Factory at Dennington (now Fonterra), the Warrnambool Cheese and Butter Factory, the Warrnambool Woollen Mill and after WW11 Fletcher Jones and Staff. The port waned and railways grew with the Warrnambool port closing in 1942.
The Warrnambool Rowing Club's annual regatta must have ceased at some stage and was restarted in 1905. 73 The Club's 1908 Boxing Day Regatta included the 'Friendly Society's Four'. It was won by Manchester Unity Independent Order of Oddfellows (M.U.I.O.O.F.). This photograph hangs in the Clubrooms. 74
Cox: V. Williamson, str: W.I. Marfell, 3: R.J. Russell, 2: A.J. Fisher, bow: H.G. Marfell

At some stage a Warrnambool Ladies Rowing Club was established and in 1909 Mrs G. Rolfe was President. It is thought the Club was initially sponsored by her husband George Rolfe, who owned the current site of Lyndoch, and used his jetty and shed on the Hopkins. 75 Many of the Ladies Club members were daughters, wives and sisters of the men's Club committee and rowers. The Ladies Club continued to have a close association with the Warrnambool Rowing Club until women were admitted in 1981.
In 1911 Miss Lilian (Lily) Foyle, a photographer, past president of the Political Labor League, president of the women's branch of the Australian Natives' Association and secretary to the Warrnambool Ladies Rowing Club married Edward Findley, a politician. He was also a publisher, trade unionist and company director. The Prime Minister, Andrew Fisher, gave the bride away. Findley was elected to the Victorian Legislative Assembly as the Labor member for Melbourne, but was expelled in 1901 for "seditious libel". His offence was to allow the reprinting of an article that had libeled King Edward VII. Findley was Senator for Victoria, 1904-17, 1923-29 (Australian Labor Party). 76 Lily was captain of the Ladies Rowing Club in 1914.
The Warrnambool Ladies Rowing Club competed in the Women's Interstate Four-Oared Challenge, in 1912. This race preceded the introduction of formal Interstate Championships which commenced in 1921. No distance or time was recorded but the winning margin was two feet. 1st QLD (Brisbane Ladies' Rowing Club), 2nd VIC (Albert Park Ladies' Rowing Club), 3rd Warrnambool Ladies' Rowing Club (VIC). It was a stirring race with Queensland winning, the Warrnambool crew retired about half way. The race was rowed in clinker outriggers, with sliding seats. 77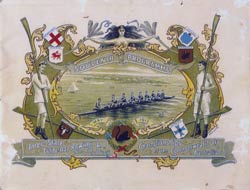 Mrs George Rolfe was the Warrnambool Ladies Rowing Club President from 1909 or before until 1917. Her husband was the owner of Lyndoch until he died in 1919. He was a Melbourne tea merchant, who had previously owned 216 acres of the Shipley estate further up the river. In the late 1870s he bought a house and 2 acres of land along the river near the bridge. This grew to 50 acres. He re-soiled the land, put in a water supply reservoir with tanks and pumps, a reticulation system and a windmill - 50 feet high with four sails 18 feet high and 4 1/2 wide. The present Lyndoch House was built on this site in 1925. 78

The Warrnambool Rowing Club continued to attend various regattas, usually in Melbourne or the Western District. Club members D. E. Fisher and W. R. McDonald coxed by R. Curtis won the Maiden Pair at the Barwon Regatta in 1912. Another pair of R. Richter and A. Jenkins coxed by R. Curtis won the Maiden Pair at the Colac Regatta in the same year.
In the following year, Leo Gartland, Edward Artso, W. Evans and B. Proudfoot won the Lightweight Maiden Four at the Colac Regatta. Sadly this crew contained two members who were to die in World War I, namely Gartland and Artso.
Footnotes
68 The Victoria Oarsman, with rowing register, 1857 - 1919, J. Lang, A. H. Massina, Melbourne, 1919. Page 314.
69 The Argus (Melbourne, Vic.: 1848 – 1957), Monday 28 December 1891, page 6.
70 The Victoria Oarsman, with rowing register, 1857 - 1919, J. Lang, A. H. Massina, Melbourne, 1919 pp 314-317.
71 'History of Australia'. Clarke, Manning. Melbourne University Press, Victoria 1997. Page 404.
72 Weekly Times, 1896- photocopy of an article dated 1896, copy in CoWRC clubroom archives.
73 The Argus, 16th May, 1905. Page 6.
74 Photograph displayed in the Warrnambool Rowing Club's Gymnasium. 2015.
75 The Argus, 28 December, 1891. Page 6.
76 Tocsin (Melbourne), 12th November, 1903. Page 2.
77 www.rowinghistory-aus.info/interstate-championships/1912.
78 'By These We Flourish, A History of Warrnambool'. Sayers. C. E. and Yule, P.L. Edition 1 and 2, no year no page number.