1992 BSRA Head of the River
The 1992 BSRA Head of the River was conducted on Saturday 12th September 1992 on the Milton Reach of the Brisbane River.
Below is an article from the Sunday Mail written the day after the regatta.
"Brisbane State High School ended a great season in fine style when they took out their first open eights at the Brisbane Schoolgirls' Head of the River rowing regatta yesterday. State High have won all 18 races leading up to the season's highlight. They gave their opposition little mercy in the blustery conditions on the Milton Reach of the Brisbane River.
Grummitt [the State High coach] rated the regatta the biggest he has seen in the past 10 years. While State High won the most events each of the major schools won at least one race. "The crowd is a good sign of how the sport is progressing," Grummitt said. "It's fantastic to see so much support for the girls. I believe the girls in some of the lower age groups are rowing a lot better than the guys."
Page 100, The Sunday Mail, Sunday September 13th 1992 Edition
1992 Regatta Program from BSRA website
---
Organising Committee
Brisbane Schoolgirls Rowing Association
Starter: Ray Ebert
Umpire 1: Doug Clark
Umpire 2: Tony Levick
Judge: Trish Burton
Referee: Ray Ebert
Announcer: Peter Jell
---
Open First Eight
Distance: 1500 Metres
Winning Time
: 4:38.00
Margins:
3 Lengths (1-2)
1st Brisbane State High School - Bow: A Murray, 2: I. Levien, 3: T. Kanaris, 4: I. Moloney, 5: C. Shanks, 6: N. Bristow, 7: K. Scribner, Str: E. Palmer, Cox: I. Zacharia, Coach/s: Mr. C. Grummitt & R. Keniger
2nd Somerville House - Bow: S. Armitage, 2: F. Southwell, 3: L. Hansen, 4: C. Joseph's, 5: R. Graham, 6: K. Bird, 7: B. Farren-Price, Str: T. Martin, Cox: M. Twigg, Coach/s: Mr. C. Grummitt & R. Keniger
3rd All Hallows' School - Bow: L. Spence, 2: A. Doilibi, 3: B. Hamlin, 4: A. Howard, 5: J. Hogan, 6: C. Dunworth, 7: O. Stead, Str: J. Lawson, Cox: P. Reid, Coach/s: D. Steadson
Other Competing Crews:
St. Hilda's School - Bow: L. Dey, 2: S. Hull, 3: F. Maggiolo, 4: S. Eagles, 5: A. Frouin, 6: K. Mattner, 7: L. Bartrum, Str: D. Carbis, Cox: T. Willmott, Res: T. Sorensen
St. Peter's Lutheran College - Bow: K. Porter, 2: A. Hall, 3: E. Cameron, 4: A. Cooksley, 5: K. Geraghty, 6: Z. Morton, 7: L. Kroon, Str: C. Stuetzel, Cox: L. Pettit, Coach/s: D. Huggins
St. Margaret's Anglican Girls' School - Bow: S. Bishop, 2: E. Peterson, 3: P. Slawson, 4: M. Parr, 5: M. Williams, 6: M. Edmonds, 7: G. Shephard, Str: C. Davis, Cox: L. Gibson, Coach/s: A. Williams
---
The Race Described
"After a slow start, State High were taken on by Somerville House for the first 2000 Metres. They edged about a length in front at the 500m and with about 250m to go, amid the cheers of the 3500-strong crowd lining the banks, careered away for a comfortable win. Their margin at the end of the 1500m was about three boat lengths from Somerville with All Hallows a close third.
All Hallows made up a lot of ground over the later stages. They were locked in a close battle with St Margaret's at the halfway mark but finished well clear of the at the line. State High coached Chris Grummitt was full of praise for the girls and will now set them for the state titles in five weeks.
"They've done a fantastic job to win all their races," Grummitt said. "There was a long of pressure on them today and that was probably the worry going into the race. I just tried to settle them down through the week and get their minds on the job. They knew what they had to do and they didn't have to find anything special on the day. The ability has always been there."
Grummitt rated the regatta the biggest he has seen in the past 10 years."
Page 100, The Sunday Mail, September 13 1992 Edition
---
Open First Four
Distance: 1000 Metres
Winning Time: 4:12.00
1st Brisbane State High School - Bow: T. Kanaris, 2: N. Bristow, 3: K. Scribner, Str: E. Palmer, Cox: J. Zacharia, Coach: R. Keniger & C. Grummitt
2nd St. Margaret's Anglican Girls' School - Bow: M. Williams, 2: M. Edmonds, 3: G. Shepherd, Str: C. Davis, Cox: L. Gibson, Coach: A. Williams
3rd St. Hilda's School - Bow: L. Dey, 2: K. Mattner, 3: L. Bartrum, Str: C. Lynton, Cox: T. WIllmott, Coach: C. Graham & A. Lissner
Other Competing Crews:
Brisbane Girls' Grammar School - Bow: A. Riley, 2: H. Weston, 3: J. Martel, Str: L. Middleton, Cox: N. Gibson, Coach: W. Hughes
St. Aidan's Anglican Girls' School - Bow: B. Straker, 2: J. Katterns, 3: D. Smyth, Str: P. Johnson, Cox: P. Ng, Coach: G. Pearson
1992 Brisbane State High School First IV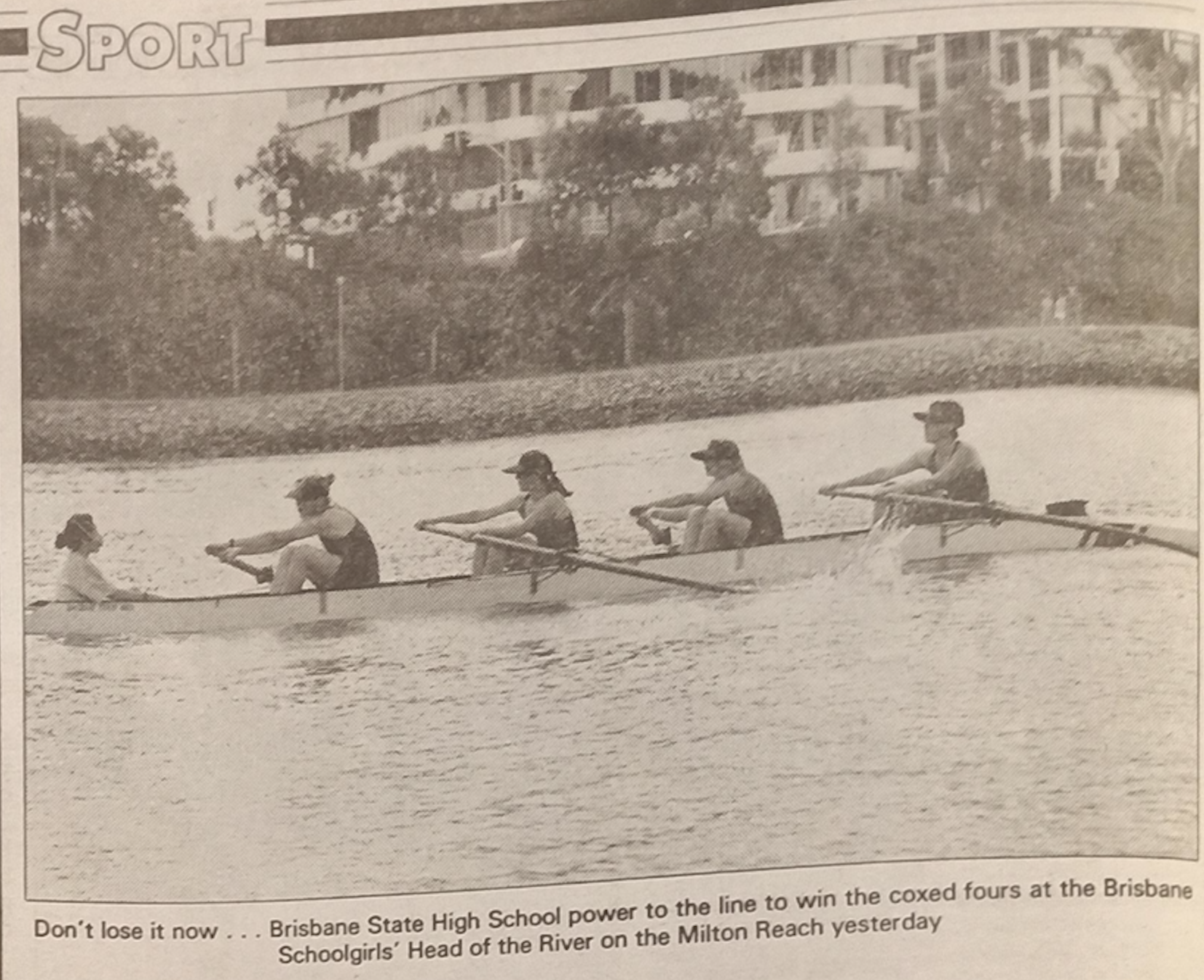 ---
Open Second Four
Distance: 1000 Metres
Winning Time: 3:28.00
1st St. Hilda's School - Bow: F. McNaught, 2: P. Hau, 3: T. Sorensen, Str: A. Gardiner, Cox: S. Daley, Coach: M. Urban, Res: B. Cameron
2nd St. Margaret's Anglican Girls' School - Bow: C. Spencer, 2: B. Taylor, 3: J. Rigby, Str: K. Hay, Cox: C. Giblin, Coach: T. Elliott
3rd Somerville House - Bow: S. Shakespear, 2: R. Webster, 3: A. Natera, Str: F. Haines, Cox: J. Lambert, Coach: M. Raward
Other Competing Crews:
St. Hilda's School - Bow: A. Frouin, 2: S. Hull, 3: F. Maggiolo, Str: S. Eagle, Cox: A. Wilson, Coach: C. Graham & A Lissner
St. Aidan's Anglican Girls' School - Bow: S. Roberts, 2: J. Pieper, 3: C. Gilbert, Str: K. Taylor, Cox: E. Johnson, Coach: G. Pearson
All Hallows' School - Bow: L. Spence, 2: S. Redgrave, 3: M. Pinsent, Str: A. Howard, Cox: A. Yeller, Coach: M. Packer
---
Open Single Sculls
Distance: 1000 Metres
Winning Time: 3:34.00
1st Brisbane Girls' Grammar School - S. Tanks
2nd St. Hilda's School - C. Lynton
3rd St. Aidan's Anglican Girls' School - Z. Pinnington
4th Rockhampton Girls' Grammar School - C. Carter
---
Under 16 First Four
Distance: 1000 Metres
Winning Time: 3:10.00
1st Brisbane State High School - Bow: A. Murray, 2: J. Levein, 3: C. Shanks, Str: J. Maloney, Cox: J. Zacharia, Coach: R. Keniger & C. Grummitt
2nd All Hallows' School - Bow: R. Karatau, 2: C. Meaney, 3: O. Stead, Str: C. Dunworth, Cox: K. Barrett, Coach: P. Howard
3rd Stuartholme School - Bow: V. Ackery, 2: M. E. Hardwich, 3: S. Cunningham, Str: A. Ackery, Cox: S. Jones, Coach: J. Hutson
Other Competing Crews:
St. Margaret's Anglican Girls' School - Bow: G. Morrow, 2: E. Covacevich, 3: D. Elliot, Str: M. Parr, Cox: E. Skitch, Coach: P. Jell
Somerville House - Bow: R. Daniels, 2: E. Wilson, 3: A. Johnson, Str: N. Everett, Cox: M. Singleton, Coach: R. Daniels
St. Aidan's Anglican Girls' School - Bow: L. Innes, 2: V. McWilliam, 3: J. Campbell, Str: L. Barton, Cox: E. Carr, Coach: H. Carr
Brisbane Girls' Grammar School - Bow: S. Muller, 2: B. Houghton, 3: J. Larsen, Str: M. De Laat, Cox: B. Sevil, Coach: P. McKellar
---
Under 16 Second Four
Distance: 1000 Metres
Winning Time: 3:18.00
1st St. Peter's Lutheran College - Bow: C. Stuetzel, 2: L. Kroon, 3: Z. Morton, Str: E. Cameron, Cox: S. Lancaster, Coach: J. Harrison
2nd Brisbane State High School - Bow: D. Elliot, 2: C. Bremner, 3: T. Yates, Str: M. Tokesi, Cox: A. Porter, Coach: N. Goodwin
3rd St. Hilda's School - Bow: K. Bayley, 2: C. Ferguson, 3: P. Clarke, Str: D. Carbis, Cox: E. Watkins, Coach: R. Bailey, Res: F. McNaught
Other Competing Crews:
St. Aidan's Anglican Girls' School - Bow: C. Hall, 2: N. Ipson, 3: P. Falkenmire, Str: S. Adsett, Cox: S. Angel, Coach: H. Carr
Somerville House - Bow: Z. Wilson, 2: R. Grasso, 3: S. Baxter, Str: C. MacMahon, Cox: K. Worrell, Coach: J. Whitten
Brisbane Girls' Grammar School - Bow: M. Dodsworth, 2: L. Preston, 3: S. Swyer, Str: E. Mackay, Cox: B. Clarke, Coach: P. McKellar
---
Under 16 Third Four
Distance: 1000 Metres
Winning Time: 2:58.00
1st St. Margaret's Anglican Girls' School - Bow: L. Stephen, 2: A. Prior, 3: E. Chittenden, Str: N. Turner, Cox: E. Lille, Coach: T. Elliot
2nd St. Hilda's School - Bow: L. Walker, 2: A. Webb, 3: K. Lindsay, Str: T. Maggiolo, Cox: L. Johnson, Coach: R. Bailey
3rd Somerville House - Bow: M. Bannister, 2: H. Shipton, 3: L. Roberts, Str: R. Cochrane, Cox: F. Ryan, Coach: P. Martin
Other Competing Crews:
All Hallows' School - Bow: M. Scott, 2: K. Doilibi, 3: C. Tilley, Str: H. Cassidy, Cox: L. Johnson, Coach: K. O'Rourke
St. Peter's Lutheran College - Bow: J. Ullman, 2: J. Tapp, 3: K. Tapp, Str: A. Cooksley, Cox: P. Turner, Coach: J. Harrison
Brisbane Girls' Grammar School - Bow: E. Taylor, 2: M. O'Brien, 3: K. Allen, Str: T. Grice, Cox: R. Hart, Coach: C. O'Brien
---
Under 16 Fourth Four
Distance: 1000 Metres
Winning Time: 3:24.00
1st Brisbane Girls' Grammar School - Bow: B. Thompson, 2: F. Templeman, 3: S. Warren, Str: H. Pietzner, Cox: S. Heilbronn, Coach: C. O'Brien
2nd Somerville House - Bow: D. Zetlin, 2: N. Hoffmann, 3: R. Pocock, Str: A. White, Cox: J. Lambert, Coach: J. Waddington
3rd Brisbane State High School - Bow: A. McIntosh, 2: E. Sanders, 3: K. Norton, Str: S. Laclish, Cox: K. Curtis, Coach: J. Norton
Other Competing Crews:
Somerville House - Bow: D. Zetlin, 2: N. Hoffmann, 3: R. Pocock, Str: A White, Cox: J. Lambert, Coach: J. Waddington
St. Margaret's Anglican Girls' School - Bow: M. Ayliffe, 2: T. Stott, 3: Z. Jacob, Str: C. Harris, Cox: B. Forde, Coach: T. Elliot, Res: H. Conomos
St. Aidan's Anglican Girls' School - Bow: C. Crooks, 2: B. O'Connell, 3: L. Welgall, Str: J. Davies, Cox: E. Johnson, Coach: H. Patterson
All Hallows' School - Bow: A. McHardy, 2: D. Barakat, 3: O. Donaghy, Str: N. Fitzpatrick, Cox: B. Gardiner, Coach: M. Lowe
---
Under 16 Single Sculls
Distance: 1000 Metres
Winning Time: 3:35.00
1st St. Margaret's Anglican Girls' School - D. Elliott
2nd Brisbane State High School - M. Tokesi, Coach: P. Dooley
3rd Brisbane Girls' Grammar School - S. Swyer
Other Competing Crews:
St. Hilda's School - C. Ferguson
St. Hilda's School - K. Bayley
St. Hilda's School - P. Clarke
Kelvin Grove State High School - T. Hintz
St. Aidan's Anglican Girls' School - L. Barton
---
Under 15 First Four
Distance: 1000 Metres
Winning Time: No Time Recorded
1st Brisbane State High School - Bow: J. McKean, 2: K. O'Neill, 3: B. Grice, Str: S. Cook, Cox: M. Humphris, Coach: G. Zaphir
2nd St. Aidan's Anglican Girls' School - Bow: S. Hesse, 2: Z. Pinnington, 3: V. Walduck, Str: M. Stewart, Cox: R. Jenkins, Coach: J. Stewart
3rd All Hallows' School - Bow: A. Andreasson, 2: R. Stackelberg, 3: J. Hogan, Str: L. Kuzma, Cox: K. Holden, Coach: S. Smith
Other Competing Crews:
Brisbane Girls' Grammar School - Bow: F. Schubert, 2: G. Petrohilos, 3: M. Rigg, Str: I. Royston, Cox: K. Conomos, Coach: L. Rech & G. Rech
Somerville House - Bow: V. Roward, 2: S. Rayment, 3: T. Potter, Str: R. Stevenson, Cox: B. Stevenson, Coach: B. Tanks
St. Margaret's Anglican Girls' School - Bow: E. Mace, 2: C. Peterson, 3: G. Webb, Str: R. Davis, Cox: L. Gibson, Coach: J. Hodgkinson
---
Under 15 Second Four
Distance: 1000 Metres
Winning Time: 3:23.00
1st Brisbane State High School - Bow: A. Orme, 2: N. Cuevas, 3: L. Friswell, Str: E. O'Hanlon, Cox: C. Huston, Coach: K. Thomas
2nd Brisbane Girls' Grammar School - Bow: C. Storie, 2: F. Crawford, 3: V. Jay, Str: A. Warren, Cox: M. Brunskill, Coach: L. Rech & G. Rech
3rd St. Aidan's Anglican Girls' School - Bow: P. Straker, 2: C. Smyth, 3: T. Bennett, Str: M. Potts, Cox: J. Castner, Coach: J. Stewart
Other Competing Crews:
Somerville House - Bow: R. Stent, 2: S. Moore, 3: R. Lord, Str: S. Donald, Cox: C. Peterson, Coach: P. Mandikos
St. Margaret's Anglican Girls' School - Bow: E. Gurney, 2: S. Kassim, 3: J. Anderson, Str: W. Goff, Cox: L. Green, Coach: B. Goff
---
Under 15 Third Four
Distance: 1000 Metres
Winning Time: 3:25.00
1st St. Aidan's Anglican Girls' School - Bow: K. Chambers, 2: E. Kearney, 3: R. Perry, Str: S. Rayner, Cox: S. Kelly, Coach: B. Armstrong
2nd Brisbane State High School - Bow: A. Crawford, 2: A. Crocket, 3: A. Jolly, Str: A. Grimes, Cox: E. Lawson, Coach: M. Crawford
3rd All Hallows' School - Bow: M. Walsh, 2: C. Sultmann, 3: V. Doyle, Str: N. Vedelago, Cox: L. Kuzma, Coach: J. Ginns
Other Competing Crews:
St. Hilda's School - Bow: A. Vandenberg, 2: N. Watkins, 3: K. Moncrieff, Str: C. Dunne, Cox: A. Gazal, Coach: P. Carbis & M. Urban
Somerville House - Bow: K. Orr, 2: K. Elphinestone, 3: K. Donnison, Str: L. Curtis, Cox: L. Lui, Coach: C. Templeton
St. Margaret's Anglican Girls' School - Bow: S. Dewar, 2: S. White, 3: C. Handy, Str: Y. Logan, Cox: A. Firth, Coach: A. Williams
Brisbane Girls' Grammar School - Bow: R. Farmer, 2: C. Cooper, 3: N. Costello, Str: S. Jordan, Cox: M. Matsuda, Coach: L. Rech & G. Rech
---
Under 15 Fourth Four
Distance: 1000 Metres
Winning Time: 3:38.00
1st Brisbane Girls' Grammar School & All Hallows' School
B.G.G.S. - Bow: R. Grierson, 2: K. Leadbeater, 3: K. Robinson, Str: D. Chisler, Cox: K. Thompson, Coach/s: L. Rech & G. Rech
A.H.S. - Bow: M. Johnson, 2: A. Gordon, 3: E. Moynihan, Str: R. Jaffrey, Cox: K. Hartigan, Coach/s: C. Levanes
3rd St. Peter's Lutheran College - Bow: A. Adams, 2: L. Geraghty, 3: S. Morris, Str: K. Wilson, Cox: M. Egan, Coach: D. Huggins
Other Competing Crews:
St. Margaret's Anglican Girls' School - Bow: S. Wilson, 2: N. Anderson, 3: G. Russell, Str: S. Thompson, Cox: A. Zoller, Coach: A. Williams
St. Margaret's Anglican Girls' School - Bow: A. Capper, 2: K. Shannon, 3: S. Keys, Str: A. Stockings, Cox: J. Batty, Coach: A. Williams
Brisbane State High School - Bow: T. Sandison, 2: D. Taylor Graham, 3: K. Julius, Str: B. Martin, Cox: R. Lawson, Coach: P. Kerr
---
Under 15 Single Sculls
Distance: 1000 Metres
Winning Time: 3:37.00
1st Somerville House - A. Loane, Coach: C. Grummitt
2nd Brisbane State High School - J. McKean, Coach: K. Thomas
3rd St. Aidan's Anglican Girls' School - S. Hesse
Other Competing Crews:
St. Hilda's School - C. Dunne, Coach: P. Carbis
Brisbane State High School
- L. Friswell, Coach: K. Thomas
---
Under 14 First Four
Distance: 1000 Metres
Winning Time: 3:21.00
1st Brisbane State High School - Bow: E. Shea, 2: S. Hicks, 3: J. Hicks, Str: N. Pick, Cox: K. Torpy, Coach: D. Sewell
2nd St. Margaret's Anglican Girls' School - Bow: J. Weaver, 2: P. Barratt, 3: A. Spring, Str: M. Davis, Cox: R. Horsley, Coach: G. Edmonds
3rd All Hallows' School - Cox: D. Pervan, 2: A. Doilibi, 3: B. Hamlin, Str: J. Lawson, Cox: J. Rockett, Coach: D. Steadson
Other Competing Crews:
St. Aidan's Anglican Girls' School - Cox: M. Quinn, 2: J. Massey, 3: A. Graham, Str: J. Hume, Cox: P. Autensio, Coach: N. Magnus
St. Hilda's School - Cox: S. Garretty, 2: S. Prentice, 3: N. O'Dowd, Str: J. Nicholson, Cox: B. Salk, Coach: M. Urban
Brisbane Girls' Grammar School - Cox: J. Burton, 2: M. Caffin, 3: F. O'Donnell, Str: K. Greenland, Cox: T. Ryan, Coach: P. McKellar
Somerville House - Cox: R. Stevenson, 2: E. Kennedy, 3: N. Ritchie, Str: C. Piper, Cox: J. Driver, Coach: C. White
---
Under 14 Second Four
Distance: 1000 Metres
Winning Time: 3:38.00
1st All Hallows' School - Bow: J. O' Rourke, 2: T. Mahoney, 3: R. Wilson, Str: C. Dagwell, Cox: A. Loth, Coach: L. Norval
2nd Somerville House - Bow: R. Yhonjan, 2: N. Chin, 3: J. Rasmussen, Str: A. Sharp, Cox: C. Legg, Coach: P. Loane
3rd Brisbane Girls' Grammar School - Bow: P. Howard, 2: J. Starkey, 3: K. Teys, Str: R. Corfe, Cox: K. Smith, Coach: P. McKellar
Other Competing Crews:
Brisbane State High School - Bow: I. Sklavos, 2: B. Peacock, 3: N. Cruickshank, Str: S. McDonald, Cox: C. Reed, Coach: C. Bott
St. Margaret's Anglican Girls' School - Bow: L. Huxley, 2: R. MacDonald, 3: M. Morrison, Str: M. Robinson, Cox: B. Allen, Coach: G. Edmonds
---
Under 14 Third Four
Distance: 1000 Metres
Winning Time: 3:38.00
1st Somerville House - Bow: V. Ashton, 2: S. MacMahon, 3: P. Voges, Str: F. Druce, Cox: G. Robertson, Coach: J. Loane
2nd Brisbane State High School - Bow: A. Isaacs, 2: E. MacDonald, 3: S. Hurley, Str: Z. Pappas, Cox: M. Villamil, Coach: C. Bott & D. Isaacs
3rd St. Hilda's School - Bow: K. Drake, 2: K. Barrow, 3: J. Allan, Str: S. Dawe, Cox: R. Foley, Coach: K. Allison
Other Competing Crews:
St. Margaret's Anglican Girls' School - Bow: A. Bennett, 2: N. O'Brien, 3: C. Raptis, Str: S. Walsh, Cox: N. Barton, Coach: G. Edmonds & A. Williams
All Hallows' School - Bow: K. Quayle, 2: R. Calvert, 3: S. Smith, Str: G. Sergiacomi, Cox: P. Connor, Coach: D. Currey & T. Bettenay
St. Margaret's Anglican Girls' School - Bow: M. Schmidt, 2: P. Shannon, 3: L. Philp, Str: B. Thompson, Cox: N. Hatton, Coach: A. Williams
Somerville House - Bow: S. Richmond, 2: M. Brittain, 3: E. Smith, Str: E. Dodd, Cox: K. Geobel, Coach: F. Cutts, Res: J. Gray
---
Under 14 Single Sculls
Distance: 1000 Metres
Winning Time: 3:17.00
1st Brisbane State High School - N. Davidson, Coach: P. Dooley
2nd St. Hilda's School - E. Stephens, Coach: A. Lissner
3rd Somerville House - J. Gray
Other Competing Crews:
Somerville House - E. Kennedy
Somerville House - C. Piper
Brisbane State High School - K. O'Neill, Coach: P. Dooley
St. Aidan's Anglican Girls' School - K. Lynch
---
Under 13 First Four
Distance: 500 Metres
Winning Time: 1:51.00
1st St. Hilda's School - Bow: K. O'Shea, 2: L. Ross, 3: A. Kidman, Str: C. Dilda, Cox: P. Neilsen, Coach: K. Allison
2nd Brisbane Girls' Grammar School - Bow: M. Clarke, 2: A. McLean, 3: L. McLennan, Str: A. Radcliffe, Cox: G. Belot, Coach: P. McKellar
3rd Brisbane State High School - Bow: K. Mercer, 2: Y. Haritos, 3: S. Burgess, Str: E. Burgess, Cox: M. James, Coach: N. Sewell
Other Competing Crews:
Brisbane State High School - Bow: S. Benson, 2: J. McKell, 3: A. Pegg, Str: A. Symons, Cox: G. Lemberg, Coach: N. Sewell
All Hallows' School - Bow: P. Howe, 2: F. Lewis, 3: A. Fogarty, Str: Y. Harvey, Cox: J. Sargent, Coach: H. Pervan & R. Dunworth
Brisbane Girls' Grammar School - Bow: P. Ring, 2: S. Black, 3: A. Hoffensetz, Str: C. Butler, Cox: Berezovsky, Coach: P. McKellar