NSW Combined High Schools Rowing History
1990 to 1995
For the first six years of the 1990s, Sydney Boys HS dominated sweep oared events, winning the eight and most fours at every CHS regatta. The one exception was the First Four which was won by four different schools during the period. This dominance saw Sydney Boys HS take out the Boys Pointscore in each of those six years as well as winning the title of Champion School in 1992 and 1993. During the same period, the girls honours were shared between Sydney Girls HS and Maclean HS who each won two Girls Pointscores and shared a third while North Sydney Girls HS won the Girls Pointscore in 1992. Maclean HS came to the fore overall being Champion School in 1990, 1991, 1994 and 1995.
After their great start to CHS competition in 1989, North Sydney Girls HS continued with wins in Girls Champion Eight, Girls Champion Four and Girls Champion Pair in each of 1990, 1992 and 1993 then disappeared from the winners list for fifteen years. In 1991, David Cameron of Maclean HS won his second Boys Champion Single Sculls before representing Australia at the World Junior Championships of 1992, four World Championships between 1993 and 1998 and the 1996 Olympic Games.
David Cameron pictured in 1988 holding the Howard Croker trophy for Boys Junior Sculls.
In 1993, Nepean Rowing Club introduced a Talent Identification Program that worked in conjunction with the NSW Academy of Sport. In the following year, squad members Simon Gray and Cassandra Dunn of Nepean HS won the two CHS Champion Single Sculls events, then in 1995, TIP students from Kingswood HS and Jamison HS dominated the competition to win 8 of the 14 championships conducted. From this group, the winners of both CHS Champion Single Sculls, Karl Parker and Leith Johanson of Jamison HS plus Meghann Russell of Kingswood HS went on to earn Australian representation. As quickly as these schools had risen to prominence, so they fell, with the TIP program being discontinued in 1996 and none of the participating schools re-appearing on the winners list for over a decade.
The Gabrielle Pritchard, the Reg Galvin and the Terry Baskett Memorial Awards
In 1991, a trophy was introduced for the outstanding female competitor of the championship regatta. The award was in memory of Gabrielle Pritchard of North Sydney Girls HS who had died as the result of a car accident in Samoa in January 1991. Gabrielle had stroked North Sydney's winning Champion Eight and Champion Four in 1989 and 1990 as well as the winning Lightweight Four of 1989.
In 1995, a trophy for the outstanding male competitor was introduced, named in honour of Reg Galvin.
Reg, who passed away in 1994, had been a coach at Nepean Rowing Club where he made a major contribution to the sculling success of the schools of the Nepean District. Reg coached many scullers to CHS success and accompanied several of them overseas as their national coach.
In 2013, a trophy was introduced for the outstanding junior competitor, either male or female, of the championship regatta. The award was named in honour of Terry Baskett, captain of Nepean Rowing Club who coached junior rowers for over 30 years until his death in 2008. Terry had been heavily involved in the establishment of Nepean's successful TIP program and had set up a rowing program for the Western Sydney Academy of Sport.
| | | |
| --- | --- | --- |
| | | |
| Gabrielle Pritchard | Reg Galvin | Terry Baskett |
1996 – Sweeping Changes to the CHS Program
The rowing masters meeting of 1995 introduced sweeping changes that completely rewrote the rules of CHS Rowing. Lightweight Fours, Second Fours and Pairs were dropped from the program, leaving 5 championship events: Eight, Four, Quad Sculls, Double Sculls and Single Sculls. The junior categories that had previously been classified by school year were changed to an age classification. "Junior" (Year 10) and "Year 9" were together renamed "Junior 2" for rowers 16 years of age or below. Junior 2 events included Four, Quad Sculls, Double Sculls and Single Sculls. A new junior category was introduced; "Junior 3" for rowers 14 years or below with 3 events: Quad Sculls, Double Sculls and Single Sculls. Novice Fours were retained. Race distances were set at 2000 metres for Championship events and 1000 metres for J2, J3 and Novice. Finally, the labels "Boys" and "Girls" were changed to "Mens" and "Womens". These changes brought CHS terminology, status rules and distances into line with those of the NSW Rowing Association.
The first regatta run under the new rules was held on the South Arm of the Clarence River at Maclean in 1996. Although the regatta had been due to return to the city, Maclean HS was appointed as host to celebrate the sixtieth anniversary of rowing in their school. The move away from sweep rowing was pronounced with the Womens Champion Four being the only one of eight sweep events offered to attract sufficient entries for a race. Maclean HS took regatta honours, winning the Boys Pointscore and Champion School trophies and sharing the Girls Pointscore with Taree HS and Grafton HS. After many years out of the winners circle, South Grafton HS began a phase of rebuilding with 4 wins in Junior 3 events.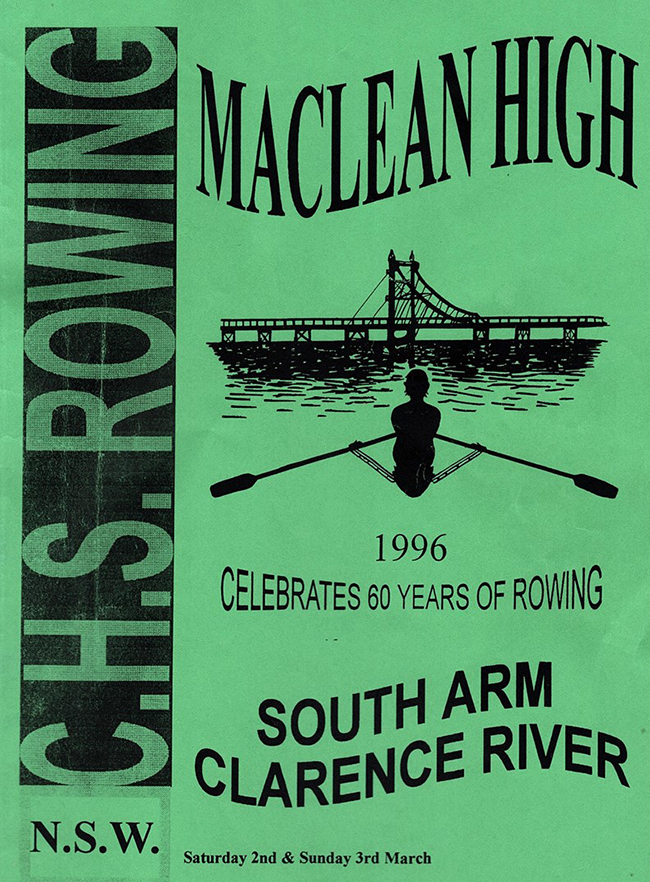 Sweep rowing underwent a revival in 1997. Eight races were conducted at the regatta in Grafton including Champion Pairs (which had been reinstated), Champion Fours, J2 Fours and Novice Fours although racing in eights was not to return until 1999. With a low attendance of Sydney schools (neither Sydney Boys nor Sydney Girls attended), North Coast Region schools won all of the mens events except the Novice Four. Grafton HS and Taree HS shared the womens championship events although Sydney schools did win 4 womens age events. Taree HS took out the Girls Pointscore with Grafton HS victorious in the Boys Pointscore and Champion School.
1998 – The Olympic Course
The CHS championships were conducted on the Olympic rowing course at the Sydney International Regatta Centre (SIRC) for the first time in 1998. With only one day available for competition, all age group races were run as divisions giving multiple winners in most events although heats and finals were run for championships. To stay in line with NSWRA terminology, "J2" and "J3" had been renamed "Under 16" and "Under 14". South Grafton's concentration on rebuilding paid off in the mens events. Their winning J3 crews from the past two years stepped up to success in the three Mens U16 events and the Mens Champion Four to win the Boys Pointscore while Taree HS gained the trophies for the Girls Pointscore and Champion School. In winning the Mens Champion Quad Sculls, Irrawang HS became the first Hunter Valley school to feature on the CHS winners list although Taree HS had carried the Hunter Region's colours since the second regatta in 1966. Six competitors from the 1998 championships went on to wear the green and gold of Australia: Tom Laurich (Barrenjoey HS), Krysten Winkley (Taree HS), Anna Seale and Kyeema Doyle (Mackellar Girls HS), Kate Morphett (Blaxland HS) and Livia Laborczfalvi (Crestwood HS).