James W (Jim) Skidmore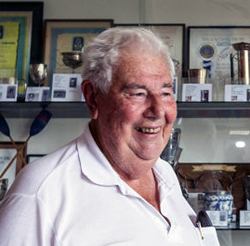 Yarra Yarra Rowing Club (VIC)
It is a great privilege to be able to collate a profile of Jim, a rower who has thoroughly enjoyed the sport almost forever. Not only that, he has, and continues to contribute so much to the sport he loves. The usual description of stalwart does not do justice to his contribution and enjoyment of the sport. Rowing has become a key part of his life and he has become a key part of his club's and State's rowing activities.
He remains a modest and very capable contributor to the sport. Even today in his eighties, he has mastered computers and has taken on with gusto his club's photographic records. Few clubs have such a full photographic record of their history.
From a club novice, Jim raced at the senior level and at National Championships. He made double sculling in Victoria his domain for many years.
Born and raised in Beechworth in North East Victoria, he came to Melbourne for employment and lived in a boarding house where he met Jim Hume, an enthusiastic rowing man who encouraged him to try rowing as a sport. He joined the Yarra Yarra Rowing Club which became his new 'home'.
His first regatta wins were in novice pairs at the Metropolitan & Preston regattas on 21 & 28 September 1957.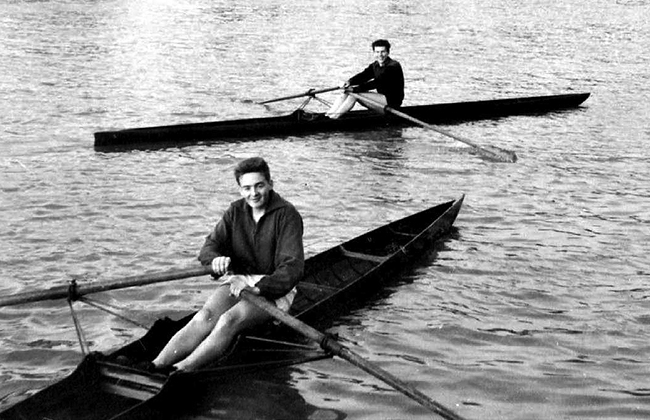 Jim Skidmore in the background and Alan Rice in the foreground sculling in tubs in 1957
His introduction to sculling was with the winter handicap series with a win on the 15th June 1957. Later on, shift work that made crew boat rowing difficult. So, he bought his own single scull in 1961.
His rowing career blossomed winning his way through all categories along the way. Much to the surprise of your correspondent, given his height and big frame, he had wins in lightweight crews in 1958 including Henley and the Victorian Championship Lightweight Eights.
With wins in the maiden pairs and fours, he went on to win a maiden eight in the VRA 2000 meter regatta on 3rd October 1959. This crew included John Castle, who later went on to win two Kings Cups.
Later on, he again teamed up with John in 1961 in a junior four that won several races including the championship. It was from this crew that John was selected into the Kings Cup crew for that year. Jim also won the junior pairs championship in at Nagambie 26th December 1961.
Some frustration was evident along the way. "The junior eight title eluded me as we were disqualified - involved in 3 clashes. The race course was from the entrance to Victoria dock into the Victoria harbour towards the city we were all told to steer towards the exhibition building tower, but with 7 or 8 crews across a clash was inevitable! This was the first race of a series and we won all the other races including Henley. This was Roger Moore's first crew as a coach and was his start to his coaching career." This crew became the training partner for the Melbourne based, gold medal winning Australian eight that went to Perth for the Commonwealth Games.
He continues: "From this eight, we entered the stern four in the inaugural National Championships in 1962 where we made the finals in both the coxed and coxless events."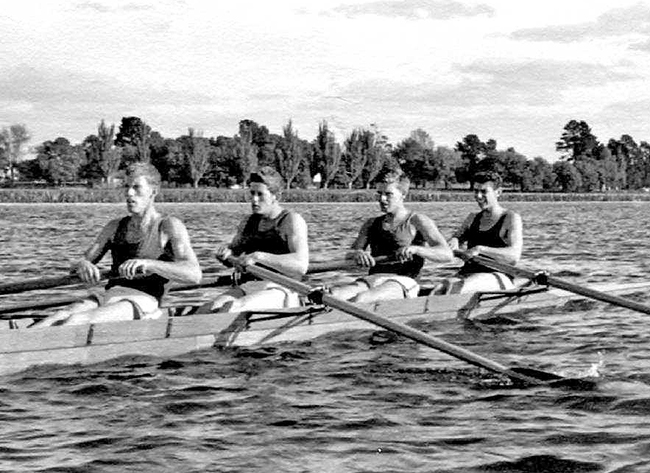 1962 National Championships - Yarra Yarra were finalists in the straight four with Jim in the bow seat
He and his fellow Yarra Yarra rowing mate Alan Rice, went to the Perth Commonwealth Games as spectators. They witnessed the standard of competition and decided to have a go at the 1964 National Championships and Olympic trials in a double scull, even though they had never been in this type of craft. As there were no competitive double sculls in Victoria, they bought their own boat. They could not find a coach, so they relied on books and 8mm film taken by Peter Gill for coaching.
As a lead up event, they won the senior double sculls event at Henley, the only double scull event listed on the Victorian racing calendar for the whole season. Hence their tongue in cheek boast, "we won all the double scull races on Victoria calendar for the whole season". At the National Championships, they ended up coming second in the final by a small margin gaining rapidly in the latter stages of the race. The victors, Barclay Wade and Gary Pearce, became the Olympic double. "Another few meters we would have had the lead, it's all history now."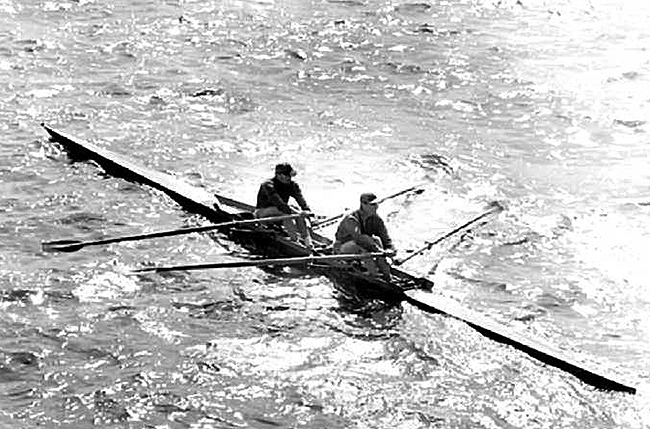 Jim in the stroke seat at the 1964 National Championships
At the third National Championships in 1966 with a different doubles partner Dave Williams, they finished third in the final.
Jim has won senior coxed pairs, coxed fours and eights. Senior single scull victories include 2.5 mile championship on the Lower Yarra. His haul of victories in club regattas is significant. He has been a fixture of the winter handicap sculling series, winning the quarter mile dash, round the island races as well as well as the Herald Shield series. Some races were even in in tub boats.
Of particular note is that he has had around 23 starts in the Head of the Yarra, with wins in intermediate, open and master's categories, including a fastest time. He claims that "we would have had a second fastest time but broke our rudder string at the end of Scotch straight'. They still managed to win the open section despite steering difficulties.
Jim has held positions from committee, vice-captain, treasurer, vice president, to patron of his beloved club Yarra Yarra Rowing Club. Not unexpectedly, he was made a life member in the 1989/90 season.
Three boats have carried his name - 1975 and 1980 coxed fours, followed in 2009 by an eight.
He was delegate to the Metropolitan Rowing Committee, Upper Yarra Regatta Committee and Victorian Sculling Association. He acted as Wentworth Rowing Club's delegate on the VRA's meetings and also held positions on the VOWA committee.
Also, of great note, is that he has been a Victorian Boat Race Official for over 50 years, including a time as a panel member.
The Victorian Oarsmen and Women's Association presented Jim with the Tom Rodda award in 2002 for services to rowing.
His single and double sculls are on display in Yarra's latest shed.
A full and enjoyed life in rowing.
Andrew Guerin
February 2022
Sources:
Jim Skidmore's records and interviews
Yarra Yarra Rowing Club photographic records which have been compiled by Jim
Author's records