William A T Sambell
William Austin Tyers Sambell 29 October 1910 – 27 March 1974
1929 APS Head of the River bow - Third
Bill Sambell (VIC) rowed four in the British eight at the 1932 Olympic Games.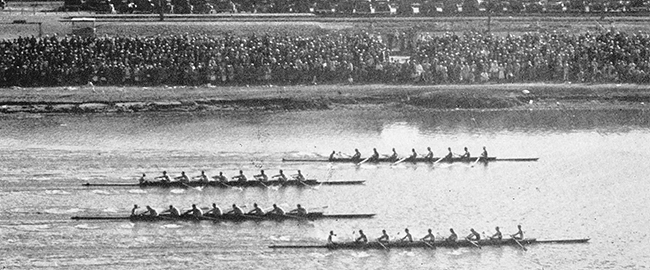 Final of the men's eights at the 1932 Olympic Games
Lewis Luxton and Sambell raced together in 1931 and finished second in the Silver Goblets at Henley Royal Regatta. Both had rowed together at Melbourne Grammar before going straight to Pembroke College at Cambridge as under graduates. Lewis Luxton was the first Australian to stroke a Cambridge crew.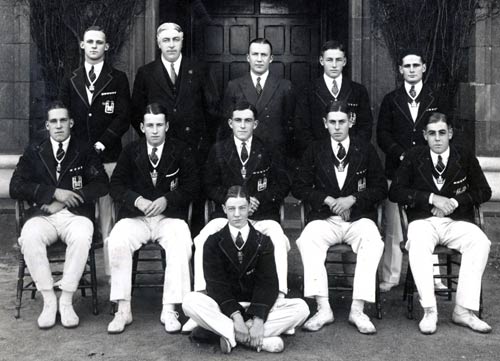 1929 Melbourne Grammar first crew
F E C. Loxton (3), Mr C R Frankin (coach), Mr W N Rcketts (coach), R T Morell (4), P M Hudson (2). Sitting: R P Yuncken (5), J H Smith (7), W A T Sambell (bow), L Luxton (stroke), T Luxton (6). In front: C N L Crombie (cox)
Photo reproduced with permission of MGS archives
The Cambridge crew including Sambell raced as Leander at Henley Royal Regatta winning the Grand Challenge Cup. The crew was then selected to represent Britain at these Games. The British crew finished in fourth place at the Games.
At the 1932 Games, and also at previous Games, Australians were regarded as part of the British Empire and so qualified for British crews.
He was in the winning Cambridge boat in the Boat Race in 1932, 1933 and 1934.
Andrew Guerin
April 2020