Roy Zhang
Mercantile Rowing Club (VIC)
Roy started his rowing at Caulfield Grammar in 2009 and continued his rowing when he moved to Melbourne High School. From 2010 to 2013, he coxed at school and in 2011 he also took up sculling at Mercs during winter.
In 2012 and 2013, he coxed the first four at Melbourne High School. His crew was a finalist at the National Championship in 2013.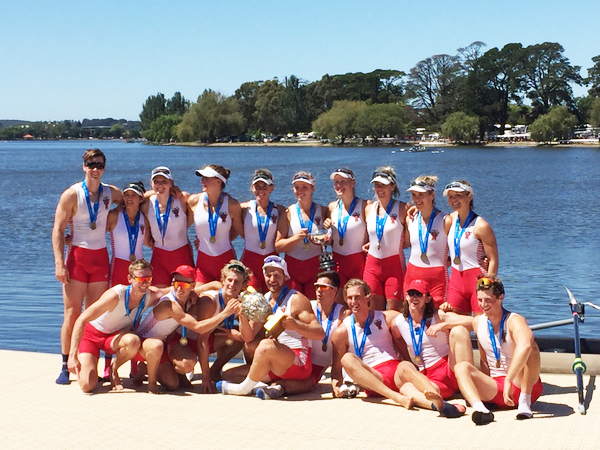 Above: 2016 State Championships – Winning Men's and Women's Open Eights – Roy front row second from left
In 2014 he coxed at Mercs and also at the World Cup. As a Chinese national, he had the opportunity to cox the Chinese national eight at the World Cup which he took on with glee. He really enjoyed training with them and their company: "they were great guys".
In the 2014-15 season, he readily spoke of the winning women's B eight at the Head of the Yarra as his highlight. This crew was won in record time. He also took the opportunity to train with the Chinese under 23 squad and Olympic squad in Shanghai but due to study commitments back home in Australia, was unable to pursue this opportunity fully.
Whilst coxing several Mercs crews, he coaches with Melbourne High School, La Trobe University, Rowing School and Mercs.
Above: 2016 Grand Challenge Cup winners at Henley on Yarra – Roy far right
Why rowing? "Just love the sport and love the people".
Why Mercs? "Great people and the community at Mercs."
Andrew Guerin March 2016