Henry Woolnough
Elswick Rowing Club (VIC)
1860 – Melbourne Regatta Grand Challenge Cup, bow – First
1861 – Melbourne Regatta Grand Challenge Cup, two – First
1862 – Melbourne Regatta Grand Challenge Cup, two – First
The first amateur regatta to be conducted in Australia was the Melbourne Regatta in 1860. The founder of this regatta was 2010 inductee Prof Martin Irving. The Grand Challenge Cup for senior fours was the biggest amateur race in the land at that stage. The Elswick Rowing Club won the race in 1860, 1861 and 1862, thus winning the Challenge Cup outright. The three crews comprised four oarsmen who won the trophy at least twice each. They were the first Victorian amateur champions.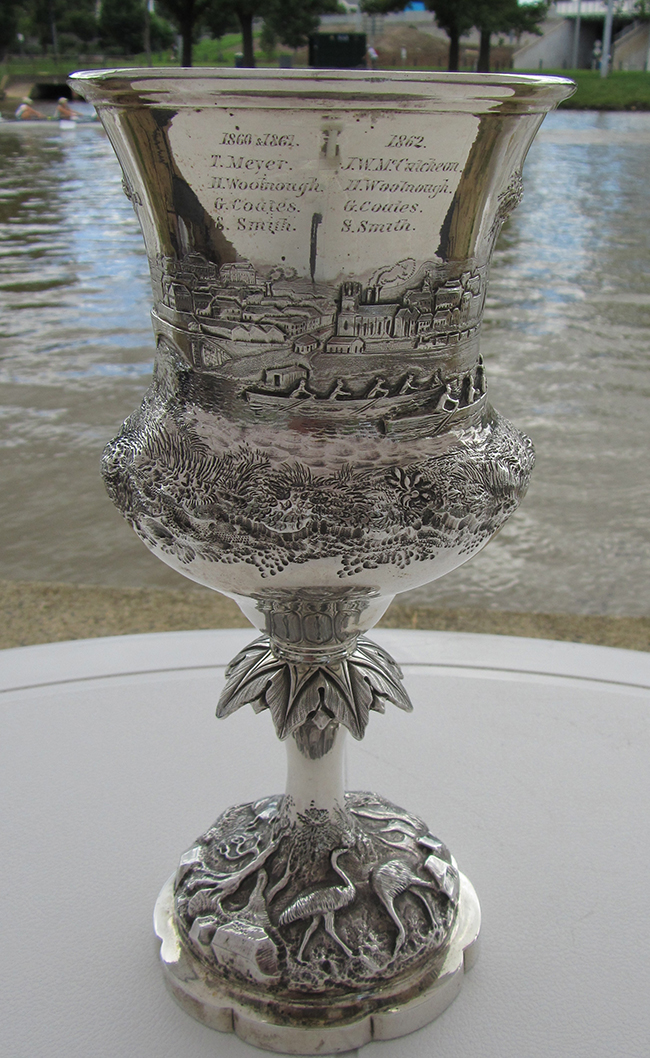 This superb trophy depicts the city of Melbourne and rowing on the river in 1860. Apart from being one of the two oldest rowing trophies in Australia, it is without doubt one of the most beautiful and important trophies in Australia. Henry Woolnough was instrumental in the recovery of the triophy for use in Australia.
About 1863 or 1864 an immense flood occurred in the Yarra River. When the great flood occurred the Elswick sheds was washed away over the falls. This accident led to the death of the club. Mr Woolnough was one of the creditors and he was allowed to take possession of the challenge cup for his personal property. He offered it to the Committee of the Melbourne Amateur Regatta Committee (Australian Henley), to be rowed for annually.
Andrew Guerin 2015