Oswald J Wood
Oswald John Wood born 1883 at Petersham NSW
Leichhardt Rowing Club, Balmain Rowing Club, Mosman Rowing Club (NSW)
1912 – Interstate Men's Eight Championship cox – Fourth
1913 – Interstate Men's Eight Championship cox – did not finish
1914 – Interstate Men's Eight Championship manager
1919 – Peace Regatta No 2 AIF crew cox – eliminated in heat
1920 – Interstate Men's Eight Championship cox – Fourth
1922 – Interstate Men's Eight Championship coach – Fifth
1924 – Interstate Men's Eight Championship coach – Second
1925 – Interstate Men's Eight Championship coach – Third
1927 – Interstate Men's Eight Championship coach – Second
1929 – Interstate Men's Eight Championship coach & sole selector – First
1930 – Interstate Men's Eight Championship sole selector
1932 – Olympic Games - selector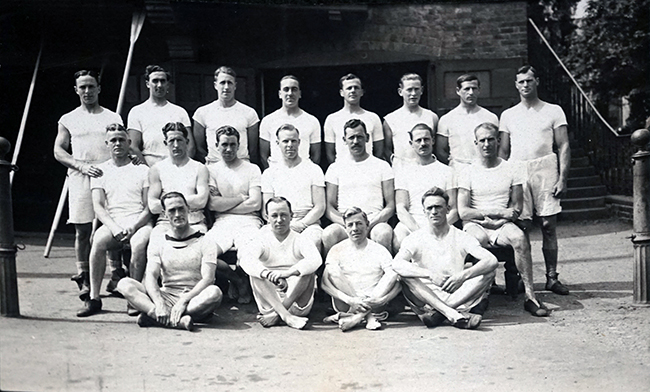 1919 AIF team for the King's Cup in May 1919
Oswald Wood in front, second from the left
Oswald Wood was a highly respected rowing administrator prior to the war as the following illuminated address from Sydney Rowing Club indicates wishing him well on his enlistment.
Illuminated address provided to Oswald Wood upon his enlistment.
Wood enlisted on 20th March 1916 in Sydney at the age of 32 years 7 months. His occupation was noted as a clerk. He went into the 9th Machine Gun Company of the 7th Brigade.
His leadership qualities were evident as he was destined for officer training. Wood was appointed a second lieutenant on 1st December 1916 and sent to France. By March 1917 he was promoted to a full lieutenant. He was fortunate to only suffer illnesses and not wounding during his time as a soldier. At the end of the war, he was assigned to the Sports Control Board to establish the AIF rowing team. He was one of three selectors to select the crews. His fellow selectors were Lieutenant Harry Ross Soden and Major Eric Tulloch. Later Capt Clive Disher was added to the rowing sub-committee of the Sports Control Board.
It is remarkable how well they worked to identify, encourage, recruit and then get rowers transported to London to start training. Many of the soldiers carried the scars of war, they were home hungry and in no mood for their time as a soldier to continue. Wood coxed the second crew.
After WWI Wood, went onto to be a very successful coach and selector.
Andrew Guerin
April 2020