Leisa Wilson
Corio Bay Rowing Club (VIC)
Athlete
1974 National Championships Junior IV 1st
1974 National Championships School IV 2nd
1975 National Championships Heavyweight pair 1st
1976 National Championships L W single scull 3rd
1976 National Championships Junior single scull 1st
1977 National Championships Lightweight scull 1st
1977 National Championships Heavyweight scull 2nd
1977 Interstate Championships Heavyweight scull 3rd
1977 National Championships Heavyweight Double scull 2nd
1977 National Championships Heavyweight Quad scull 3rd
1978 Interstate Championships Heavyweight scull 2nd
1978 National Championships Heavyweight scull 1st
1978 National Championships Lightweight scull 1st
1978 National Championships Heavyweight Quad scull 1st
1978 World Championships Heavyweight Quad scull Eliminated in repechage
1979 National Championships Lightweight scull 1st
1979 National Championships Heavyweight double scull 1st
1979 National Championships Heavyweight Quad scull 2nd
1979 Canadian Henley Lightweight single scull Selected to represent Australia at St Catharine's, Canada, but stood out of team.
1980 National Championships Lightweight scull 2nd
1980 Interstate Championships Heavyweight scull 3rd
1981 Interstate Championships Lightweight four 1st
1984 National Championships Heavyweight quad 3rd
1984 National Championships Heavyweight eight 3rd
1991 National Championships Lightweight scull 2nd
1991 National Championships Lightweight double scull 1st
1991 World Championships Lightweight double scull 10th
Coach
2000 National Championships Schoolgirl quad scull 1st
2001 National Championships Schoolgirl quad scull 1st
2004 National Championships Schoolgirl quad scull 3rd
2005 National Championships School quad scull 1st
2006 National Championships Schoolgirl quad scull 3rd
2008 National Championships Schoolgirl quad scull 3rd
2018 Inducted into the Victorian Rowing Hall of Fame
Leisa commenced rowing in 1973, the foundation year of Corio Bay Ladies Rowing Club, exactly one hundred years after the foundation of Corio Bay Rowing Club. The late Bob Morell, was the founder of CBLRC and Leisa's first coach, he placed an advertisement in the Geelong Advertiser for girls interested in starting a Ladies Rowing club. Leisa, coming from a successful swimming background with the Geelong Swimming Club, adapted quickly and was a member of the first crew formed and in its first season won the National Junior Four Title in Adelaide. The crew also included Mary Renouf and in 1975 in their second season of rowing, they won the Nationals Senior Pairs Title.
Leisa was keen to take up sculling and Bob Morell sought help from Jeff Sykes who coached and set her training schedule, a busy one at that as Leisa had still maintained a full swimming program alongside her new sport of rowing.
To supplement her rowing training, Leisa trained with the Geelong Football League Umpires and was a goal umpire through the football season.
Leisa won the junior sculls, and finished third in the lightweight sculls in her first season sculling in 1976.
1977 saw her win the National Lightweight scull, and second place in both the senior scull and double scull.
It was also in 1977 that Leisa was the inaugural female winner of the "Geelong Oarsman of the Year Award". Leisa's dedication and fierce competitive spirit so clearly singled her out that the matter of gender implicit in the title of the award immediately appeared anachronistic.
Remarkably, at the National Championships of 1978 Leisa, at 55 kg and 165 cm, won the heavyweight single scull, lightweight single scull and stroked the heavyweight quad scull to victory and placed 2nd in the Interstate sculling race.
Following the Championships, Leisa was selected for the Australian women's quad scull for the World Championships to be held at Lake Kurupira NZ. However, each member of that crew had to relocate to Sydney and raise the then significant sum of $1,200.00 to be able to compete.
Leisa took an approach that demonstrated her determination to her supporters - undertaking a 24-hour, 100-mile marathon in a single scull, seeking sponsorship by the kilometre. Leisa sculled alone effectively nonstop, day and night for 160km. That was Leisa's fund raising method. It worked.
The crew finished 7th, in an event dominated by the Eastern Bloc countries.
1979 Leisa again won the National Lightweight Sculling title.
After a successful switch back to sweep rowing in 1981 rowing with MUBC, she was a member of the winning Interstate lightweight four, Leisa retired from rowing, moved back to Geelong, concentrated on finishing her studies and married her fiance, British rower, Stuart Wilson.
1981 Victorian Lightweight Four with Leisa on the right hand side
Looking for a new Challenge, Leisa became interested in the new sport of Triathlon with immediate success, winning the 1982 Australian Endurathon - Leisa finished sixth overall in­the swim leg, and fifteenth overall at the end of the event easily winning the women's section.
Under the headline: "Tough little Leisa", the newspaper report of the event said: "Former Australian lightweight rowing and sculling champion Leisa Wilson, of Newtown, turned in one of the biggest performances of the event to win the women's section and finish an incredible 15th overall". Over the next 4 years Leisa won numerous events with her most credible result finishing 3rd overall in the Australian Open Championship in 1983. Leisa ran with the Geelong Cross Country Club and was the inaugural winner of the first all-female race run by the Club.
Leisa's daughter Heidi was born 1986, and son James in 1988. Parenting took over Leisa's time and energy, and competitive sport was phased out.
In 1990, Leisa was asked to fill in for a local crew aiming for selection. At this stage Leisa had not rowed competitively for nine years and was a full-time mother of two young children. The Corio Bay crew were overlooked by the selectors, but Leisa felt that "things went a bit better than I thought". Leisa had rekindled her enthusiasm for the sport. She continued training and found herself competing in the full schedule of selection regattas for the 1991 season.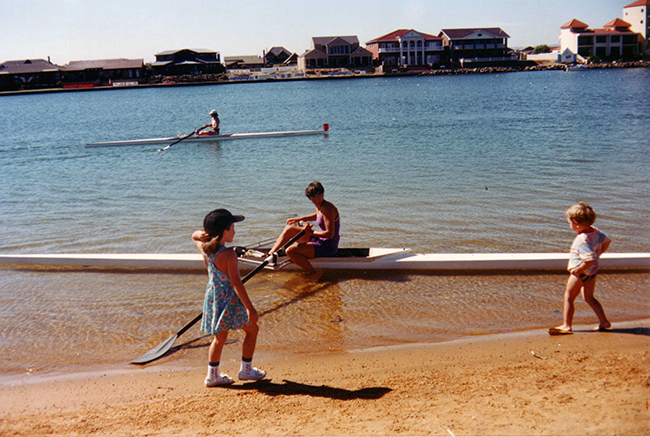 Leisa welcomed back to shore in 1991 by Heidi and James
After the 1991 National Selection trials the newspaper headlines were: "Leisa's back ... and how", and "Rowing mother takes on the World". In her first full season back after a nine-year layoff, Leisa had finished second in the Australian lightweight sculling championship and won the lightweight double scull championship.
On 12 May 1991 The Age reported: "Leisa Wilson capped a remarkable comeback to top level rowing when she and Sue Herold were announced as Australia's women's lightweight double scull for the world rowing championships in Vienna".
1991 National Champion lightweight double scull returning to shore after their win, Sue Herold left and Leisa on the right
Leisa rowed for another year but before retiring, set a New World Record for Lightweight women 30-39 Age group, over 2500m, the race distance at that time.
In late 1996, Leisa was approached to help coach at her old school Sacred Heart College which had a fledgling rowing club looking for direction. This was the start of perhaps the most rewarding and satisfying phase of her rowing life combining coaching and eventually teaching where her enthusiasm, energy and infectious personality, soon created a highly motivated and successful club.
As Director of rowing Leisa created a relaxed atmosphere and dedicated group of entirely volunteer coaches and parents, which saw much success at HOSG and National Regattas.
Over her 20 years of involvement Leisa's versatility was clear, coaching beginners, coxing, filling in crews, organising camps, weekly training and coaching Gold medal crews and all done whilst also finding time to row in master's crews at the highest level, win her age group in the Pier to Pub Ocean swim and numerous other pastimes!
From 2000 -2011 Sacred Heart crews had amassed 4 Gold-5 Silver 1 bronze and a 4th place at the National Championships in the Schoolgirl Quad scull, during this period Leisa was Director of rowing, coaching a number of these crews but retired in mid-2010 from that when diagnosed with cancer.
Leisa successfully returned to both coaching and rowing after recovery from Lymphoma but eventually had to retire from school and sport when diagnosed with a brain tumour in 2015. In her final months, Leisa was still frequently on the river bank taking video and posting tips to her many friends and crew mates at Corio Bay Rowing Club.
Source:
2018 Victorian Rowing Hall of Fame booklet