Angus Widdicombe
Mercantile Rowing Club (VIC)
2011 – Geelong College First crew
2012 – Geelong College First crew – Fourth
2013 – Rowing with Barwon and Mercantile in youth and other events
2014 – Moved to Melbourne and raced in Mercs Youth Eight
2014 – Interstate Championships – Men's Youth Eight, six seat – First
2014 – Henley Royal Regatta – Thames Cup – Semi finalist
2015 – Interstate Championships – King's Cup, four seat – First
2015 – National Championships – Under 23 Pair – Third
2015 – National Championships – Under 23 Coxed Four – First
2015 – Henley Royal Regatta – Thames Cup – Quarter finalist
2016 - World Under 23 Championships - Men's Eight, seven seat - Eighth
2017 - Interstate Championships, Men's Eight - Second
2017 - World Championships, Men's Coxed Pair - Silver
2018 - Interstate Championships, Men's Eight - Second
2018 - World Championships, Men's Eight, stroke - Silver
2019 - Interstate Championships, Men's Eight, stroke - Second
2019 - World Championships, Men's Eight, stroke - Fourth
2020 - Interstate Championships, Men's Eight, stroke - race not conducted due to pandemic
2021 - Interstate Championships, Men's Eight, Stroke - First
2021 - Olympic Games, Men's Eight, Stroke - Sixth
Whilst has focussed on his rowing goals for many years, he is almost finished his environmental science degree. He is currently employed by Sykes Racing.
Standout race (when asked in 2015)? 2015 King's Cup. Loved the chance to race and win with the senior oarsmen.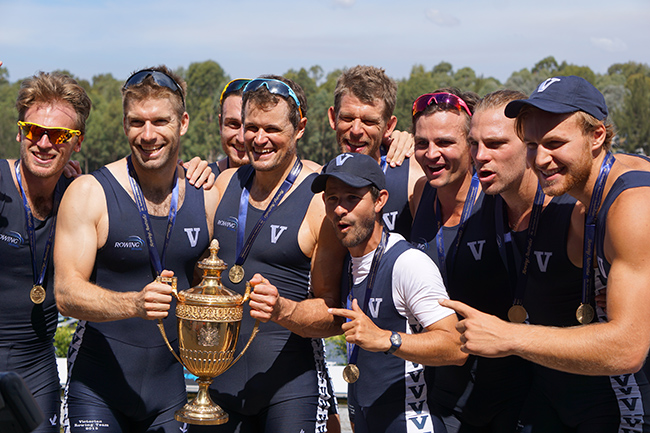 Above: 2015 Winning Victorian King's Cup crew – Angus is far right
Gus stroking a pair which pushed the World and Olympic Champions the Sinkovic bothers to the limit in the final of the silver goblets at HRR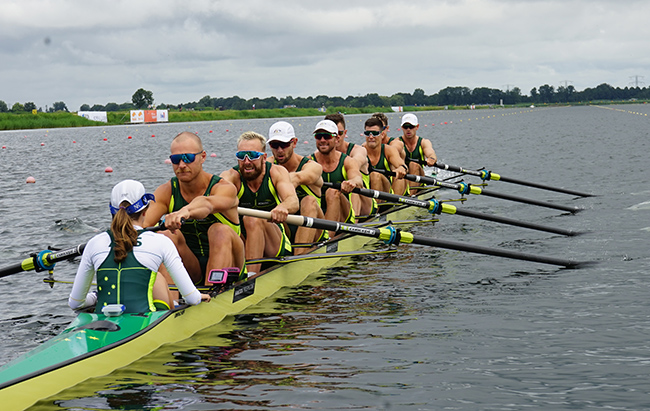 2019 Men's Eight stroked by Gus - this image taken at the start of the World Cup in Rotterdam


Most enjoyable race (when asked in 2014)? 2014 Interstate Youth Eight when we came from behind to win in a tough race.
Why rowing? Team output, mateship, winning, where hard work counts and is rewarded.
The future (when asked in February 2021)? After a break following the Olympic Games, Gus is again invigorated about Paris 2024. He has resumed full training and is making a late tilt for selection in 2022.
Andrew Guerin Oct 2015 (updated 2022)
Sources:
Interviews with Angus Widdicombe
Author's own records and photographs