Thomas A Whyte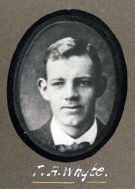 Born: Unley, South Australia in 1886
Mercantile Rowing Club then Adelaide Rowing Club (SA)
1907 - Interstate Championships six seat - Sixth
1908 - Interstate Championships stroke seat - Fourth
1909 - Interstate Championships stroke seat - Fifth
1911 - Interstate Championships stroke seat - Fourth
Whyte commenced his rowing with Mercantile Rowing Club in 1903, before developing several years later into a particularly successful crew member. He represented South Australia at the Interstate Championships on four occasions and became a popular member of the Adelaide Rowing Club.
Enlisted: 19 August 1914
Embarkation: From Adelaide, South Australia on board Transport A11 Ascanius on 20 October 2914
Rank: Private, 10th Battalion
Discharge: Died from wounds on 25 April, 1915 at Gallipoli, Turkey
Tom Whyte enlisted in the Australian Imperial Force within weeks of the outbreak of war. He was posted to the 10th Battalion with many of his mates from the Adelaide Rowing Club. He left Adelaide in October of that year, and arrived in Egypt for further training before being sent to Gallipoli. While in Egypt he participated in rowing races where possible and enjoyed joking with his mates. The photograph is of Whyte and fellow member of the Adelaide Rowing Club, Lance Rhodes, sitting on the Great Pyramid at Giza.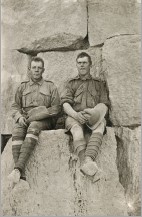 The 10th Battalion was among the first formations to land on Gallipoli in the early hours of the 25th of April 1915. Private Tom Whyte volunteered to row one of the boats ashore. His good friend Arthur Blackburn (awarded a VC at Pozieres in July 1916) wrote: the most dangerous position of the lot was that of the men who were rowing, as they of course could Tom Whyte and Lance Rhodes take no shelter. They could not even crouch down in the boat, but were compelled to sit up and row. The dangers of such a task were so apparent that officers hesitated to order men to expose themselves to the work of rowing. Tom immediately grasped the situation, and, as everyone knew he would, volunteered his services as a rower.
Blackburn said that Whyte was joking and laughing all the way to shore, but as the boat pulled up on the shingle Tom slipped over to the side, and it was realised that he had been seriously wounded. He had been shot through the pelvis. Although he was taken to a hospital ship for immediate treatment, he died on the way to Alexandria.
Blackburn wrote, the poor fellow was killed before he had fired a single shot, but there is no doubt that it was largely due to the courage and endurance of Tom and his fellow-rowers in all the boats that everyone was landed with the minimum of loss.