H T Westbrook
TAS
1885- Intercolonial Men's Eight Championship three seat- Third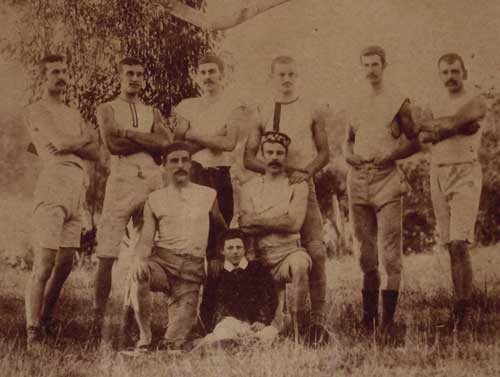 Back row: B Stuart, H Westbrook, E Stuart, D Robinson, A Stuart, A F Sharland. Front row: E T Watchorn, W Burton, W Cunday
This race was significant for the introduction of the entries from Tasmania and Queensland. A L May in Sydney Rows reports:
"Tasmania had given indications of wishing to compete in the 1883 race, but 1885 was the first occasion on which Queensland had shown interest. A request had been received from South Australia soon after a rowing association was formed in that colony in 1881- but for an entry which would include manual labourers. They were told they were most welcome with a crew of bona fide amateurs but, as this would have rules out many of their best oarsmen, South Australia declined to compete."
Burnie Advocate Thursday 23-3-1950 p.4 reported in the obituaries:
MR. H. E. WESTBROOK
HOBART, Wednesday. - Mr. H. E. Westbrook, who died at Hobart1 on Sunday at the age of 90, was associated with Tasmanian rowing circles for many years.
In 1885 he represented Tasmania in the crew of an eight which rowed against other States on the Parramatta river. He was the only surviving member of the crew. His son, Gordon, also was an enthusiastic rower and became Australian amateur sculling champion in 1921. Mr. Westbrook, who was formerly employed at the Department of Agriculture, 'retired 21 years ago. He is survived by two daughters,1, Doris and Rita, and son, Gordon.
Hobart Mercury Wednesday 22-3-1950 p.2 reported:

Former Oarsman's Death In Hobart
Mr. H. E. Westbrook, for many years associated with Tasmanian rowing circles, died at his Hobart home on Sunday. He was 90.
He represented Tasmania in 1885 as a member of the crew of the first Tasmanian eight against crews from other States on the Parramatta river.
He was the sole survivor of the crew, and one of Tasmania's oldest oarsmen.
Mr. Westbrook's son Gordon became the Australian amateur sculls champion in 1921.
Mr. Westbrook retired from the Department of Agriculture more than 21 years ago.
Steve Roll and Andrew Guerin - Feb 2018