Percy C Weetman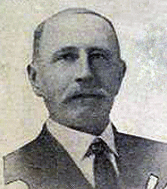 Tamar Rowing Club (TAS)
1923- Interstate Women's Four Championship coach - Second
1923- Interstate Championships manager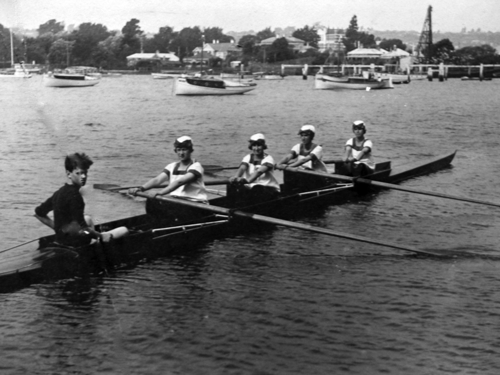 The following articles on Percy comes from The Referee 21st January 1931 by Claude Rosevear.
A Great Oarsman From Tasmania
A life spent in the interests of rowing truly sums up the work of Percy Carter Weetman, of the Tamar Rowing Club, Launceston Tasmania.
Sixty-four years of age, he still enjoys a row with the boys. He is a firm believer in the sport as the best to develop a boy's constitution and fit him physically for the strenuous battles of life.
In his own case he has had only one short illness. When he first commenced rowing his weight was 9st 4 lb. When at his best he weighed 11st 5lb - which confirms his argument that rowing is a body builder.
A stickler for the first principles, he displays that wonderful gift of patience, and will never allow an oarsman who comes under his care to row on a sliding seat until he has mastered all the finer points of oarsmanship on a fixed seat.
He has made a study of boats and fittings which play such an important part in the proper boating of a crew.
To demonstrate his knowledge in this respect, in 1929 he took to Henley a four, which won the Stewards Challenge Cup in a boat (which he himself rowed and won in 32 years ago) converted to his new style of fittings.
The same crew has had 14 consecutive wins - including the above and two Tasmanian Championships.
This season he has trained a junior and a senior four to use the same fittings, and up to date the crew has not met with a single defeat.
When this crew has had a seasons experience, his object is to set the two crews into an eight, with their fittings.
Should they meet with the same success as with the fours, there is no gain saying the fact that he will revolutionise rowing fittings and his name will be famous throughout the years to come.
Prior to joining the Tamar Rowing Club on September 1 1884, hr had steered private crews and rowed in private boats.
It was a common practice at that time for crews to form apart from any rowing club and own their own boats.
He won his maiden fours in 1887 and his first senior four at Tamar Regatta in 1889.
From this period onward he won many races, chiefly in the stroke seat at various regattas held in every centre of the island, including five blue ribands at the Hobart Regatta.
He rowed 6 in the first eight-oared race held in Tasmanian and also in the first North and South Race, which was won by the North.
He continued in active racing until 1899. His senior racing, therefore covered a period of ten years, during which he rowed with varying success. Even today his one delight is to row those races over again, and he can relate to the most minute details every race which he has contested.
In 1894, he became chief coach of the Tamar Rowing Club.
Since then, and whenever possible, he has coached - and still continues to do so.
He was elected the secretary to the club in 1888 and captain in 1890, which position he held until 1900, when he resigned so as to be free to form and act as secretary of Tasmanian Rowing Association - Launceston being the headquarters until it was transferred to Hobart in 1912.
He was again elected captain of the Tamar Club in 1912, filling this position until 1919 when he was elected President.
Mr Weetman, during his term as secretary to the TRA was instrumental in Tasmania being represented in the Interstate Eights.
Compiled by Steve Roll and Andrew Guerin - Jan 2018