Robert G L Waley
Sydney University Rowing Club then Sydney Rowing Club by 1914 (NSW)
Although his given name was Robert, the Sydney Rowing Club history reveals that he was perhaps best known as "Ken" or by his nick name "Didger". His full name was Robert George Linlock Waley.
He enlisted late in WWI and served in the Flying Corps. He was promoted from Private to Sergeant during his short service. He appears to have been a sergeant clerk rather than serving on the front lines. He also appears to have been ill on the way over to Europe, being isolated on his arrival.
He left behind his wife and was described at enlistment as a company manager. He was 5' 3'' tall and weighed 8st 13lb. He was nearly 30 years old at enlistment. Interestingly, he was returned to Australia just before Armistice for duty at the Central Flying School Australia but was almost immediately discharged. As a result he did not race in the Henley Peace Regatta in the UK in 1919.
We are grateful to Luisa Moscato, Archivist at Melbourne Grammar School who alerted us to the following extract from The Melburnian, 1939 Volume 064 No 3-2. Prior to this advice, the author had no inkling that he had been largely schooled at Melbourne Grammar School.
Robert George Linlock WALEY (Prep. 1896-97) was the son of Mr. F. G. Waley, and was at Wad­hurst for two years until his family transferred to Sydney, where he died on September 15th, 1939. He was the coxswain of Australian crews at Royal Henley on Thames, and in the Olympic Games. He was a well-known business man in Sydney.
He had a remarkable career as a coach and coxswain, the greatest of his achievements being when he steered the Australian eight-oar crew to vic­tory in the Grand Challenge Cup race at Henley in 1912. In the same year he steered the Australian crew in the Olympic Games at Stockholm. He was a member of the Sydney Rowing Club, and piloted its crews to many victories in championship events before being selected as State coxswain. He steered the N.S.W. crews of 1908-9-10-11-14, the crews of 1910-11 being successful.
He had a great knowledge of row­ing, and of all the courses on which crews raced when he was steering. He lectured to the coxswains on many oc­casions during recent years. Up to the time of his death he took a keen interest in the sport, and was always ready to assist in any venture under­taken by his club or the State Associa­tion.
1908- Interstate Men's Eight Championship cox - First
1900- Interstate Men's Eight Championship cox - Third
1910- Interstate Men's Eight Championship cox- First
1911- Interstate Men's Eight Championship cox- First
1912 - Olympic Games - Men's Eight cox- semi finalist
1912- Henley Royal - Grand Challenge Cup - cox - First
1914- Interstate Men's Eight Championship cox- Fifth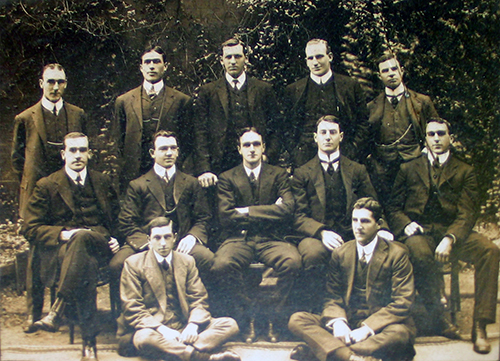 Andrew Guerin - April 2018 and updated August 2023