J Barclay Wade
Mosman Rowing Club (NSW)
Barclay commenced his rowing at Shore where he was a member of a number of winning crews including 1961 Head of the River crew.
Whilst still at school, he was selected as a member of the 1961 Trans Tasman team in the double scull with Rodger Ninham.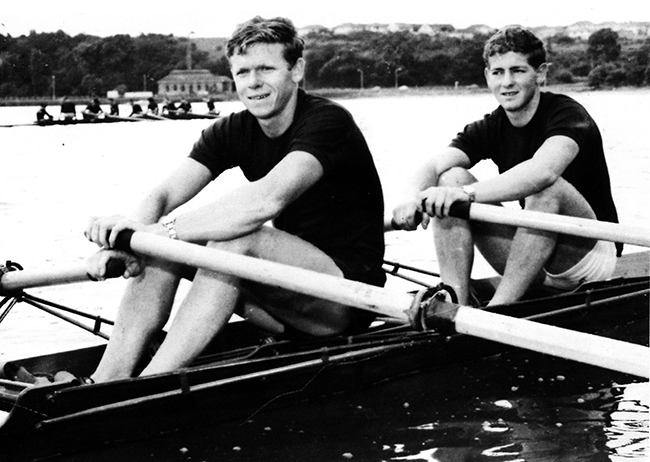 Rodger Ninham and Barclay Wade in 1961
The Mosman Rowing Club history noted of this situation2: Barclay was only 17 years old. His father was in England at the time and didn't find out that Barclay had taken himself out of school until he received a note refunding fees. The legendary Shore headmaster, B. H. 'Jika' Travers, wrote in his last school report, ' ... the only thing this boy is good for is rowing boats and standing outside North Sydney Post Office with his tongue out for people to lick their stamps'.
The Mosman history continues: Selection in the 1962 Commonwealth Games team was assured. He joined Graham Squires from Tasmania in the double scull and won the bronze medal. In the 1963 NSW Championship, Mosman filled the first three places in the single scull-Bob Shirlaw, Barclay Wade and Rodger Ninham. While still a teenager he was in the 1964 Olympic team bound for Tokyo, again in the double scull with Gary Pearce. He became known as the Sculling Wonderboy, due to the unique feat of representing Australia three times as a teenager.1 This may have been a slight exaggeration given that he might have been 20 in 1964. Regardless of whether technically it was exactly correct, it was a remarkable achievement.
The Olympic double in 1964, Gary Pearce and Barclay Wade
Barclay became the Head Coach at Queenwood in the early days of its rowing program.3
The details:
1959-60 - Winning Shore School crews
1961 - AAGPS Head of the River, Shore first crew, three seat - First
1962 - National Men's Double Scull Championships, bow - First
1961 - Trans Tasman Series, Men's Double Scull, bow
1962 - Commonwealth Games, Men's Double Scull, bow - Bronze
1963 - NSW Men's Scull Championships - First3
1964 - National Men's Double Scull Championships, bow - First4
1964 - Olympic Games, Men's Double Scull, bow - Eliminated in repechage
1994 - Winners of Mosman's First Corporate Eight Race May 1994
1996 - Head Coach Wenona GHS 19965
Sadly Barclay died on 26th December 2021. In his tribute, David Tarbottom added:
Barclay was tour leader for the Australian Olympians that returned to Tokyo in 2014 to celebrate the 50-year anniversary of the Tokyo 1964 Olympic Games.
Barclay spent a lot of his life volunteering, including 22 years for Lifeline (four years as Vice president for the Northern Beaches Lifeline) and six years with Camp Quality. He was one SOCOG's preliminary planning volunteer's and an official guide to SOCOG's venues during the construction stage in the lead to Sydney 2000. He treasured his Olympic moments above all.
After suffering some bad health for several years, Barclay sadly passed away yesterday, 26 December. As a keen yachtsman, his family said, fittingly, he waited to set his sails at the exact time the boats were lining up for a race he has always loved - the Sydney to Hobart yacht race.
Steve Roll and Andrew Guerin
July 2021 - updated December 2021
Sources:
Red and White Hoops, One Hundred Years of Mosman Rowing Club, published by Jacobson Publishing 2011, page 70
As above, page 159
As above, page 159
Canberra Times, 4th May 1964, page 32
As above, page 223