Alexandra Viney
Barwon Rowing Club (VIC), then Power House Rowing Club (VIC), then Mercantile Rowing Club (VIC)
2019 – National Championships PR3 Women's Coxless Pair stroke – First
2019 – National Championships PR3 Mixed Coxed Four two seat – First
2019 – World Championships PR3 Mixed Coxed Four bow – Fourth
2021 - Paralympics, PR3 Mixed Coxed Four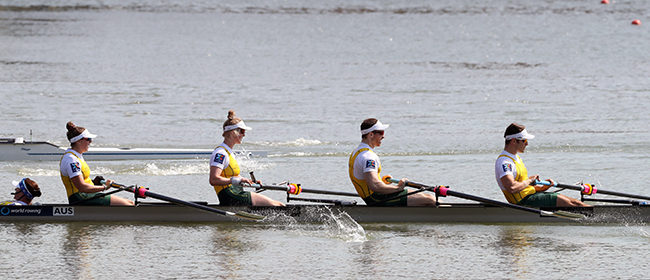 2019 Australian PR3 Mixed Four at the World Championships - Al in the bow seat
Rowing Australia's profile of Alexandra extracted on the 10th November 2020 advised:
Tasmanian born Alexandra Viney was a promising young rower throughout her high school years. Alex's rowing career was cut short in December 2010. At the age of 18, Alex survived a serious, high-speed car accident caused by a drunk driver. The accident left Alex with lasting impairments to her left elbow, forearm & hand. Believing that her time as an athlete had passed, Alex turned her passion for sport into a career; graduating from a bachelor of exercise & sport science (sports nutrition) from Deakin University and working as a sport scientist and strength & conditioning coach in Geelong, Victoria for the past 5 years. Alex is now studying her master of business (sports management) at Deakin University.
In May 2018, Alex was asked whether she had considered becoming a para athlete because of her impairment. Unbeknown to Alex this had been an option for her since her accident in 2010 and so, in November 2018, Alex began her journey as a para athlete when she sat in a boat for the first time. Alex joined Barwon Rowing Club under the coaching of Geoff Boucher and Powerhouse Rowing Club with Hannah Every-Hall and fellow para athlete, Alex Vuillermin. In February 2019 Alex was selected for the Australian senior para rowing team in the PR3 mixed coxed four. In May 2019, Alex debuted for Australia at the Gavirate International Para Regatta placing 2nd in the PR3 four. Alex is set to compete for Australia at her first World Championships in the bow of her selected boat class in August 2019. A whirlwind 9 months has lead Alex to a second chance at rowing – with this personal opportunity, Alex hopes to continue to raise awareness around road safety, mental health, women in sport and opportunities for those with impairments.
In 2020, after Hannah Every Hall left Power House for her new role at Modern Pentathlon Australia as the Pathways and High Performance Manager, and the opportunity to row with able bodied rowers at Mercantile arose, both she and Alex Vuillerman joined Mercantile. Fortunately Hannah was able to continue to assist Al at Mercantile for a period of time in the transition to a new training environment. Sam Fennessy is now her main coach.
Mercantile's first two para rowers in Al Viney and Alex Vuillermin, have succeeded not only in their rowing at Mercs, but also opened the eyes of the Club members to the para side of the sport. Then both winter and summer Paralympic medallist Jess Gallagher has joined the club. The other rowers have embraced them and both groups are now one, helping each other pursue their goals. It is exciting.
In Mercantile's first season of para rowing, Al Viney was selected to represent Australia in the Paralympics in Tokyo, Sadly Alex Vuillermin and Jess Gallagher missed out. Sophie Reinehr presented to our para rowers a portrait of Al and Alex on Al Viney's last training row before travelling to Tokyo. A superb gesture from one of the Club's leading rowers.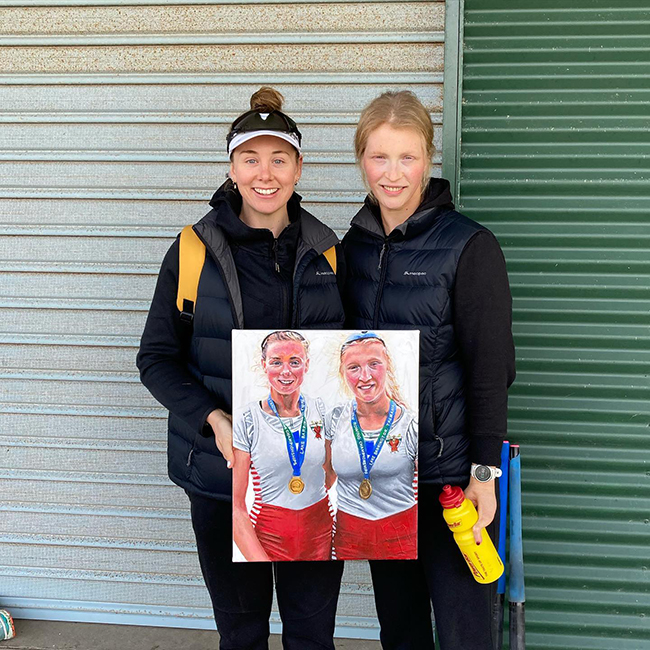 Al Viney left and Alex Vuillermin on the right with Sophie Reinehr's portrait
Our rowers still speak of the inspiring talk given by Al Viney to the December camp.
The road to Tokyo has been tough with the COVID restrictions in Victoria, ACT and NSW. Al's Paralympic crew contains two men from Sydney, another rower in Canberra. They were meant to spend a great deal of time together in camps, but these have all been cancelled since May. The crew has not been together since then and will only get together in Tokyo with less than a week to race day!
Of all her crew members, I suspect that Al has had the best preparation of them all. She has been rowing with the Club's under 23 and senior rowers with plenty of training in fours and eights, even in mixed coxed fours. The under 23 and senior group have rallied around her. Specific mention is made of Jess Gallagher, Alex Vuillermin, Harry Amed and Jack Guy who have completed much training with her. Her fellow crew member in Canberra has had to train by herself, and two rowers in Sydney have largely been in sculls given the NSW restrictions. Further one of them has had to travel to Italy to be classified being a first time international. It has not been a tough ride for this new combination. If they get a medal, it will be an outstanding achievement for them.
Al, Jess and Alex are all determined athletes who have been a great example to our rowers. Their restrictions do not always allow the same level of on water work but they make up with extra off water work on the bike and in the gym. Whilst all our coaches have supported them, Sam Fennessy has taken the lead and must be thanked for his work. Al and Alex started the season working with our best under 21 athletes and have finished the season with the under 23 and senior rowers. Their improvement has been superb.
All eyes are now on Tokyo and our very best wishes follow Al Viney.
Andrew Guerin
Updated August 2021
Sources
https://rowingaustralia.com.au/athleteprofile/alexandra-viney/
http://www.worldrowing.com/athletes/athlete/52660/viney-alexandra
ra.rowingmanager.com