Hayley Verbunt
Mercantile Rowing Club (VIC)
Hayley commenced her coxing at Firbank Grammar School where she excelled.
Her start as a coxswain was interesting as she was an excited prospective rower along with her friends. The school was blessed with too many girls wanting to row that year and too few coxswains. To reduce numbers, a 500m ergometer test was devised to reduce the rower numbers. After missing the mark, Hayley was not deterred and offered to cox without any hesitation. She has not looked back.
Such was her excitement with the sport and also her determination to be good, she also undertook club coxing to improve her skills: a clear indicator of her will to succeed in her chosen field.
Her first year (2017) was highlighted by a win in the year 9 division 1 coxed quad scull. Then in 2018 into the year 10 division 1 quad scull, then in the following year into the division 2 eight and then in her final year, the school's first eight. Sadly in her final school year, she suffered the pandemic regatta cancellations of that season and so missed the big school races.
Following school, she was attracted to Mercantile Rowing Club and had a great season in the women's under 21 and under 23 categories. Apart from her first Victorian Championships in the under 21 women's four and eight, she also won her first National Championship in the women's under 21 four. Such was her success that she was invited to trial for the Australian under age teams. Whilst she was not selected, it fueled her desire to make it in the following year. Her best race that season? No, it wasn't any of her many winning races, but the third placing in the under 23 eight, ahead of MUBC. This race has a special place for all full club crews despite usually being won by composite crews. To make the podium is therefore special and keep MUBC off the podium was extra pleasing.
The Mercantile coaches in 2022 still wanted her skills in the under 21 category, but this year in the men's division. Her crew won the Victorian Championship Four and finished second in the National Championships. All members of that crew were selected into the Victorian Youth Eight. Whilst finishing second at the Nationals, the crew was pleased with their race and leaving nothing undone. She talks fondly about the coaching work of Brendan Scott and their mini-camps in Ballarat. She also talks fondly of the thrill of the home National Championships at Nagambie that year. This led her to trials again and to her selection into her first Australian team, this time for the Trans Tasman Under 21 Series. "It was really cool" to be in the same team as those who only weeks earlier were your interstate competitors and of course racing in an Australian zootie. Her men's crews won all their four and eight races.
Then her first overseas tour with Mercs to Henley Royal Regatta. Whilst the crew did not win, the experience for Hayley was very special, a stepping stone to her racing at international regattas. In was one her most memorable rowing experiences to date.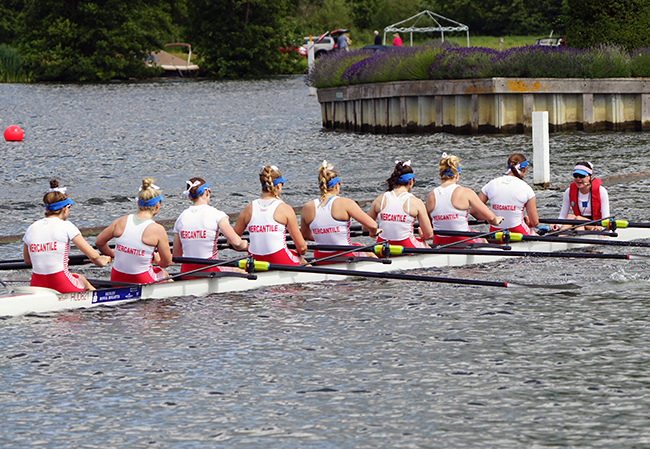 Hayley coxing at Henley Royal Regatta
2023 was the break into the senior ranks being the leading women's cox in Victoria and then in Australia. Her Victorian Championship open eight win was followed by an invitation to the senior trials where she gained selection into the National Training Centre and the Australian senior team. At the Australian Championships she coxed the Mercs under 23 eight and then her first win in the Queen's Cup. Despite coming second in the under 23 eight, she remembers it well. Because of crew members were doubling up, and the crew only getting together once beforehand, they raced superbly. After a slow start and first 1000m, the crew picked up the pace and came home strongly.
Being a coxswain from the beachside suburb of Brighton, it was no surprise to read on the RA website that her hobbies include baking, running and going to the beach. However it was her comment on the VIS athlete profile which attracted more interest: "Don't be a coward". When questioned about this, Hayley wanted to get the message to particularly younger athletes, to get over the fears of competition or new/tough experiences. "Put yourself in a position to create opportunities and luck". She added that this is what Mercs does well. The coaches are always pushing athletes and providing the opportunities to succeed. Closely related to this was her comment about perseverance, "each season I try to push myself to find other ways to improve". Failure in her first attempt at making a national team just inspired her to come back stronger. Similarly, her first unsuccessful attempt at overseas international racing just drove her to try harder to make her next attempt better.
Also of interest to your correspondent was that whilst rowing, Hayley is a third year commerce student at Melbourne University and a senior hockey player.
Her future in the sport? Obviously doing well at the Paris Olympic Games is her immediate aim. It was also clear that there was more than a passing interest in coaching, spurred on by her experience coaching at Xavier College.
Her quiet demeanor belies a determined, passionate and skilled athlete, who has a great deal more to offer the sport of rowing. We will watch with much interest.
2023 World Championship Bronze medalists
Hayley front row second from the right

Known rowing record
2017 - Head of the Schoolgirls, Year 9 Division 1 Quad Scull, cox - First
2018 - Head of the Schoolgirls, Year 10 Division 1 Quad Scull, cox, Fifth
2019 - Head of the Schoolgirls, Division 2 Eight, cox - Seventh
2020 - Head of the Schoolgirls, Division 1 Eight, cox -Regatta cancelled due to pandemic
2020 - National Championships, Schoolgirl Eight, cox - Regatta cancelled due to pandemic
2020 - National Championships, Under 19 Eight (Firbank), cox - Regatta cancelled due to pandemic
2021 - Victorian Championships, Women's Under 21 Coxed Four, cox - First
2021 - Victorian Championships, Women's Under 21 Eight, cox - First
2021 - National Championships, Women's Under 21 Coxed Four, cox - First
2021 - National Championships Women's Under 23 Eight, cox - Third
2021 - Interstate Championships, Bicentennial Cup (Victoria), cox - Second
2021 - Australian team triallist
2022 - Victorian Championship Men's Under 21 Four, cox - First
2022 - National Championships, Men's Under 21 Coxed Four, cox - Second
2022 - National Championships, Men's Under 23 Eight, cox - Fourth
2022 - Interstate Championships, Wilkinson Cup, cox - Third
2022 - Trans Tasman Under 21 Series, cox - Team won event
2023 - Interstate Championships, Queen's Cup (Victoria), cox - First
2023 - National Training Centre athlete
2023 - World Cup 2, Women's Eight, cox - Gold
2023 - World Cup 3, Women's Eight, cox - Bronze
2023 - World Championships, Women's Eight, cox - Bronze
Andrew Guerin
September 2023
Sources