Herbert J Turner
Haberfield Rowing Club, then in 1933 Police Rowing Club and finally Sydney Rowing Club (NSW)
1932 – Interstate Men's Sculling Championship – First
1933 – Interstate Men's Sculling Championship – First
1934 – Interstate Men's Sculling Championship – First
1935 – Interstate Men's Sculling Championship – First
1936 – Olympic Games – Double Scull stroke – sixth
1938 – British Empire Games – Single Scull – Gold
1939 – Henley Royal – Diamond Sculls
1953 – Interstate Men's Sculling Championship coach - First
Coach of professional sculler George Cook.
Herb Turner in his younger years
Turner was an accomplished sculler but Cecil Pearce was selected in the Single Scull ahead of him in 1936. He was originally selected as a reserve for the Eight but was permitted to race the Double with Dixon, a non-Sculler.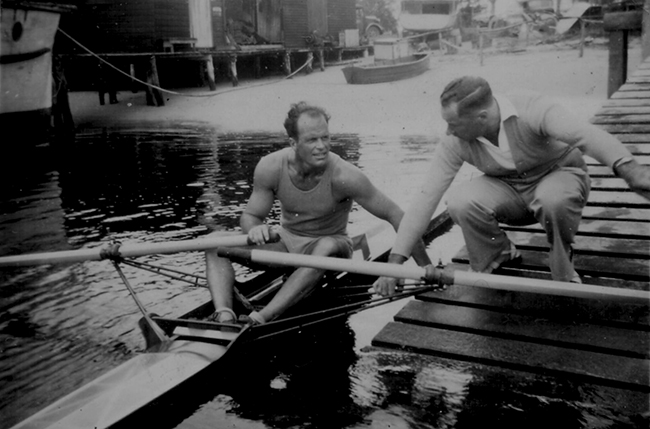 Professional sculler George Cook with his coach Herb Turner in about 1950
In 1932 whilst going to the start at Henley on the Yarra, Herbert rescued a five year old boy who had fallen from Morell Bridge into the water. Following the rescue, he was offered the opportunity to change out of the wet gear, but declined and raced in wet clothes. He went on to win his race showing both gallantry and sportsmanship. This most newsworthy story made the papers both in Australia and in the UK.
Andrew Guerin
April 2020