John Treloar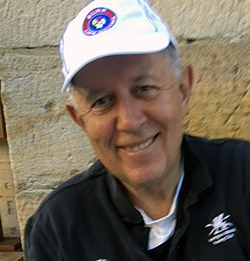 Newington Masters Rowing Club (NSW)
The following obituary was written by John Johnson and published on the Rowing NSW website on 24th January 2023.
Newington Masters Rowing Club is saddened to announce the sudden passing of John Treloar on 15th January, 2023.
John was born on 16th August 1952, and commenced his rowing at Newington College in 1965. More recently he rowed with Newington Masters competing in State and National Masters Championships, World Masters Games in Sydney 2009 and Torino 2013, and many local regattas.
John also coached at Newington's annual fund-raising regattas for parents. Such was John's love of rowing and quiet encouragement that several of his rowers who came under his guidance as rank novices have continued to row and now compete in masters' regattas.
John was on the Project Team that organised the National Rowing Championships and Kings Cup Regatta when held in Sydney, and on the Archives Committee of the Union of Rowers. John had just completed a book on the 1952 Olympic team, of which his father John Treloar Snr was a member.
At a memorial service held on Sunday 22nd January, John was remembered for his devotion to his family, his kind and caring nature, and his wonderful sense of humour.
John is survived by his wife Catherine, children Thomas, Louise, Greta and Edward, and daughter and son-in-law Avril and Tim, and the extended Treloar Family.
John Johnson
Newington Masters Rowing Club