Martin Tomanovits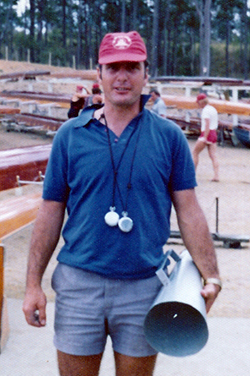 Mercantile Rowing Club (VIC)
1960 – Interstate Men's Eight Championship three seat – Third
1961 – Interstate Men's Eight Championship four seat – First
1962 – Interstate Men's Eight Championship five seat – First
1962 – British Empire & Commonwealth Games – Men's Eight seven seat – Gold
1962 – World Championships – Men's Eight seven seat – Fifth
1963 – Interstate Men's Eight Championship seven seat – First
1964 – Interstate Men's Eight Championship seven seat – First
1964 – Olympic Games – Men's Eight seven seat – Eighth
1965 – Interstate Men's Eight Championship three seat –Second
1966 – Interstate Men's Eight Championship seven seat – First
1966 – World Championships – Men's Eight seven seat – Tenth
1966 – National Championship Men's coxed pair coach – First
1967 – Interstate Men's Eight Championship stroke – Fourth
1975 – National Championship Men's Lightweight eight coach – First
1976 – National Championship Men's Lightweight four coach – First
1976 – Interstate Men's Lightweight Four Championship coach – First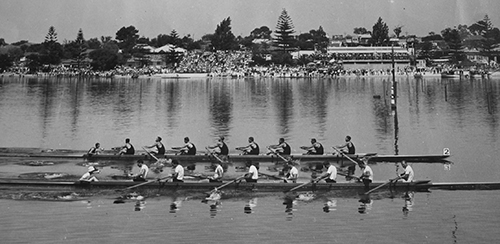 Tight finish of 1962 Commonwealth Games Eights
Martin Tomanovits was introduced to the sport of rowing in his native Hungary. In 1956, at 16 years of age, on his own, and with no English, Marty fled the Soviet Union's invasion of his homeland, and found his way to Australia. His passion for rowing remained with him: in Melbourne, he joined Mercantile Rowing Club the following year, and enjoyed success there as an oarsman.
He also coached for many years, and was well known for his unique and colourful way with words, as well as his high standards. Marty loved rowing all his life. He believed it was the finest sport in existence, and that a good crew on the water was poetry in motion.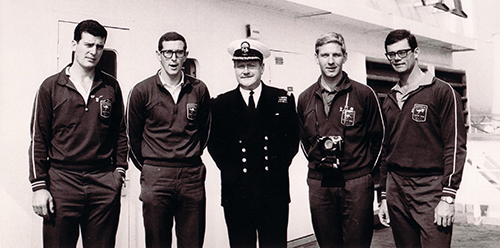 Martin far left during the 1964 Olympic Games
His home was decorated with photos of good times with good rowing friends, and trophies from his competitive days. His kids fondly remember 'slide night', when Marty would bring out glorious Kodak slides from the 1964 Tokyo Olympics. His son and two nephews followed him into the sport.