Paul Thompson MBE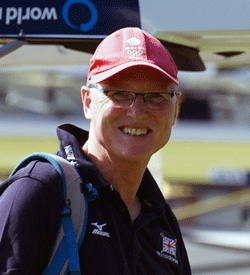 Canberra Rowing Club (ACT) / Mercantile Rowing Club (VIC) / Torrens Rowing Club (SA)
1982- World Junior Championships- Men's Coxless Pair bow- Fourth
1984- Trans Tasman Under 23 Series Australian Men's Sweep
1985- Interstate Men's Eight Championship two seat- First
1985- Trans Tasman Under 23 Series Australian Men's sweep
1985- Match des Seniors- Men's Eight four seat- Silver
1987- Interstate Men's Eight Championship SA seven seat - Fifth
1987- World University Games- Men's Pair
1988- Interstate Men's Eight Championship (NSW) two seat - Third
1988-90- AIS apprentice coach
1991- World Championships- Women's Four coach- Eighth
1991- World Championships- Women's Pair coach- Eighth
1991- World Championships- Women's Eight coach - Twelfth
1992- Olympic Games- Women's Coxless Four coach- Sixth
1993- Interstate Women's Four Championship coach- Second
1993- World Championships- Women's Four coach- Sixth
1994- World Championships- Women's Pair coach- Bronze
1994- World Championships- Women's Eight coach - Sixth
1994- World Championships- Women's Four coach- Bronze
1995- Interstate Women's Four Championship coach - Third
1995- World Championships- Women's Pair coach- Gold
1995- World Championships- Women's Four coach- Fourth
1995- World Championships- Women's Eight coach - Eighth
1996- Olympic Games- Women's Coxless Pair coach- Gold
1997- World Championships- Women's Pair coach- Fourth
1998- World Championships- Women's Eight coach- Fourth
1998- World Championships- Women's Pair coach - Seventh
1999- World Championships- Women's Pair coach - Bronze
2000- Olympic Games- Women's Coxless Pair coach - Silver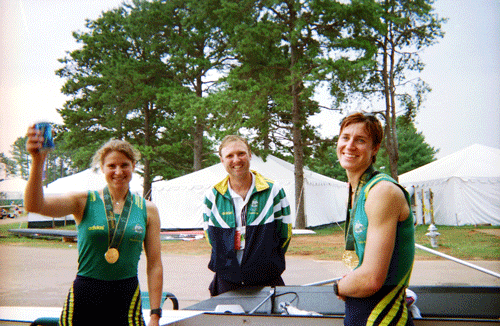 Above: Paul Thompson with his 1996 Olympic Champion pair reflecting on their win away from the crowds
Paul Thompson is an Australian rowing coach who has coached World and Olympic Champions for both Great Britain and Australia. Paul has participated in 7 Olympic Games from Barcelona to Rio. He has coached a medal winning boat at the last 6 Olympic Games.
Paul has coached at every senior World Championships or Olympic Games since 1991, during this time he has personally coached 21 boats to world championship or Olympic medals. Highlights include coaching Australia's Kate Slatter and Megan Still to Olympic success in the coxless pair in Atlanta and Great Britain's Katherine Grainger and Anna Watkins to 3 undefeated seasons winning 2 world championships and the Olympic Games in London.
Paul has been the Head Coach for Great Britain's Women and Lightweights squad since 2004, since then the squad has won 45 medals at the World Championships including 17 gold medals. Over the Beijing, London and Rio Olympics the squad has won 11 medals including 5 gold.

In 2007 Paul was the International Rowing Federations (FISA) Coach of the Year. Amongst other awards he has twice been inducted into the Sports Coach UK Hall of Fame and twice received the Mussabini Medal for outstanding success on the world stage. His accomplishments were also recognised with a University of Canberra Distinguished Alumni Award in 2013 and in 2017 he was inducted into the ACT Sports Hall of Fame. Paul has also authored 2 books and produced a DVD on rowing.

In 2000 Paul received the Australian Sports Medal and in 2013 was appointed a Member of the Order of the British Empire (MBE) for services to rowing and the 2012 Olympic Games.
He is one of the world's great coaches and sadly, permanently based in the UK.
Compiled by Andrew Guerin