Lachlan J Thompson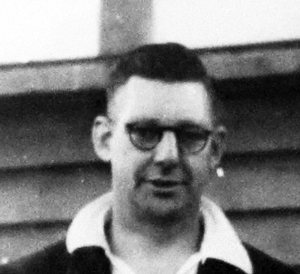 Richmond Rowing Club, Melbourne Victoria

Birth year unknown; died 1983
1930- Interstate Men's Eight Championship four seat- First
1932- Interstate Men's Eight Championship six seat- First
1933- Interstate Men's Eight Championship six seat- Third
1934- Interstate Men's Eight Championship six seat- did not finish
1935- Interstate Men's Eight Championship six seat- Fourth
1936- Interstate Men's Eight Championship six seat- Fourth
1946- Interstate Men's Eight Championship selector
1947- Interstate Men's Eight Championship selector
1948- Interstate Men's Eight Championship selector
1950- British Empire Games Men's Pair coach- Gold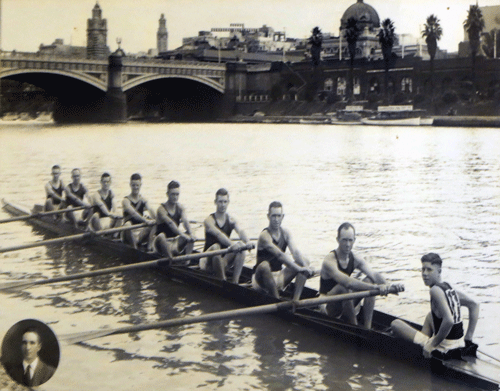 Lochie was an office bearer of the club and coached many Richmond crews to victories during the club's 'golden years', when it won many championships and premierships in the 1930s.
He was a champion rower in the 1930s taking key seats in the victorious Richmond and Victorian crews of that era. "Lochie" Thompson was the selected coach for the 1950 crew but could not travel to New Zealand. Sid Raper (NSW) undertook the coaching role on tour. It was therefore a sad ending to a great career as an oarsman, selector and coach. He did not coach after the 1950 Empire Games.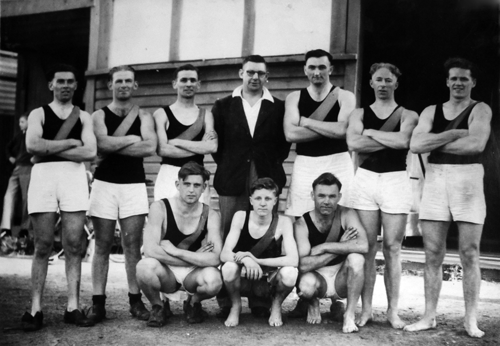 Lochie Thompson as coach of a Richmond crew after an Australian Henley win thought to be 1940. Wally Lambert in standing second from the right and Ron March seated far left.

In a newspaper article previewing the 1932 Victorian crew, the following extract of his rowing career to date was provided:
L J Thompson, Richmond, age 24, height 6 feet, weight 13.0, commenced rowing in 1927. He rowed No. 6 in winning his maiden eight at Footscray regatta, No. 2 in winning double maiden four at Upper Yarra, ANA in 1928, No 2 in the junior four double at Bairnsdale and Sale regattas. He stroked the winning senior four at Upper Yarra in 1929, and was selected for the Victorian crew which was defeated in a test race by a crew from the Ballarat Association in 1929. he was No 4 in the winning Victorian crew of 1930. Last season he was No 6 in Richmond champion eight and won the senior four at Ballarat this year.
Sources: Celebrating 150 years, Richmond Rowing Club, 2014 and Andrew Guerin, 2011