Edward D Thomas
Murray Bridge Rowing Club (SA)
1913 – Interstate Men's Eight Championship three seat - First
1914 – Interstate Men's Sculling Championship – Third
1920 – Interstate Men's Eight Championship five seat - First
1922 – Interstate Men's Eight Championship two seat - First
1923– Interstate Men's Eight Championship two seat - First
1924 – Olympic Games – Men's Eight two seat – eliminated in repechage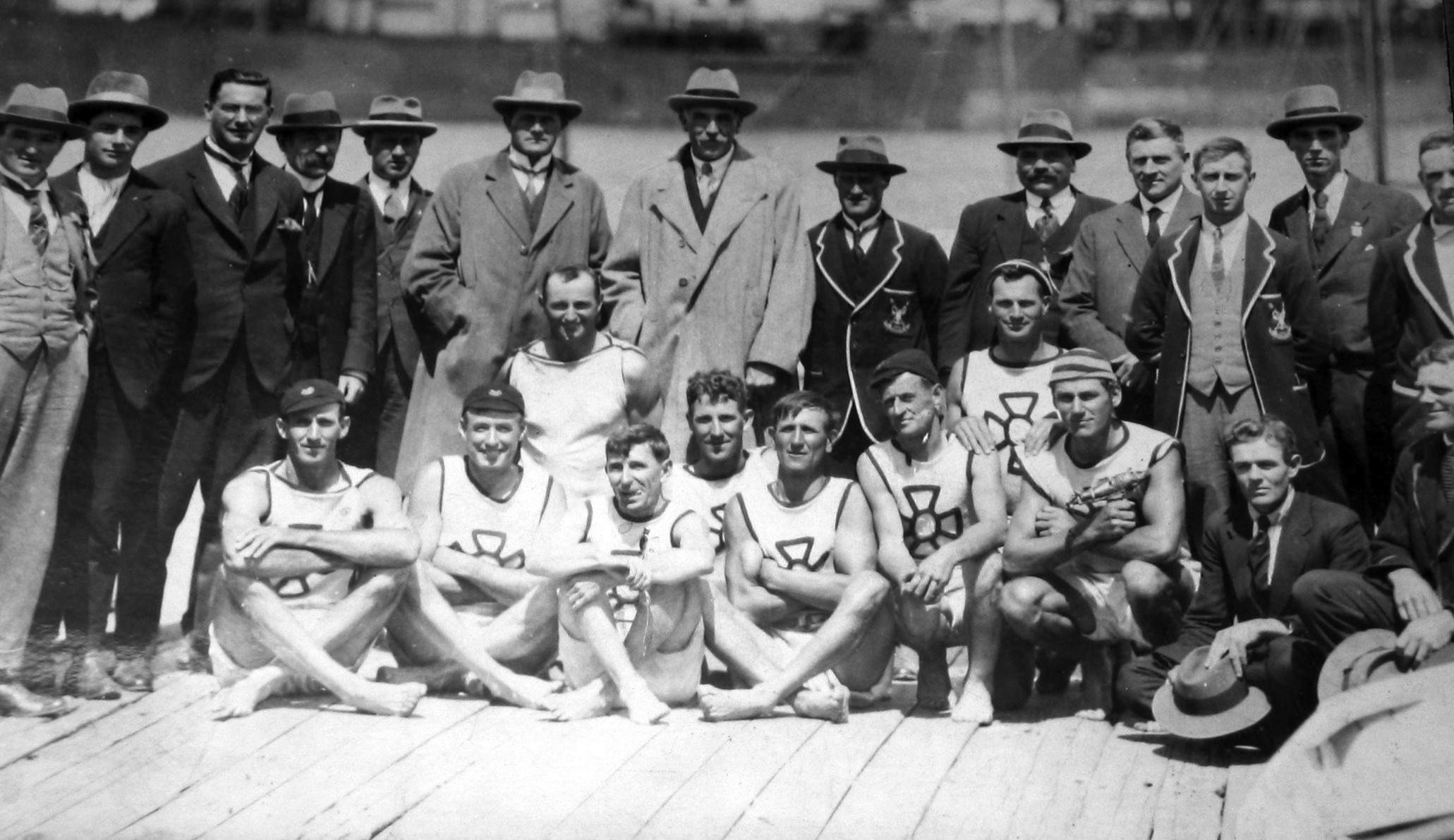 Men's Eight after test race
Standing left to right - Unknown, H E Wynne, J P Marcus, F Willoughby, W Christopher, R H Wallman (Chairman SARA), His Excellency Sir Tom Bridges, E Higgs, H L Binney, C A Jepp, C A M West (Hon Sec SARA), S A Johnson, far right unknown
Crew members are from left to right, A C Tauber, E D Thomas, W E H Jarvis, R A Cummings, F M Cummings, H E Graetz, W M Sladden, A V Scott, W H Pfeiffer, G E Tucker (emergency), Aud Martin
Like Arthur Scott, Ted Thomas was a rower who raced both before and after WWI. He was a storekeeper in Murray Bridge and 40 years old when he raced in the 1924 Olympic Games - he was not the oldest in the crew.
The delightful tale of the 1924 Olympic crew is epitomised by the likes of Thomas who was also a jazz musician and conductor. Documentary maker Wayne Groom described his musical talent this way. He ran a big band and used to listen on his crystal radio in the 1920s, to all the big songs in America, learn them by ear and play them with his band. He was a character as much as Arthur Scott but in an entirely different way. He was a bit of a larrikin, ladies man and band leader. Whilst in France, he was able to form a dance band which earned money for the crew whilst in France. There are stories of how they managed to raise funds in other way using Ted's French language skills.
They were quite a crew.
Andrew Guerin
April 2020