Sarah Tait
(23 January 1983 – 3rd March 2016)
Swan River Rowing Club (WA) and then Mercantile Rowing Club (VIC)
2000 – World Junior Championships – Women's Four three seat – Silver
2001 – Interstate Women's Eight Championship two seat – Fourth
2002 – Interstate Women's Eight Championship four seat – Third
2002 – World Under 23 Regatta – Women's Four – Gold
2003 – Interstate Women's Youth Eight Championship seven seat – First
2003 – Interstate Women's Eight Championship five seat – Third
2003 – Under 23 World Regatta – Women's Double Scull – Gold
2004 – Interstate Women's Eight Championship four seat – Silver
2004 – Olympic Games Women's Eight bow – Sixth
2005 – World Championships – Women's Eight bow – Gold
2006 – Interstate Women's Eight Championships six (WA) – Silver
2007 – Interstate Women's Eight Championships four (WA) – Bronze
2007 – World Championships Women's Eight seven – Fourth
2008 – Olympic Games Women's Eight seven – Sixth
2010 – Interstate Women's Eight Championships six (WA) – Bronze
2010 – World Championships Women's Pair bow – Fourth
2011 – Interstate Women's Eight Championships seven (WA) – Bronze
2011 – World Championships Women's Pair stroke – Bronze
2012 – Interstate Women's Eight Championships stroke (WA) – Bronze
2012 – Olympic Games Women's Pair stroke – Silver
Sarah was born and raised in Perth where her rowing career started with St Hilda's AGS. Much of her early career was under her maiden name Outhwaite. Her marriage to coach Bill Tait saw her move to Melbourne where her successful rowing career continued under her husband coach.
At the time of her retirement in 2014, Sarah said her greatest achievement in rowing was taking home a silver medal at London 2012, saying: "Without a doubt, my greatest achievement has to have been combining with Kate and our coach, Bill, to take home that silver medal for Australia in the London 2012 Olympics. Bill has been a great support and in last eight years has made the most amazing difference to my rowing career, and my life, both as my husband and my coach." It was a Mercantile crew.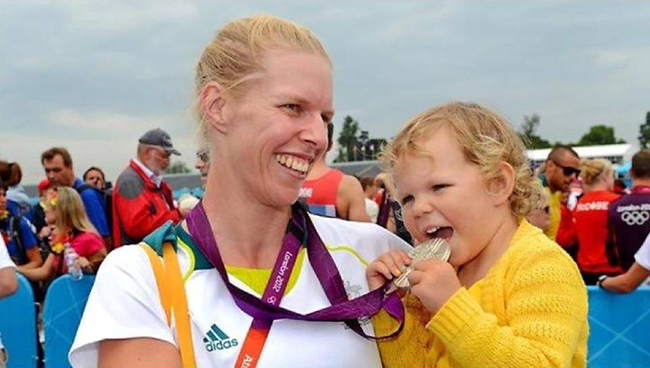 Above – after winning a silver medal at London
Sarah has left her greatest triumphs for after her rowing career. In 2013 she was diagnosed with cancer during the pregnancy of her second child. She lived with this disease and fought it with all the determination and vigour that was seen in her London campaign. Sadly she succumbed to this disease on 3rd March 2016.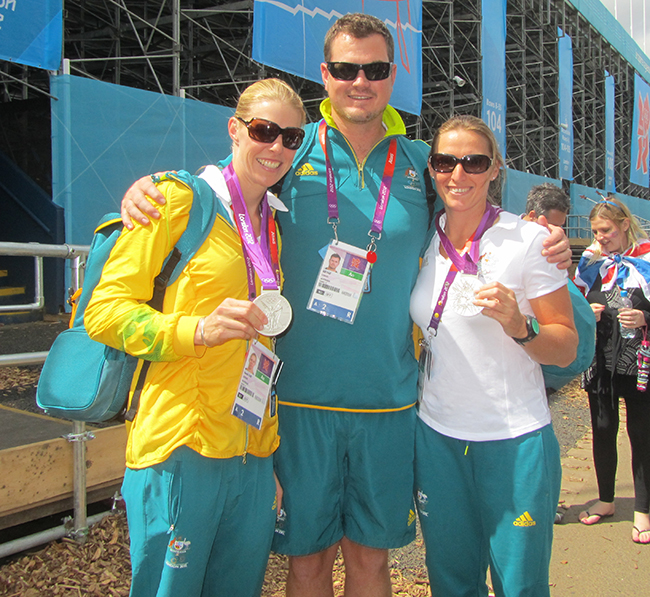 Above: With husband and coach Bill and pair partner Kate Hornsey
On her passing, The President of the Australian Olympic Committee, John Coates, paid tribute to her in the following manner:
"We are extremely saddened to hear of Sarah's passing and offer our deepest sympathy to her husband, two children, family and friends. Sarah was an extremely talented Olympic rower taken far too soon from us. She battled to the end," Coates said.
Coates recognised that Sarah was among a remarkable group of female athletes who proved that mothers can not only continue to compete at an elite level but also win medals.
"Amongst her amazing achievements Sarah pioneered the change in attitude by Rowing Australia with the introduction of their Family Friendly Policy allowing children of athletes to be reunited with their mums while away for extended periods of time training and competing. The legacy she leaves for younger women who would like to pursue both motherhood and elite sport is truly inspirational," Coates said.
Rowing Australia President, Rob Scott, said: "Sarah represented Australia with distinction and pride and she was the most fantastic role model to all our athletes, both past and present. She was one of the most determined and passionate rowers in our sport and she will be deeply missed by everyone in the rowing community."
Mercantile Rowing Club President Malcolm Batten added that Sarah was "a selfless lady who gave so much to Mercantile, Australian Rowing and the advocacy and development of female athletes at our club and beyond. Sarah will always be a part of the fabric of Mercantile."
Andrew Guerin updated March 2016