Peter Stroud OAM
Drummoyne Rowing Club (NSW)
Peter is a former champion rower and selector, superb club administrator and continues to be a significant coach. His contribution to the sport has been significant over a long period of time. Rowing NSW summed up his contribution along these lines: "Drummoyne Rowing Club Life Member, Peter Stroud has served the club in numerous capacities from coaching to administration and has also been a NSW Masters State Team selector."
He was honoured in 2023 King's Birthday Honours List with the media notes stating as follows:
New South Wales Rowing Association
State Selector, since 2022, 1987-1992 and 1980-1985.
Director, 1988-1989.
Former Coach.
Drummoyne Rowing Club
Head Coach, since 1981.
Senior Coach, 1978-1986.
Former Vice-President.
Captain, 1977-1982.
Life Member, 1980.
Member, since 1959.
School Rowing
Rowing Coach, Sydney Grammar School, since 2010.
Former Rowing Coach, Roseville Ladies College.
Rowing Coach, Presbyterian Ladies College Sydney, late 1990s.
Rowing Career
President, New South Wales Union of Rowers, 2004-2005.
Coach, New South Wales Lightweight Four Trans-Tasman, 1979.
Champion, multiple World Masters, since 1982.
Champion, National Rowing, 1980.
Champion, New Zealand National Lightweight Four, 1977.
Champion, New South Wales Lightweight coxless four, 1972, 1971 and 1970.
Champion, New South Wales Lightweight coxed four and eight, 1972.
Representative, New South Wales, 14 times.
Coach, multiple Australian Olympic Representatives, during their junior rowing years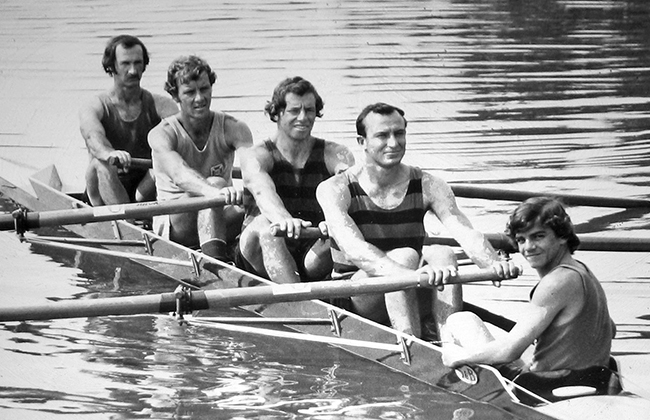 Peter in the bow seat of 1976 NSW Lightweight Four
Andrew Guerin
June 2023
Sources
Governor General's website - King's Birthday 2023 Honours List | Governor-General of the Commonwealth of Australia (gg.gov.au), extracted 18th June 2023
Rowing NSW website extracted 18th June 2023
1976 image from the Guerin collection