Reg P Stride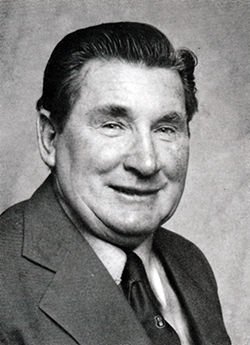 Glebe Rowing Club (NSW) and Sydney Rowing Club (NSW)
The Sydney Rowing Club awarded Reg with the Order of Merit in 1980. His citation included the following.
Reg Stride is one of those rare people who are always ready to volunteer for the most difficult jobs and carry them out to the best of their ability with no thought of honour or reward.
Reg commenced his rowing career with the Glebe Club in 1936 and has been well known in the Sydney Club since at least 1938. Reg joined the Sydney Rowing Club in 1946 and won the NSW Junior Sculls title whilst representing Sydney at the first Metropolitan Regatta ever held in 1948. Reg returned to the Glebe Club in 1954, but has always retained his membership of Sydney. In 1967 he was Manager of the NSW Kings Cup Squad and in the early 1970's returned to Sydney where he has been involved in coaching and other active capacities ever since.
Reg is at home whether he is coaching scullers or crews and in 1978 coached the NSW Colts crew. Reg also acted as boatman for the 1978 Australian Crews at the Australian World Championships in New Zealand. In the 1979/80 season he coached the winning NSW Championships Double Sculls combination.
Reg Stride has been a most effective Boat Master at Sydney Rowing Club and his ready and dependable assistance in whatever capacity required has in no small measure assisted the Club in its successes over recent years.
Reg Stride is one of the best known and regarded rowing identities throughout the Australian rowing world.
The honour of Order of Merit bestowed upon Reg Stride is a most important one he joins a select number of Members who have given outstanding service to the Club and he is undoubtedly worthy of such recognition.
Some details
1948 - NSW Championship Men's Junior Scull - First
1967 – Interstate Men's Championships manager
1978 - Trans Tasman NSW Colts crew, coach
1978 - World Championships, boatman
1979 –Interstate Women's Four Championship coach - Second
1980 - Sydney Rowing Club Order of Merit
Andrew Guerin
January 2022
Sources:
Author's own records
1979-80 Sydney Rowing Club Annual Report