Robert W A Strang
Mercantile Rowing Club (VIC)
28 June 1946 - 7 Nov 2020
Robert started his rowing at Scotch College in Melbourne where he went to school from 1952- 1964. He raced in the fourth eight in 1963 and was in the six seat of the first crew in 1964. Sadly neither crew was successful. Rob did not continue rowing after school due to the demands for his involvement in the family business.
His son Robert also rowed at Scotch and raced in the first eight for three years, including a win in 1992. His grandsons are also following in his footsteps at Scotch rowing with Ben in the Scotch College first crew in 2020, that did not get to race due to the pandemic, and Henry in the Year 10 A crew in 2020.
After school, Robert entered his family's famous stevedore business and became a significant member of the Melbourne business community.
The Strang family name is one of the oldest on the Melbourne waterfront. In 1990, his family owned stevedore business formed Strang Patrick Stevedoring, in a merger with Howard Smith's James Patrick Stevedoring. In 1991, the Strang family bought out its joint-venture partner, Howard Smith. The Financial Review reported at the time that: The Strang family secured the backing of former BT Australia chief Chris Corrigan's cashbox company, Jamison Equity, for the $50-million deal after Howard Smith triggered a buyout clause in the joint-venture contract last month. In about 1993 the Strang family sold out to their backers led by Chris Corrigan. After a suitable period away from the industry, he returned by establishing a number of successful businesses in stevedoring including car delivery, and timber and steel freight. The business which he continued at the time of his death was Strang Systems.
Robert became a member of Mercantile after his son Robert Jnr started rowing at Mercantile in 1990s. He primarily rowed with his good friend David Yunghanns.
Once his business life had settled down, he loved nothing more than going out three mornings a week in a double scull with David Yunghanns. Their mutual friend Bob Lachal allowed them to boat out of Scotch College where he then worked. He loved their company. He noted that they probably talked more than they rowed, and given their age and flexibility, he added that the second half of the slide was never really threatened.
Rob had a great love and respect for the sport and the friendships it forged. He thoroughly enjoyed his rowing days.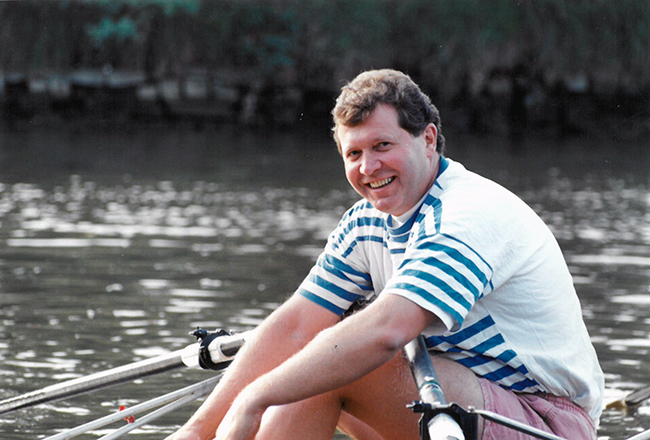 Robert Strang on the water in the double
Sources:
Mercantile Rowing Club annual reports
APS Head of the River programs
Recollections
Conversations with Robert Strang Jnr, Paul Mishura and Bob Lachal
Australian Financial Review 7th June 1991
Andrew Guerin
November 2020