C Murray Storrer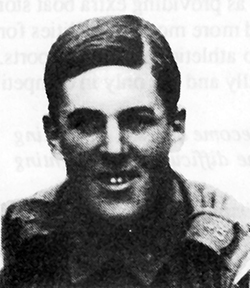 Barwon Rowing Club (VIC)
Charles Murray Storrer was born in Geelong and when he enlisted was aged 19 years and 10 months, 6' 2", 12st. 6 lbs, with hazel eyes and brown hair. He had attended Geelong College and was a wool clerk with Dalgety & Co., Geelong. Known as Murray, he had two brothers who also rowed with Barwon and his father had been Treasurer of the Club since 1909 and was President in 1921/22.
After leaving school he served with the 29th (Port Phillip) Light Horse and travelled to Europe as a member of Captain Rushall's Mounted Cadets. Murray joined Barwon Rowing Club in 1910 and rowed 3 seat in the winning Maiden Eight at the Ballarat Regatta of 1914.
He enlisted on18 August 1914 in the 4th Light Horse as a Sergeant.
Prior to his embarkation from Melbourne, on 19 October 1914, he rowed with fellow members William Allen and Ralph Barnfather in the Light Horse winning eight at an inter-regimental regatta on the Yarra River. All three rowers did not survive the war. He also rowed in a winning eight with Ralph Barnfather at an Army Regatta in Egypt before leaving for the Dardenelles
Murray died of wounds at Gallipoli on 5 June 1915.
His cousin, Lieutenant Murray Bourchier, Ralph Barnfather and Murray were in a dug-out having breakfast of bully beef and biscuits at 7.30 in the morning. There was some heavy firing and a high explosive shell burst over their dugout, a piece of shrapnel striking Murray on the head, exposing his brain. He died at 1 pm without gaining consciousness and was buried on the beach at 7.30 pm. He lost consciousness instantly, no one knew he was hit for some seconds, as he never moved, just sat there with a piece of biscuit in his hand.
A number of his Barwon friends attended his burial, including Leopold Hagger, a bugler with the 8th Battalion, who played the Last Post for him.
The Geelong Advertiser reported on his memorial service held at the Newtown Presbyterian Church late in June as A Young Giant Honored. A few weeks after his death the manager of Dalgety's wrote: In August of 1910, Dalgety and Co. Ltd., had a vacancy for a smart junior, and from amongst many applicants the choice fell on Murray Storrer, a young fellow of some 15 summers, who looked fully two years older, and whose pleasing appearance and manner augured well for both the company and the junior himself. From the day he joined the firm he endeared himself to his fellow employees, and by his diligence, good nature and readiness, at all times, to give his best, he became a universal favourite. As a few years passed, he developed into a fine type of manhood, standing well over six feet, and built proportionately. He was indeed a splendid specimen of an Australian. On the outbreak of war, Storrer was one of the first to offer his services to his country, and we now mourn the loss of a true comrade, who has given his life, so that we may enjoy liberty and honor.
Charles Murray Storrer is buried at Beach Cemetery, Anzac, Turkey.
Karen O'Connor 2015