Shirley A Stokes
Sydney University Boat Club (NSW) and Lower Clarence Rowing Club (NSW)
There are few Australians who have had a significant impact on the administration of world rowing. Most rowers would readily know that John Coates and John Boultbee fall into that category. Fewer would know of the contribution of Shirley Stokes. Each of these people have made a significant contribution in their own areas. Interestingly, all three have also made a significant contribution to Australian rowing.
In the case of Shirley, her area has been in the development of para rowing both locally and internationally. She was the team manager of Australia's first para rowing team to compete at the World Championships in 2002 at Seville, Spain. She was a foundation member of FISA Para Rowing Commission and was involved with some of the key para rowing decisions points such as the 2002 declaration in Seville getting the national federations to commit to para rowing, and assisting in the FISA's 2004 application for entry into the Paralympics. She was a classifier of para athletes and then trainer of classifiers of para athletes. She was at the 'bleeding edge' of para rowing in all areas.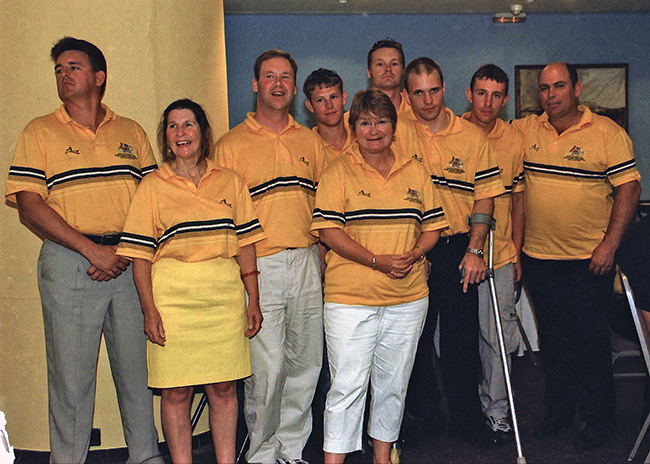 Shirley is centre front as team manager of the 2002 and first Australian Para Rowing Team
But this is long way from her beginnings in central western NSW, nowhere near rowable water or a rowing club.
Her rowing career started when she moved to Sydney to study at Sydney University. It was in her first year at Sydney University that she "tried netball, my favourite sport till then, but didn't find the club very welcoming. In my second year, seeking a sport I could enjoy and feel welcome in I looked up the list of University sporting clubs and, for no reason I can remember, selected rowing, about which I knew nothing other than the obvious boat-thingy. I rang the president of the time, Annie Titterton, and from that first phone call I was welcomed. I'm still friends with many of the people I started rowing with in 1969. As a then lightweight shortie, I'm glad I didn't have to prove any prior fitness for the sport."
And as they say, the rest is history.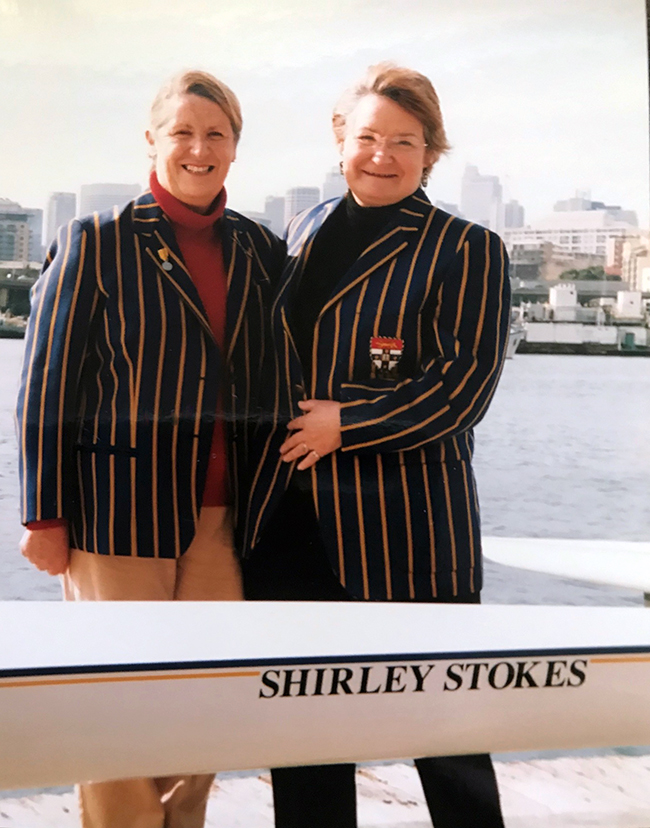 Annie Titterton and Shirley at the boat naming of her boat
Shirley progressed her rowing to win two NSW lightweight championships, both with two greats of the sport, Margaret Mackenzie and Annie Titterton, and, also was awarded a Sydney University rowing Blue.
"My first coach as a student in 1969 was Phil Titterton and my last coach as a Masters rower was Phil Titterton, (along with George Bawtree). I'd like to dob in Jane Spring for launching my career in rowing administration by encouraging me in the late '90s to stand for election to the Rowing NSW Board. With decades of friendships and happy times with the above, and many many others, I can confidently say that my life in rowing is definitely not just about the rowing."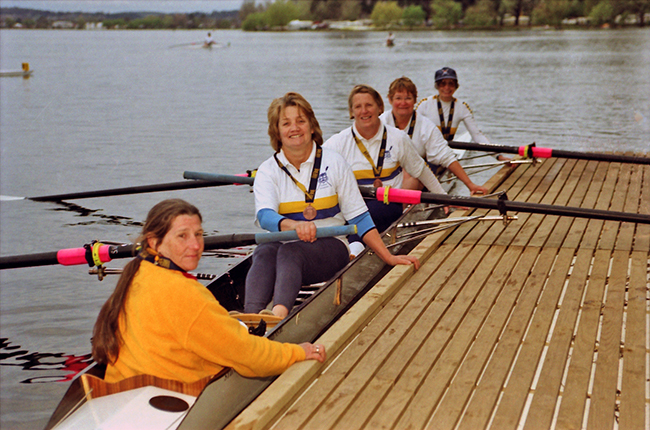 Shirley in the two seat at the 2002 World Masters Games at Ballarat
Shirley has been a successful rower and volunteer from 1969 until today, serving on the Boards of Rowing NSW and Rowing Australia, and then being a FISA Commission member.
The role undertaken on the Board at Rowing NSW included the development of para-rowing in NSW. Shirley organised "Come and Try' para rowing days, targeted five clubs to incorporate para-rowing into their club programs, chaired a small coordinating group within NSW and represented NSW at national para rowing meetings. She continued this work at Rowing Australia, coordinating activities across states and developing guidelines for participation in National Championships.
The FISA work was where her contribution became even more important. In 2002, Shirley played a key role in Seville Declaration to get National federations to commit to para-rowing. In 2004, she provided input to FISA's application for admission to Paralympics, and from 2006, assisted in drafting FISA Guidelines and Regulations for para-rowing Competition and Classification, including subsequent quadrennial reviews.
Her contribution to para rowing is profound, and the success Australia enjoys today in this area can be traced back to her pioneering work.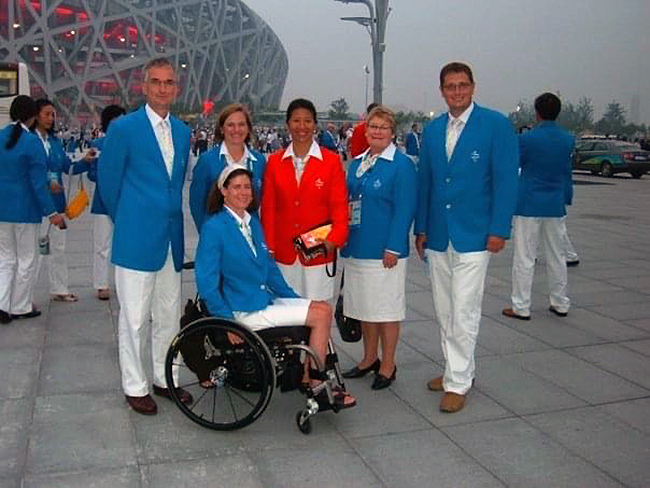 2008 Paralympics - FISA's Para Rowing Officials
The details:
1969 - Commenced rowing at Sydney University Women's Rowing Club and competed in NSW club competitions
1971-74 - Australian University Championships, SUBC competitor
1971 & 1972 - NSW Championships, LW4+ - First
1972 - Interstate Championships NSW LW4+, emergency
1972 - National Championships, competitor
1973 - Awarded University Blue for 1972/73 season
1972-1974 - Treasurer of NSW Women's Rowing Association
1997-2005 - Rowing NSW masters competitions, competitor
1997, 1999 & 2002 - FISA and World masters regattas, competitor
1997-2015 - Volunteer NSWRA and RA regattas
1998-2003 - Rowing NSW Board, Director of Administration - Established website, managed office staff and responsible for para-rowing development in NSW
2000 - Olympic Games, volunteer
2001-2003: Director, Rowing Australia - Coordinated national para-rowing activities
2001-2014 - Member FISA Para-Rowing Commission
2002 - World Championships, Team Manager first AUS para Rowing team
2006-2015 - Rowing Australia - Head of Classification
2006 - Present: FISA International Classifier - including conducted workshops to train Australian classifiers (2009; 2017)
2009 - World Championships, Classifier
2010 - Asian Paralympic Games (Guangdong, China), Chief Classifier (Rowing)
2011-17 - FISA classifier trainer
2014 - Asian Paralympic Games (Incheon, South Korea), Chief Classifier (Rowing)
2014 - World Championships, Classifier
2015 - 2022 - NSW Union of Oarswomen, Secretary
2015 & 2016 - FISA/Agitos Foundation para-rowing training camps in Gavirate, Italy - Coordinator of this 10 day program.
2015 - Asian Rowing Championships, China – Chief Classifier
2017 - Asian Rowing Championships, Thailand - Chief Classifier
2017 - FISA World Cup Poznan - Chief Classifier
2017 - World Championships, Classifier
2017 - NSW Union of Oarswomen, President and Secretary
2019 - FISA World Cup Poznan - Chief Classifier
2021 - Rowing Australia - Life Member
Andrew Guerin
November 2021
Sources:
Interviews with Shirley Stokes - November 2021
Background knowledge of the author
Images from Hebfotos and Stokes collections