David S Stirling
Mercantile Rowing Club (VIC)
The following obituary appeared in the Club's 1976-77 annual report.
A member of the Club for fifty years, competing successfully as a lightweight oarsman and being a member of the first Victorian Club Crew in 1937 to compete at the New South Wales Lightweight Eight-oared Championship, the Mercantile Crew being guests of the Balmain Rowing Club.
David enlisted in the A.I.F. joining Corps Signallers and went to the Middle East towards the end of 1940. He was in the Battles of Greece and Crete, being taken a Prisoner of War on Crete in mid 1941 from where he was transferred to P.O.W. Camp in Germany where he was held until Peace in Europe in May 1945. He was repatriated to Britain for a short leave prior to return to Australia.
On his return to Australia he resumed his activities at Mercantile - coaching crews and young members and assisting generally in the many activities of the Club particularly at working bees on boat and club house repairs. During the re-building programme following the fire he was regular in his attendance at the volunteer labour contribution.
In addition to his contribution to the advancement of Mercantile he was active on behalf of the Victorian Rowing Association being on the Committee for thirty years as delegate of the Yarrawonga Rowing Club. On the formation of the Racing Officials Panel he was appointed Chief Clerk of Scales organising and attending to the weighing of lightweight oarsmen and coxswains at regattas throughout Victoria. At the 1956 Olympic Games Rowing at Ballarat he carried out the duties of Clerk of Scales with an efficiency which could not be faulted.
David was a gentleman who was loved and respected by all who knew him.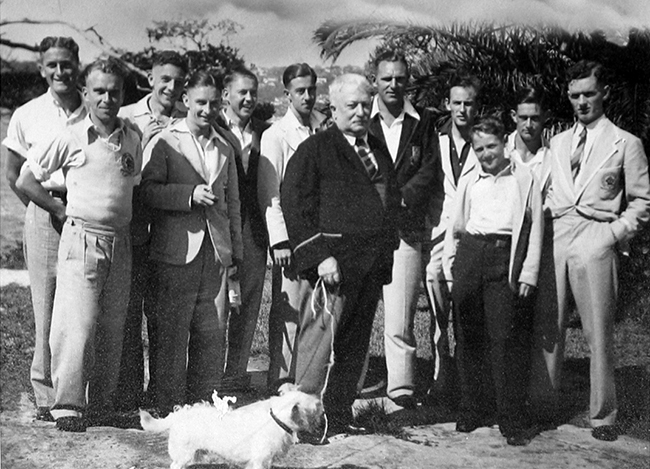 1937 Mercantile lightweight trip to Sydney - David is front row on the left
Following his death, his family made a donation to the Club of wood paneling which enhanced the Clubhouse for some 30 years.
Andrew Guerin
February 2023