Geoff E Speed
Mercantile Rowing Club (Vic)
Geoffrey Ernest Speed 27 Sep 1940-19 Sept 2018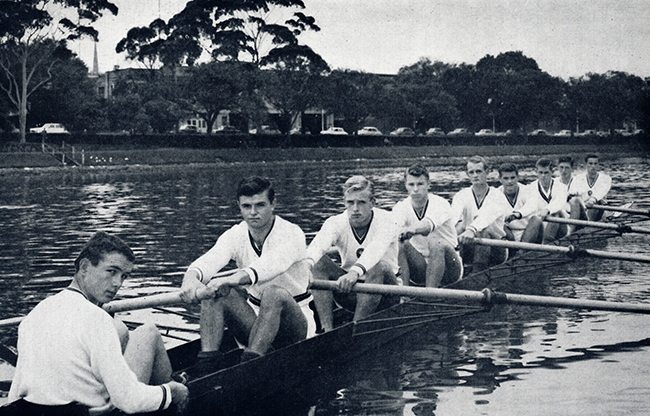 1958 Scotch 1st Crew - Geoff in the two seat
Geoff started his rowing at Scotch before joining Mercs. He was quite a sportsman at school winning premierships in the 1958 1st XVIII and 1959 athletics teams. He was also stroke of the first VIII in 1959 and a member of the 1st XVIII in the same year.
1958 – Scotch Seconds 2 seat – finished third
1959 – Scotch First crew stroke seat – finished fifth
1959-60 season joined Mercs and won a maiden eight at Henley on Yarra
1960-61 season won Victorian Champion Eight in 2 seat with a crew of some characters – Crockett, Adrian Monger, Graeme McCall, Simon Newcomb, Tony Cordell and coxed by David Palfreyman.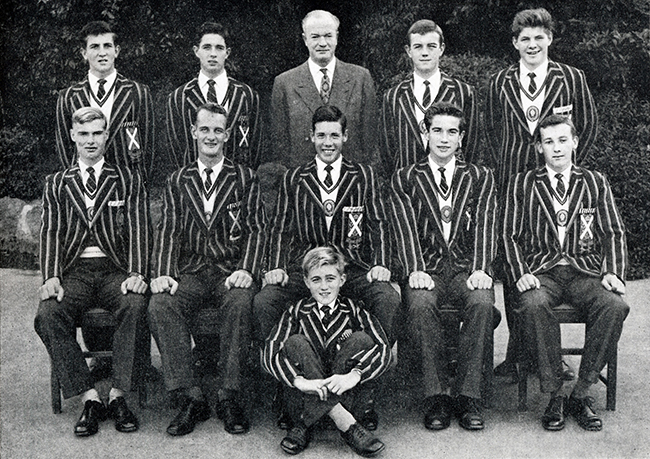 Above: 1959 Scotch crew – Geoff centre seated – note the young Dave Yunghanns back row right hand side
Prior to this Championship race (and a couple of other successful senior eight races), he stroked a junior eight which also won several races.
He does not appear to have raced thereafter. But appears to have commenced as a Head of the River broadcaster from 1963 along with fellow Scotch Collegians Peter Davidson and Peter Gibbs. He commentated at this regatta almost continuously until 2000 when the race moved to Nagambie.
The Old Scotch Collegians Association noted that he was an excellent coach at Scotch and had a wonderful manner with the boys. Geoff was a Cardinal Club committeeman and provided invaluable assistance to Directors of Rowing at Scotch including securing valuable archive material for display.
The Association also recognised his commitment to Scotch College through his membership of the Scotch College Foundation, his role as a player, supporter and President of the Old Scotch Football Club, and his involvement with Old Scotch athletics and golf. He oversaw the production of Scotch's sesquicentenary history CD, and was Heritage Club treasurer and an Archives volunteer.
A life fully lived and of great service to others.
Andrew Guerin
October 2018