Jack Southern
Mercantile Rowing Club (VIC)
This a very interesting story of how coach Syd Edwards transformed a new comer to the sport to the pinnacle of success in just one season.
Jack was a huge man for his day, very tall, 6' 5"and heavy, some 14 stone when racing at the 1901 Interstate Championships. His size can be seen clearly in the photo below and the other members of that crew were not small people. In three mile racing, there were very few men as big as Jack who could be an invaluable members of the crew.
He rowed at the same time as the great Alex B Sloan and shared many victories with him.
The Club history highlighted the rapid rise of Jack in the following terms.
Of particular interest during this period was the rapid rise to success of Jack Southern. A big man in any era, Southern who was 6ft. Sin. and weighed 15st. 7 lb. was perhaps the largest man seen in Victorian rowing to that stage. At the start of the 1900-1 season, Southern had never competed in a boat race, but was selected in the three seat of the Senior Four, following the transfer of J. A. Strong to Western Australia. This selection was a big challenge to Southern and coach, Syd Edwards, but to the credit of both, the crew won the Champion Four and the Senior Four at Upper Yarra a fortnight later. Southern also rowed seven in the club's Senior Eight, which was successful in the championship and at the Melbourne and Ballarat Regattas. He then concluded an amazing first season of competition rowing, by winning the Interstate Eight in the seven seat of the Victorian crew. Unfortunately, Southern was not available for selection during the following two seasons and, whilst he subsequently rowed in the club's Senior Eight and was offered a seat in the 1904 Victorian Eight (which he was unable to accept) he was not again a member of a winning club crew.
And later when noting his death in 1940-41 season, the history advised - Jack Southern, whose brilliance had flashed across the rowing world like a comet in 1900-01 died.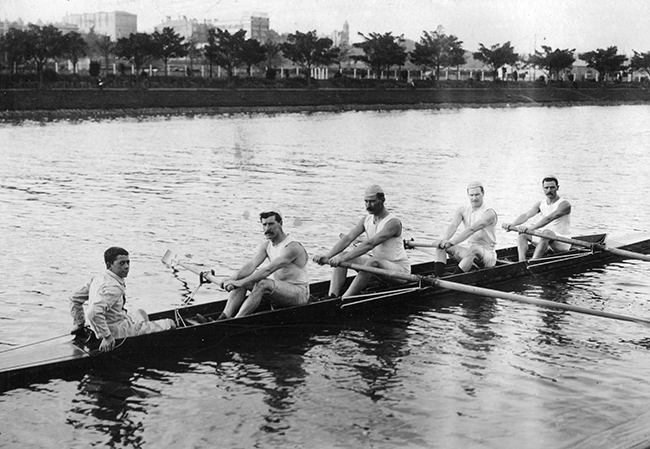 1900 Victorian Champion Four with Jack in the three seat
Interstate Championship certificate for 1901
Racing summary
1900 – Upper Yarra Regatta, Senior Four, three seat – First
1900 – Victorian Championship Four, three seat – First
1901 – Melbourne Regatta, Senior Eight, seven seat - First
1901 – Ballarat Regatta, Senior Eight, seven seat – First
1901 – Victorian Championship Eight, seven seat - First
1901 – Interstate Men's Eight Championship seven seat – First
1904 - Victorian Championship Eight, seven seat - Second
1904 - Interstate Championship Eight, selected but unable to compete
Andrew Guerin
January 2023