Jack South
Mercantile Rowing Club (VIC)
1928- Interstate Men's Eight Championship seven seat- Fourth
1930- Interstate Men's Eight Championship five seat- First
1932- Interstate Men's Eight Championship five seat- First
1933- Interstate Men's Eight Championship five seat- Third
1946- Interstate Men's Eight Championship selector
1947- Interstate Men's Eight Championship selector
1949- Interstate Men's Eight Championship selector
1950- Interstate Men's Eight Championship selector
1951- Interstate Men's Eight Championship selector
1952 - Interstate Men's Eight Championship selector
1953 - Interstate Men's Eight Championship selector
Jack South died in 1953.
The following summary of his career appeared in a newspaper preview of the 1932 Victorian crew:
Jack South - Mercantile. Age 26. height 6 ft 1 in. Weight 12.6. Commenced rowing 1925. He won the Army Challenge Cup in 1926, took his maiden eight at Albert Park in 1926, his junior four at Rutherglen in 1926, his junior eights at the Henley and VRA double in 1926, and at the Upper Yarra and ANA in 1927. he won senior fours at Rutherglen in 1928, and at ANA in 1929. His champion four came in 1929. Then followed senior eights at Ballarat and Barwon and VRA. In 1928 at Ballarat, Barwon and VRA, and Henley in in 1930. He won his champion eight in 1930, Senior eights at Ballarat, Henley and VRA, in 1931 followed. He rowed No 5 in the winning Victorian crew King's Cup race in 1930, and was No 7 in Victorian in 1928 and was No 7 in the selected Victorian crew which was defeated in a test race by a Ballarat crew.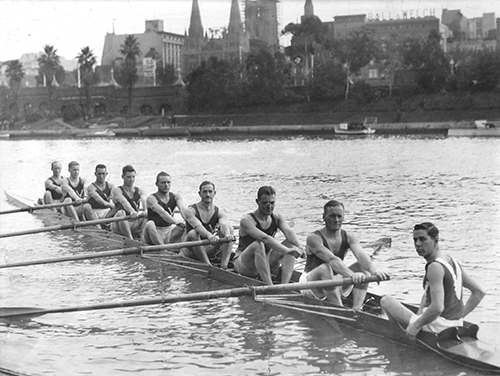 Andrew Guerin, March 2018