Armando (Ted) Sorani
Mercantile Rowing Club (VIC)
(28 September 1928 – 21 July 2018)
The following notes come from the eulogy provided by Ted's daughter Adele and provide a great background of this great man.
Ted was born to an Italian father with both Romanian and Italian backgrounds and a Romanian mother in Romania in 1928. At the age of five, the family moved to Italy.
When WWII broke out, life became tough, rations were issued and the Sorani family experienced harsh times. In 1942 in the middle of the war Ted's mother was literally starving so she and the children returned to Bucharest Romania where food was more plentiful and the war had been less damaging, Ted was 14 years old. His father was forced to remain in Italy for the remainder of the war, building supplies for the military.
It wasn't long before the war impacted Romania with the Russians moving in to occupy the country whilst America bombed its cities and train stations.
Coming home from school one day Ted and his brother Mick came across what used to be there street, unable to recognise anything familiar, searching amongst dead bodies and rubble for their mother and their brother, who they eventually found in a bunker. 18,000 people died that day in Bucharest.
During this time in Romania, they initially shared a small 2 room flat with cousins, then went to technical boarding school 800 kms away from where his mother and younger brother were living. Ted had crazy adventures swimming across the mighty Danube pushing 40 kilo watermelons while trying to avoid being run over by large tug boats and ferries. Whilst at boarding school they took a long train journey down to visit their mother and give her some money. With the carriages overflowing with Russian military, Dad and Mick climbed on top of the train, spat into a hankie and covered their mouth every time they went through a tunnel to avoid being asfixiated and falling off the roof to their death.
In 1946 when dad turned 18 as an Italian citizen he was obliged to return to Italy and do a years National service, in Catania down south. In '47 he returned to Florence and continued his apprenticeship in a glass manufacturer as an instrument maker.
During this time he found rowing, competing across Europe and eventually joining the Italian Olympic squad. He saved his money and brought his family over from Romania in 1948. His brothers Alfredo and Mick struggled to find work in post war Italy. They all slept and ate in one room living off the wages of a young man only recently qualified.
Ted was offered a job with great prospects in Venezuela, whilst Mick was investigating leaving Italy to find work, but his mother didn't want the family to spread in too many directions so they decided to give Australia a go. With the assisted passage scheme his brother Mick set sail for western Australia in 1951 to work at New Norcia while Ted remained in Italy to support the family. In 1953 Ted paid full fare to join his brother now in Victoria. He docked at Geelong and so his football team was decided.
He got his first job in the abattoir and quickly worked his way out of there and into the ford factory where he started to learn English. He tolerated meat pies and other strange Australian cuisine and acquired a new name!
Tired of repeating his name to the foreman who couldn't remember or pronounce Armando he asked him what his name was, "Ted replied the foreman, call me Ted and so it stuck for the rest of his life!
They moved to Melbourne where he and Mick worked hard and saved their money. They slept in the car, got fed every night by the Italian owner of the university café in Carlton and eventually brought the rest of the family to Australia.
Dad found work at CSIRO for him and Alfredo, Lou worked with Mick as a tile layer and so the Sorani family set down roots in yet another foreign land far away from the ancient cobbled streets of Europe.
Renting a small house in Prahran all three sons lived with their parents, pitched in their wages and saved enough money to put a deposit on a house for their parents Alfredo and Frosa . They continued to hand over their pay packets to their mother until 2 years later they had paid off the family home in Essendon!
For Ted to have his own cash he needed to work overtime on Saturdays.
In 1958 he married Vincenza, the best thing that ever happened to him!
He worked two jobs while starting the build at Beaumaris. For 18 months, he worked 5 days a week at CSIRO Fishermens bend, then Beaumaris straight after work, returning home to family in Essendon at night! Weekends were spent building the house or doing cash jobs!
Despite living through a major war, hunger, migration to a new, strange country and his fair share of family tragedy, Ted loved and embraced life fully.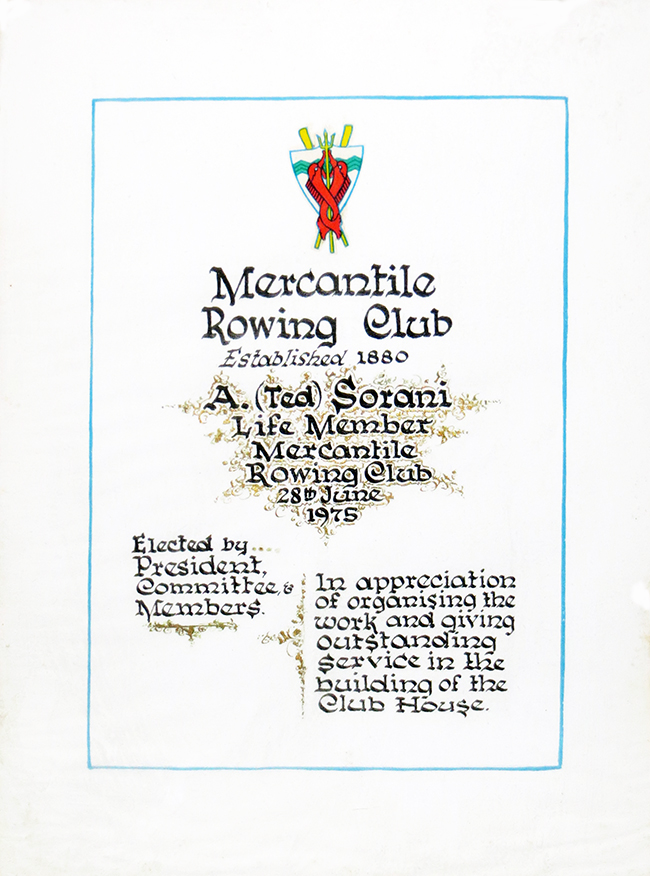 The following is an extract from one of the the eulogies given at the celebration of Ted's life at the Clubhouse on Thursday 2nd August 2018 with some 200 people attending. It covers aspects of his time at Mercantile.
Ted joined Mercantile in 1967 and was welcomed with open arms by Brian Doyle and all our members. I suspect that fellow CSIRO man and Club member Lloyd Williams might have had some influence on his choice of clubs. Ted's warm welcome was reciprocated by him to all future members of the Club and many have called me to tell me of Ted's friendship and genuine interest in them on joining.
He was soon rowing every Thursday and Sunday with the veteran's crew, the Cock Robins, in the boat whose bow adorns the bar. The banter within that crew, and the crew itself, were legendary with many great characters such as Octa Wilson and cox James Harvey, to name just two.
Ted played to his Italian heritage brilliantly and with great self-deprecation, creating an atmosphere of fun. His Italian jokes were superb and those who have not heard his Mississippi joke, we will regail it later as a necessary part of this celebration.
The Club was at a peak at the time. The President was the magnificent orator James Sprigg, the Captain was the great motivator John Burford, and the committee included Crockett, Bradshaw, Cordell, Harding, Kellam and Newcomb – try and name a better administration!!
Rowing Australia had club legend Norm Cairnes as it's President and Rowing Victoria continued to have club great Roy Thursfield as Patron, Mick Williams as President, Bob Aitken and Tom Rodda as Vice-Presidents. Were there any other non-Mercantile people running the sport at that time?
To stand out in this crowd, you needed to be Ted Sorani.
In 1969 when the clubhouse was renovated, Ted was initially able to stay away from that work but could resist no longer and assisted with the finishing works. He also built a rowing machine in 1971. Yes we can partially blame Ted for introduction of this machine which has caused rowers around the world such pain and suffering!! This work was carried on by Lloyd Williams who then worked at Repco and the wind resistance ergometer as we now know it today was created.
Disaster struck the Club in May 1973 with a young arsonist decided to burn down the clubhouse. Ted was on the Committee and initially led the refurbishment of the 1969 section which partially survived the fire. Ted was awarded the Dr R A Cooper Memorial Trophy for the Clubman of the year for his work. However this was just the start of his fine efforts.
The leadership of Ted during the rebuilding phase of the Clubhouse was quite remarkable.
His work enabled the Club to save substantial amounts of money in various aspects of the contract and certain parts of the work, notably the ground floor concrete slab, the concrete columns, steel rigging, roofing, floor sanding, finishing and painting, all organisied by Ted and undertaken by club labour. Without this work, the Club would never have had the funds to finish the building.
It was poetry in motion to watch him work. No harsh words, demands or anger. Just fun, calm experience and leadership that made us want to stay and work with him. Mind you the offer of beers and his great Italian sausages were also a factor. One of his regular workers, Mark Connolly could not be here today, but wanted to express his gratitude to Ted's family for the significant contribution Ted has made to his life.
I recall with fondness the pouring of the slab. It was an advanced post stressed concrete slab and when the concrete trucks arrived, the formwork, cabling and reinforcing were not yet completed. The concrete truck driver urged Ted to lose the deposit and he would take the load to the next site. Ted knew his workforce was like no other and demanded that the concrete be poured. The timing was superb. By the time the concrete reached the far end, all the preparatory work was completed and the usual Mercantile rewards of lunch and beers were served. A picture of this scene is on the walls of the Club.
The steel rigging was not one for the feint heated and anyone with OH&S qualifications should not listen. Being one of the young lightweights at the Club, our job was to be lifted to the top of the steel uprights with a crane and hang there until the main truss was lifted into position. We then had to join the two and bolt them together, and then… wait to be lifted down. The roofing was done in a similar manner.
And of course who could forget the building fundraiser, the Italian Night.
The 1974-75 Club annual report said it was difficult to express the appreciation which the Club owes to Ted Sorani. He was awarded life membership of the Club, the Club's highest honour.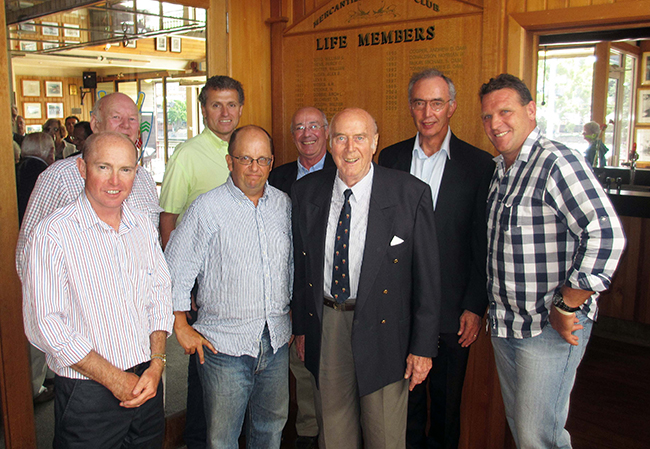 Ted front and centre in 2012 with fellow Mercantile life members
Behind every great man is strong support. Thank you Vin and your family, you are all great Mercantilians.
Ted continued his great work at the Club enhancing and finishing aspects of the clubhouse and creating gym equipment and a sauna. Ted was grateful that the Club did not ever send a thank you note to the CSIRO for access to their equipment and also the provision of left over materials which were fashioned into critical parts of the building and its equipment.
It was not until 1979 that any of us had any idea of Ted's Romanian background. We were hosting the newly appointed Australia head coach, Romanian, Reinhold Batschi when Ted started speaking Romanian. The relief on both Reinhold's and Australian Chairman of Selectors Jim Howden's face was palpable – Reinhold's grasp of English was non-existent at that stage. Ted's assistance to Reinhold in these first few months was a large factor in Reinhold's decision to persevere in Australia and go onto become the most influential person in Australian rowing.
Ted was a gentle, humble but determined person. He had experienced so much in life that he was always understated, and always willing to share his experience, skills and leadership with others. His kindness and genuine interest in people was unmistakable.
There are few good things that come with age, but one is the ability to look back and recognise the people who have shaped your life. Ted Sorani has shaped my life, and those of many other Mercantile members. The confidence to do things others would be too risk averse to attempt, the power of enthusiasm and vision, enjoying successes and not being downhearted with mistakes, the benefits of understated leadership and the importance of club life and its friendships – these are just some of these great life lessons from Ted.
Ted's legacy to Mercantile goes well beyond this building, it resides in its members, and is…..profound.
Andrew Guerin
August 2018