Colin D Smith
Melbourne University Boat Club (VIC) - died 19 October 2009 aged 91.
1948 – Olympic Games – Men's Coxed Four two seat – eliminated in repechage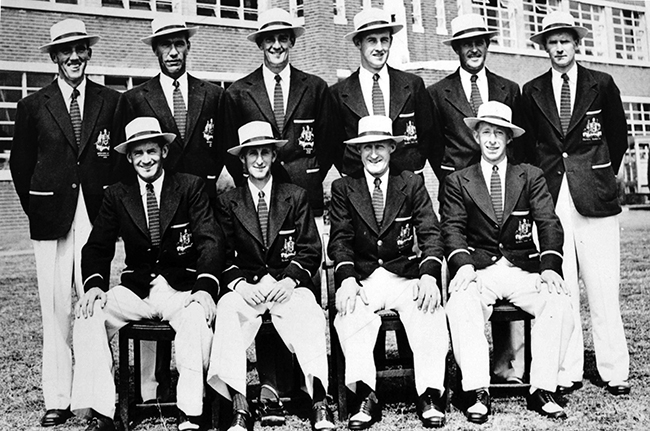 1948 Olympic rowing team - Smith is on the right hand end of the back row
Smith learned his rowing at Geelong Grammar where he rowed in the first crew for three years 1935-37 inclusive, winning in 1935. Director of Rowing at Geelong Grammar Geoff Hunter wrote in 2004: During World War II, Colin served in the Royal Navy submarines, having trained as a Submarine Officer for the Australian Navy only to find it bereft of submarines. Transferring to the Royal Navy he served with distinction.
After WW II he returned to University to continue his medical studies and rowed for Trinity College and the University. Accordingly he raced in the 1938, 1939, 1940, 1946 and 1947 Intervarsity Eights in the stroke seat winning on three occasions, 1938, 1940 and 1946.
The following obituary was written by Bill Cooper (WA) at the time of his death.
The local rowing community was saddened recently with news of the passing of its longstanding Co-Patron, the 91-year-old Colin Douglas-Smith.
A Victorian by birth, Colin commenced his studies at the University of Melbourne in 1938, where he immediately demonstrated his rowing prowess. Selected to row in the Intervarsity Eight, the young freshman stroked the crew to victory. It was the first of five appearances in that capacity, which, despite being interrupted by World War II, brought a total of three first and two second places by 1947.
Douglas-Smith spent most of the war as a lieutenant in the Royal Navy's Submarine Service. In 1946, after being demobilised, he took two steps which set the scene for his future life and career. In March, he came briefly to Perth to marry Kathleen Aberdeen, daughter of the Medical Superintendent at Fremantle Hospital. The couple then returned to Melbourne, where Colin had recently resumed his university studies.
Two years later, he rowed in the two-seat of the Victorian coxed four which won the Olympic Test Race at Ballarat. Western Australia was not represented in that event, for the local winning Maylands Champion Four, although endorsed by the Association, was not allowed to make a public appeal for financial assistance.
Rowing at the 1948 London Olympics took place at Henley, where the course was shortened to 1,850 metres and widened to take three crews at a time. By Smith's own admission, the Australian coxed four's performance was "undistinguished", for it was eliminated in a repechage and ranked 14th out of the 16 starters in that event.
After graduating, Colin completed specialist medical qualifications and began a long and successful career in obstetrics and gynaecology in Perth in 1956. He delivered the last of an estimated 10,000 babies in 1995, and officially retired from the profession in 2002.
Colin Douglas-Smith never lost his interest in and commitment to rowing. His last competitive appearance was in the 1993 Australian Masters Championships on the Canning River, where he took out a total of four gold medals. In the lead-up to the 2000 Sydney Olympics and on the eve of his 82nd birthday, he had the honour of carrying the Olympic Torch over 400 metres through Claremont. It was at about the same time that he made his final appearance on the water when, in a full crew of former Olympians, he was part of an eight which took part in an Amanda Young Memorial Fund regatta.
Andrew Guerin
May 2020