Gemma Sibillin
M
ercantile Rowing Club (Vic)
Gemma commenced her rowing at Genazzano College in 2011. In 2013 she raced at the National Championships in year 10 double and quad. In 2014 and 2015 she raced in the first eight at school with a bronze in 2014 at the Nationals.
Gemma joined Mercs at the end of 2015 as part of the youth squad and has had a great season. She raced a pair with our Irish import Chloe Deyermond with great success during the season finishing third at the State Championships in the pair, second in the U21 double and winning the U21 eight. For her efforts, she has been selected in the Victorian Youth Eight.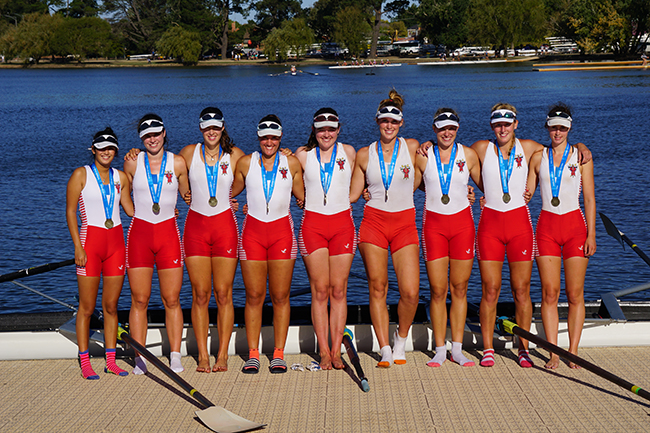 Above: Gemma as a member of the 2016 State Championship Mercantile Eight
Bicentennial Cup race in 2016 with Gemma in the bow seat of the Victorian crew
As one of our very promising young rowers, she is focussed on improving her rowing and testing out what she is capable of doing. At the Nationals in 2016, she will racing in the U21 pair and quad, and also U23 eight.
Why rowing? The challenge of it and the team aspect.
Mercs? Love the club camaraderie and elite focus of the club.
Andrew Guerin March 2016