Stephen Sherrifs SC
The following tribute was provided to Rowing Australia upon the Stephen's death.
Rowing Victoria was deeply saddened to hear of the death of Stephen Sherrifs after a battle with cancer. Stephen commenced his rowing at Scotch College where he rowed in the first crews of 1972 and 1973, winning in the second year. In 1973, the Scotch crew went on to be Australia's first ever representative crew at the World Junior Championships. The Scotch College crew has repeated this representation this year exactly 40 years later.
Following school rowing he rowed at Mercantile winning four National Championships. At the Victorian level, he raced in five interstate crews, winning the King's Cup on two occasions. He also represented Australia at the senior level in 1979.
Not only was he a superb athlete, he was an accomplished musician and lawyer. He took silk in 2002 and was a leader of the Victorian Criminal Law Bar. He served several years on the Executive of the Victorian Criminal Law Bar Association; 2 years as Vice-Chairman to Lex Lasry QC; succeeding Lasry as Chairman. He practised at the Bar more than 30 years.
Stephen was an outstanding individual and rower.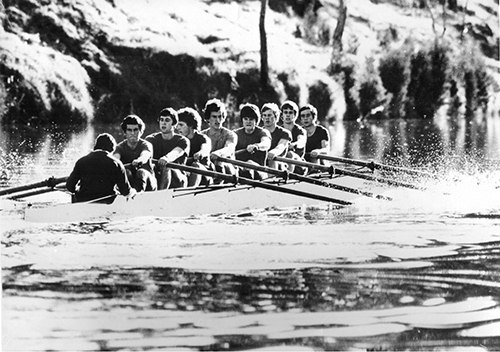 1973 Australia junior eight training - Stephen in the seven seat
Scotch College
1972 Head of the River seven seat Fifth
1973 Head of the River seven seat First
1973 South Australian Schoolboy Eight Championship seven seat – First
Mercantile
1974 State Championships Men's Junior Eight – seven seat - First
1974 National Championship Men's Junior Eight seven seat – First
1975 State Championships Men's Junior Eight seven seat - First
1975 National Championship Men's 2nd grade eight seven seat – First
1977 National Championships Men's Coxless Four two seat – First
1977 National Championships Men's Coxed Four two seat - Fifth
1978 National Championships Men's Coxless Four bow - Second
1979 National Championships Men's Coxless Four two seat – Fourth
1979 National Championships Men's Coxed Four two seat - Fifth
1980 National Championships Men's Coxless Four bow – First
1980 National Championships Men's Coxed Four bow - Second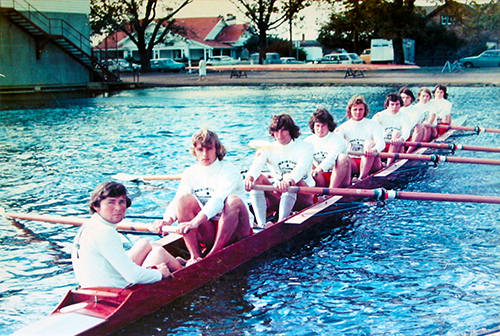 1974 Australian Champion Junior Eight - Stephen in the seven seat
Victoria
1974 Colts tour of New Zealand six seat – Second and third in the two regattas
1977 Interstate Championships Men's Eight six seat – Third
1978 Interstate Championships Men's Eight bow – Second
1979 Interstate Championships Men's Eight bow – First
1980 Interstate Championships Men's Eight three seat – First
1980 winning King's Cup crew - Stephen in three seat
Australia
1973 World Junior Championships Men's Eight seven seat - Eighth
1979 World Championships Men's Pair – eliminated in repechage
Andrew Guerin