Malcolm Shaw
This profile is under construction
Mosman Rowing Club (NSW)
The following profile has been copied from the Mosman Rowing Club centenary history, Red and White Hoops - One Hundred Years of Mosman Rowing Club, published by Jacobson Publishing Pty Ltd in 2011 and is reproduced with permission of the publisher and the author, Judge Mark Williams SC, Past President and Life Member of Mosman Rowing Club. Thank you to both for access to this most interesting profile which was written by Mal Shaw.
1972 Olympic Eight with Malcom in the bow seat
Deciding Whakatane, New Zealand, was too small for us and our large family, my wife and I took a ship to Sydney in the late 1960s.The Whakatane coach, Cyril Molesworth had told me to go to Mosman Rowing Club where I met the Club Captain Stu Evans and Head Coach Bruce Evans which was the start of a great relationship. In 1968 the Spit shed had just been opened and I was taken aback by the great clubhouse. Then I found out that there was another club at Mosman Bay, which had a restaurant and bar, and I was blown away.
In no time I was in a double with Jim Hansen and off to Penrith. We didn't do any good but what an experience. Then it was into winter training under Bruce and what a shock to the system. The next shock was going down to the Bay for beers and a meal and finding you and to have a collar and tie. Despite the dress code, we met some wonderful gentlemen in Sid Strathmore, Jack Loutit, President Bob Saville, and a legend on his own, Peter Curren.
My first big trip was out to Griffith. Janet and I decided to take our new-old car that proved to be a bad choice as we had to stop every 50km to top up the water. Mosman won the points for the regatta and a keg of wine - what an event!
I had many trips away with Mosman and a great bunch of guys - Mke Crowley, John Clark, Bib Shirlaw, Terry O'Hanlon, John Punshon, Ian Ballard, Jim Taylor, Bryan Weir and many more, On our trips to Taree, our manager Jack Loutit had to go ahead to make sure the bars were in order and by the time we got there he was personal friends with all the managers.
Another incident I remember was flying out from Melbourne airport with Stu Evans. Everyone had boarded the plane and Stu said, "we'll have another beer Mal, they are like 'efin' buses, we'll get the next one". Six planes later, there were two not very happy wives waiting at Sydney airport. Needless to say, in those early times, Janet and I had many great barbeques at Bruce and Helen's. There were great hosts.
One eventful night I was in an eight with Robin 'Lord' Poke coxing, heading out from the Spit in the dark when, off Beauty Point, we managed to hit a launch at its mooring and sink it. We all ended up in the water, with the eight below the water but all managed to get back to the Spit with the boat even though it meant a long walk back for some around the rocks.
Another colourful character was David Skidmore with his funny coaching antics and also 'Cor[poral' Cody and the many 'pig and keg' parties.
In 1976, I hurt my back at Montreal and my rowing career came to a sudden halt. I became Club Captain of MRC and realising all the crews had coaches except the lightweight women, the girls came to me led by Lindy Nisbett and said "we don't have a coach, you do nothing but ponce around, so you can coach us." So I did. I thought I'd train them so hard that they would go away, but quite the opposite happened. They started to have some real success and I was enjoying coaching, especially as I could no longer train.
My wife did not share my enthusiasm and so we ended up going our separate ways. A couple of years later I met Anna Macleod through Dave Tappin. She had been recommended to go to MRC from Dave's old club, Furnival, in London. needless to say she's now Anna Shaw.
Another highlight of my career was coaching the lightweight pair of Gay Allen and Leanne Turner to a gold medal in St Catherine's in Canada. Gay has been very involved in rowing over the years and has gone on to coach internationally. She is married to Geoff Horan who represented New Zealand at the 1984 Olympics. The lightweight girls kept me amused over the years that I coached them. Once we took a boat from Mosman Bay to the Spit with a stop-off at Lady Jane [renowned nudist beach]. That was a bit of an eye opener for all concerned.
In later years it was a great thrill to see Steve Evans as stroke of the winning World Championship eight. I'd known Steve since he was a baby going out with his mother in the single scull. It was so good to go with a group of supporters to Karapiro to watch Mick Crowley in the four at the 1978 World Championship. A great race - by 9.00am we were all in the beer tent.
Thank you MRC for great memories, camaraderie, friendship and support. All the best for the next 100 years.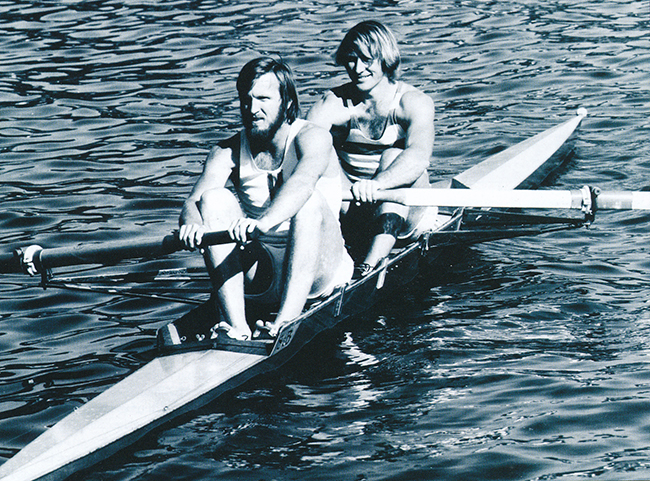 1975 National Pair Oared Champions - Tim Conrad in stroke and Mal Shaw in the bow
Some key rowing achievements
1970 - National Championships, Men's Four, three seat - First
1970 - National Championships, Men's Coxed Four, three seat - First
1971 - Interstate Championships, Men's Eight, three seat - Third
1972 - Interstate Championships, Men's Eight, bow - First
1972 - Olympic Games, Men's Eight, bow - Eighth
1973 - Interstate Championships, men's Eight, bow - Fourth
1975 - National Championships, Men's Pair, bow - First
1975 - Interstate Championships, Men's Eight, two seat - First
1976 - National Championships, Men's Four, three seat - First
1976 - National Championships, Men's Coxed Four, three seat - Second
1976 - Olympic Games, Men's Eight, two seat - Fifth
©Mosman Rowing Club - Red and White Hoops 2011
Jacobson Publishing Pty Ltd - jacobsonpublishing@ozemail.com.au
pages 168-169