Alan R Scott
Ballarat City Rowing Club (VIC)
Alan Robertson Scott, Sergeant 2nd Lighthorse Regiment.
Alan was the son of John W. Scott and Mary Scott. His father was a chemist and had a dispensing chemist in Sturt Street. He was educated at Ballarat College and Ballarat School of Mines. He was a noted athlete, being the Champion featherweight boxer of Ballarat. He had two sisters who both died young in 1911 and 1912. Alan joined the Ballarat City Rowing Club in about 1910. He elected to the committee in 1912 and was a popular member.
He enlisted in August 1914 and on September 2nd the club president Lt. Colonel Bennett made a presentation to him at the AGM of a thermos flask. He embarked on the 19th of October from Melbourne on the HMAT Wiltshire and proceeded to Egypt. From there he went to Gallipoli and was wounded there but returned after a month in hospital and served through until the evacuation. He was also wounded at the Battle of Messines receiving a bullet wound to the thigh. Sadly his horse was killed. After his recovery he was sent to Tidworth Barracks as an instructor but was recalled to France in November 1917 owing to the urgent need for men. He was in the line during the German spring offensive and was mortally wounded near in Belgium at a place called Wychaete and taken to the Casualty Clearing Station at Dickebusch on April 29th, 1918 where he died aged just 27.
Corporal A W Mitchell of the 2nd Anzac Regiment made the following statement about how he died, to the Red Cross:-
"On the 28th of April we went into line and well to the right of Ridgewood near Dickebusch - dug in about 1000 yards from the firing line (we had dug in the night before). Enemy put over a barrage - one of our own Howitzer shells fell short, splinter of which hit him (Scott) in the side of the head - was unconscious for 3 hours - I was 3 yards away from him. Never came to. Taken to Casualty Clearing Station and died the same night. Don't know where buried but expect outside Casualty Clearing Station. Scott was a Sergeant and a fine, cool soldier - came from Ballarat - Christian name Alan."
He was buried at Arneke British Cemetery, Plot 11, Row A, Grave No.10, France.
Commemorated Ballarat New Cemetery on the headstone along with his sisters Elsie and Ethel. In 1923 the club also commemorated him by naming one of the ten new boats the "J. R. Scott."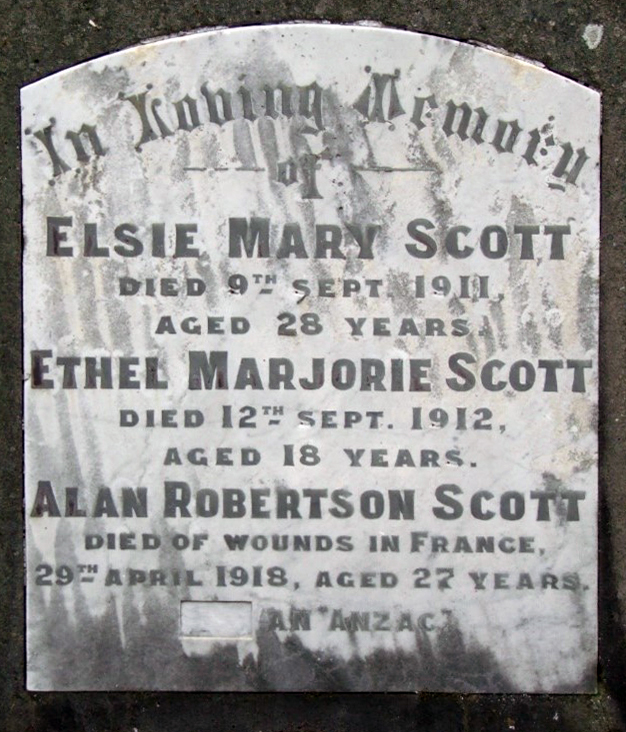 Kate Elliott
October 2021