Staff Sgt Robert B Scholefield
Mercantile Rowing Club (VIC)
Robert Bingley Scholefield, 25 July 1908 - 18 July 1945
Robert was one of at least four Mercantile members who died at the hands of the Japanese as POWs.
He enlisted in the Australian Army on 1st July 1940 as a married man with one daughter. He was 33 years old and so a mature soldier. He hailed from Hawthorn, although was originally from South Australia. His wife's name was Dorothy and his daughter Anne.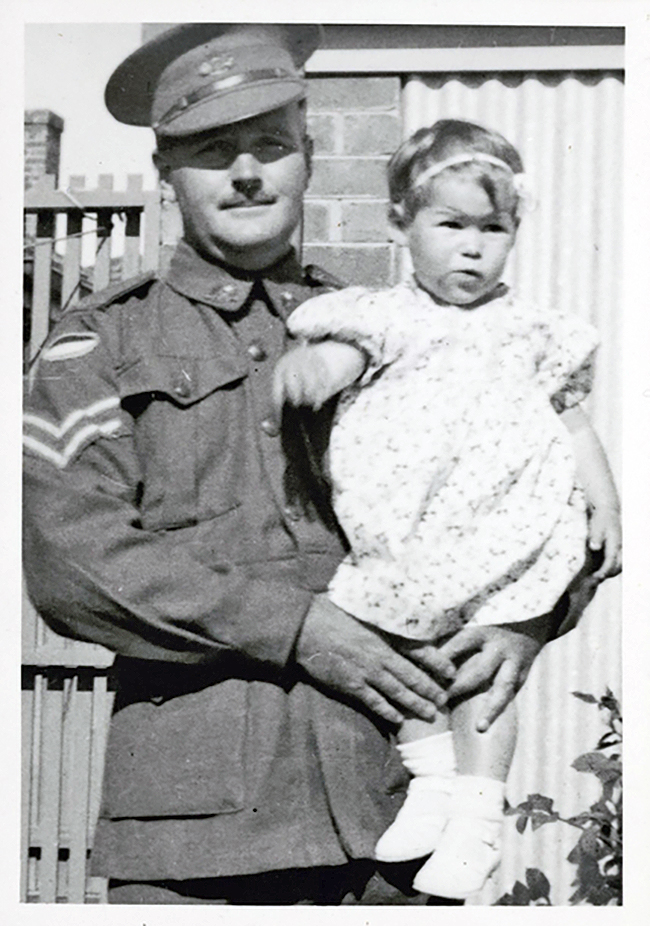 Robert with daughter Anne before departure
He joined 1 Company AASC (Australian Army Service Corps), the company moved stores and personnel, and distributed supplies, rations, and ammunition. Perhaps he joined this company given that he was a married man with a child and so less likely to be injured or killed? Alas this did not occur and he was captured and finished his war and died as a prisoner of war at the hands of the Japanese.
Serving as sergeant with No. 1 Company, Australian Army Service Corps, Scholefield was one of over 2000 Allied prisoners of war (POW) held in the Sandakan POW camp in north Borneo, having been transferred there from Singapore as a part of B Force. The 1494 POW's that made up B Force, were transported from Changi on 7 July 1942 on board the tramp ship Ubi Maru, arriving in Sandakan Harbour on 18 July 1942. Sergeant Scholefield died as a prisoner of the Japanese on 18 July 1945, aged 36. Letters, telegrams and badges related to Sgt Scholefield's service are held at the Australian War Memorial.
He nearly survived until the end of the war dying less than a month before the cessation of fighting. He died at Sabah, Malaysia, then known as Ranau, Borneo.
The death notices included reference to his family, namely that he was the second son of Mr. and Mrs. R. B. Scholefield of Riverton, South Australia, brother of Jim (R.A.A.F.), Biff (R.A.A.F.), Ken (A.I.F.), and Betty.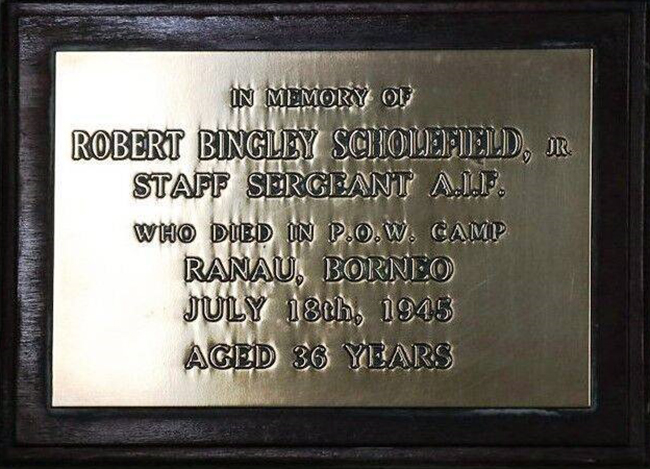 Plaque at Holy Trinity Church at Riverton South Australia
Andrew Guerin
March 2023